Intel's 13th gen released on October 20, 2022. The highest-end processors from this lineup are already crushing benchmarks and competitors alike. The fastest and latest from Intel, this lineup has taken the world by storm. They have done their best in thermals and pricing as well, though power usage remains to be a thorn in the side, not small enough to be offset by the huge single-core gains over Ryzen 7000 or Alder Lake.
Here's our detailed review of the Raptor Lake CPUs from Intel, which pack quite the punch whether it's sheer gaming performance you're looking for or multithreaded workloads.
If you're only here for a recommendation then let me save you some time. The new Core i5-13600K with a Turbo Boost of 3.9 GHz is one of the best options for excellent gaming performance without having to spend a ton of money. It has an MSRP of $319 but you can easily find it for much below that. It can work with DDR4 RAM, an older motherboard, and even your Alder Lake CPU cooler.
Intel 13th gen release date: Intel's 13th gen Raptor Lake CPUs released on October 20, 2022, with 6 SKUs. 17 more released in January 2023 including the most powerful, Core i9-13900KS, on January 12. Intel also released a couple of "Black Edition" China-exclusive processors in February.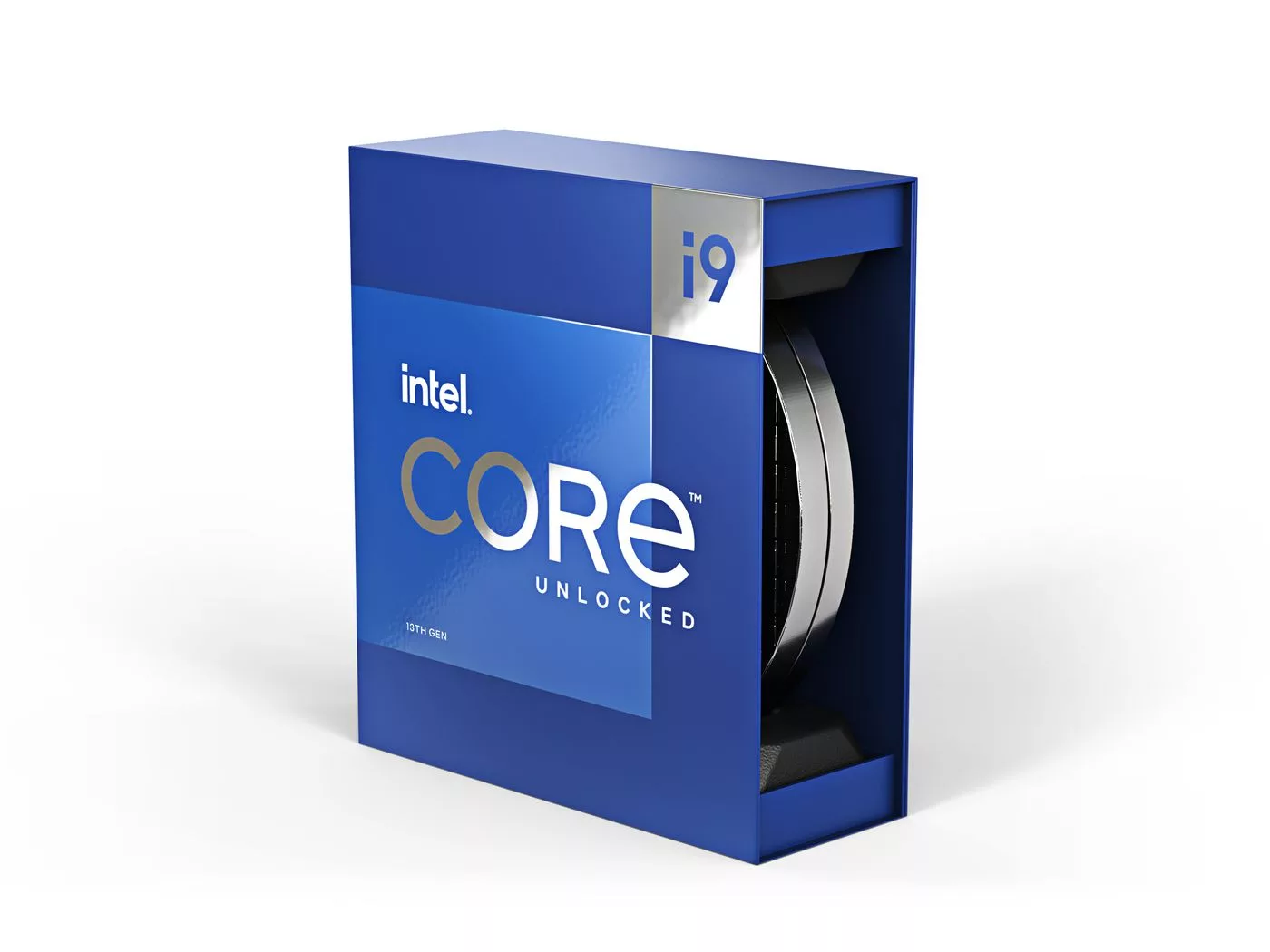 Intel 13th gen price
This time, the CPUs cost anywhere from $100 to a whopping $700! At the lowest end, you have the Core i3-13100F with an MSRP of $109. On the highest end, you have the world's fastest processor today—Core i9-13900KS costing a hefty $699.
On Newegg, you'll find all of these options from the light blue Core i3-13100F at $122 all the way up to the dark blue Core i9-13900 (non-K) at $570. The Core i7-13700 with 8 P-cores and 8 E-cores can go up to 5.2 GHz and is selling at around $360 (and $10 cheaper on Amazon). This is another one of the best deals out there right now.
Laptops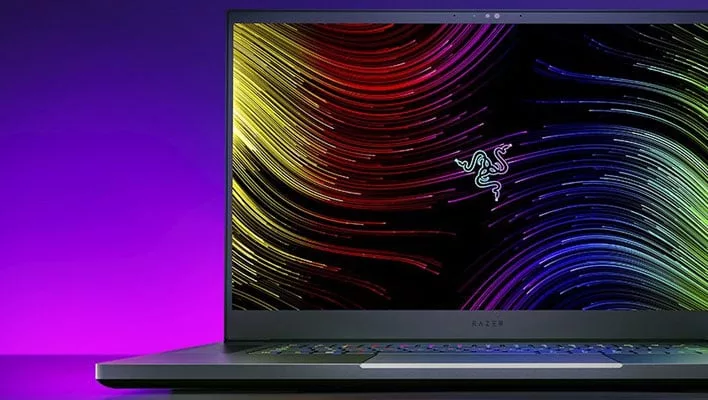 An average Intel 13th gen laptop can cost anywhere from $1500 to $5500 depending on the performance. Mainly, the GPU and screen size determine the price and it's possible to find the same high-end CPU in two very differently priced gaming laptops.
The MSI Stealth 17 Studio is a 240Hz gaming laptop with an RTX 4080, retailing for around $2800. The HP Omen 2023 costs $3500. You can go even higher. The Razer Blade 18 is an unconventionally 18-inch laptop packing the beast of a GPU, RTX 4090, alongside a 2TB SSD and a 240Hz screen, selling on Amazon for $5500.
On the lower end, you have Lenovo's LOQ with an RTX 4060. It's not 17" like the Stealth or the Omen, but does have DDR5 RAM, costing $1460.
Intel 13th gen gaming is expensive. Whereas spending slightly above $2000 gave you a top-end 12th gen CPU laptop with an RTX 30 series card, you now have to spend at least $500 more to get a 13th gen CPU laptop with an RTX 4080 or higher.
Intel 13th gen specs
Intel's 13th gen is based on the 10nm process node (nicknamed Intel 7). Officially called the Raptor Lake, it's the successor to Alder Lake (12th gen). The 13th gen CPUs boast a maximum CPU clock speed of 6.0 GHz on the performance cores and up to 4.3 GHz on the efficiency cores.
Intel 13th gen list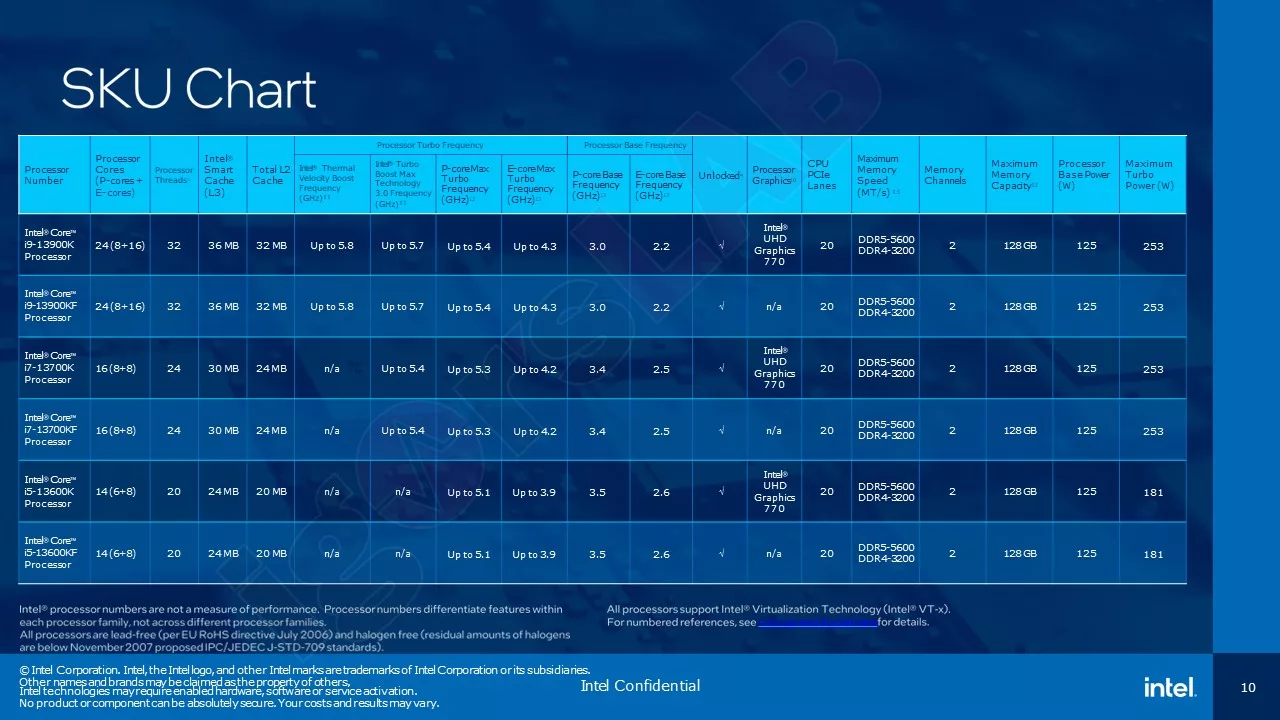 In total, there are 25 processors in the 13th gen of Intel.
Intel i9 13th gen has 6 SKUs.
Intel i7 13th gen also has 6 SKUs.
Intel i5 13th gen has 10 SKUs.
Intel i3 13th gen has 3 SKUs.
| | | | | | | | |
| --- | --- | --- | --- | --- | --- | --- | --- |
| Name | Total Cores | Base Clock | Turbo Clock | L2 Cache | Power | Released On | MSRP |
| Core i9-13900KS | 24 | 3.2 | 5.8 | 32 MB | 150-253W | Jan 12, 2023 | $699 |
| Core i9-13900K | 24 | 3.0 | 5.7 | 32 MB | 125-253W | Oct 20, 2022 | $589 |
| Core i9-13900KF | 24 | 3.0 | 5.7 | 32 MB | 125-253W | Oct 20, 2022 | $564 |
| Core i9-13900 | 24 | 2.0 | 5.5 | 32 MB | 65-219W | Jan 3, 2023 | $549 |
| Core i9-13900F | 24 | 2.0 | 5.5 | 32 MB | 65-219W | Jan 3, 2023 | $524 |
| Core i9-13900T | 24 | 1.1 | 5.3 | 32 MB | 35-106W | Jan 3, 2023 | $549 |
| Core i7-13790F | 16 | 2.1 | 5.2 | 24 MB | 65-219W | Feb 2023 | China-exclusive |
| Core i7-13700K | 16 | 3.4 | 5.4 | 24 MB | 125-253W | Oct 20, 2022 | $409 |
| Core i7-13700KF | 16 | 3.4 | 5.4 | 24 MB | 125-253W | Oct 20, 2022 | $384 |
| Core i7-13700 | 16 | 2.1 | 5.2 | 24 MB | 65-219W | Jan 3, 2023 | $384 |
| Core i7-13700F | 16 | 2.1 | 5.2 | 24 MB | 65-219W | Jan 3, 2023 | $359 |
| Core i7-13700T | 16 | 1.4 | 4.9 | 24 MB | 35-106W | Jan 3, 2023 | $384 |
| Core i5-13600K | 14 | 3.5 | 5.1 | 20 MB | 125-181W | Oct 20, 2022 | $319 |
| Core i5-13600KF | 14 | 3.5 | 5.1 | 20 MB | 125-181W | Oct 20, 2022 | $294 |
| Core i5-13600 | 14 | 2.7 | 5.0 | 11.5 MB | 65-154W | Jan 3, 2023 | $255 |
| Core i5-13600T | 14 | 1.8 | 4.8 | 11.5 MB | 35-92W | Jan 3, 2023 | $255 |
| Core i5-13500 | 14 | 2.5 | 4.8 | 11.5 MB | 65-154W | Jan 3, 2023 | $232 |
| Core i5-13500T | 14 | 1.6 | 4.6 | 11.5 MB | 35-92W | Jan 3, 2023 | $232 |
| Core i5-13490F | 10 | 2.5 | 4.8 | 9.5 MB | 65-148W | Feb 2023 | China-exclusive |
| Core i5-13400 | 10 | 2.5 | 4.6 | 9.5 MB | 65-154W | Jan 3, 2023 | $221 |
| Core i5-13400F | 10 | 2.5 | 4.6 | 9.5 MB | 65-148W | Jan 3, 2023 | $196 |
| Core i5-13400T | 10 | 1.3 | 4.4 | 9.5 MB | 35-82W | Jan 3, 2023 | $221 |
| Core i3-13100 | 4 | 3.4 | 4.5 | 5 MB | 60-89W | Jan 3, 2023 | $134 |
| Core i3-13100F | 4 | 3.4 | 4.5 | 5 MB | 58-89W | Jan 3, 2023 | $109 |
| Core i3-13100T | 4 | 2.5 | 4.2 | 5 MB | 35-69W | Jan 3, 2023 | $134 |
The total cores include performance and efficiency cores.
Notes:
The base and turbo clock speeds are for the performance cores (P-Cores) and not efficiency cores (E-Cores). E-Cores are used for background applications whereas P-Cores do the heavy lifting during games, video editing, etc., so that's more relevant here.
The Gen 13 i7 and i9 chips have Turbo Boost 3.0. The i5 and i3 chips have Turbo Boost 2.0.
The power is given in a range from Base to Turbo. For example, Intel Core i9-13900KS has a TDP of 150W and it goes up to 253W when it's on Turbo Boost. It can easily pull 300W+ from the wall, actually, when pushed.
"China-exclusive" CPUs, also called "dark SKUs" or "Black Edition" as they have black packaging, are launched with a price cut to compete against AMD in China. The i5-13490F launched at ¥1,599 (roughly $225) and the i7-13790F launched at around $440.
All Intel 13th gen i9 processors except 13900T can use TVB. With TVB, they can reach even higher speeds of 6.0 GHz, 5.8 GHz, 5.8 GHz, 5.6 GHz, and 5.6 GHz, respectively. Thermal Velocity Boost is not available on i7, i5, or i3 chips at all.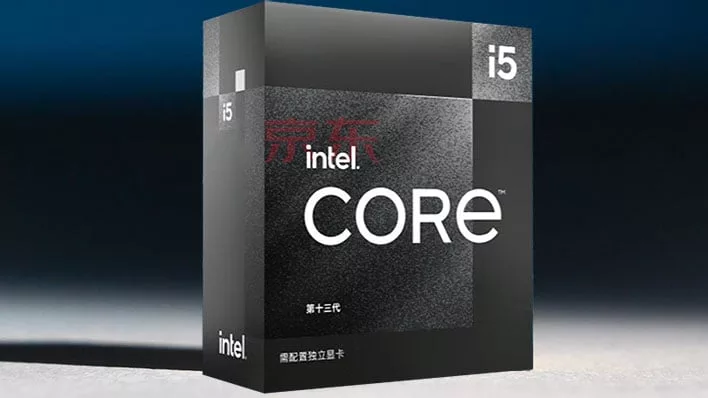 What is Thermal Velocity Boost? Intel's TVB takes chips higher than their Turbo speeds. As you know, all processors from Intel have a base clock and a boosted, Turbo clock. Think of the Turbo clock speed as a safe and manufacturer-guaranteed overclock. The processor can go up to the Turbo speed when demand increases (for example, when rendering videos or playing games). The TVB takes it one step further. Thermal Velocity Boost increases the speed even on top of the Turbo speed if the CPU is lower than 70°C (65°C for laptops) and there is some headroom in power usage.
Intel 13th gen i7 is the most well-rounded of the lot. Any processor from this series is great to balance high-end gaming, power consumption, and price range. The i5 lineup, and especially the 13600K, is ideal for mid-range builds that don't want to compromise on fidelity and FPS.
The high-end CPUs from this generation will definitely run hot, easily going 100°C+ when doing demanding work as they consume upward of 300W on some CPU-intensive tests. But combining the value of E-cores and the better thermal design that beats the 12th gen, you can expect the chips to be more manageable in terms of power and heat than before.
All of these CPUs support PCIe 5.0 SSDs (and upcoming GPUs) as well as DDR5 RAMs (up to DDR5-5600 on the higher end and DDR5-4800 on the lower end). In other words, getting any one of these is going to be future-proof.
Intel 13th gen motherboard
The Intel 13th gen socket is LGA1700, the same as the one for 12th gen. It supports PCIe 5.0 devices, so you can safely buy a PCIe 5.0 GPU when one launches, and use it, apart from currently available PCIe 5.0 m.2 SSDs.
The LGA1700 socket works on the Z790 chipset (this also supports the 12th gen, apart from the Z690). The best part about the 13th gen is that they can also run on B660, B760, and Z690 chipset boards. The B ones aren't for overclocking your 13th gen CPU and the Z690 or the B660 will need BIOS flashing.
The best motherboard for Intel 13th gen is probably the Asus ROG Maximus Z790 Hero. It's a top-end model for enthusiasts and high-end gamers. It's a $600 motherboard that supports DDR5, PCIe 5.0, and WiFi 6E.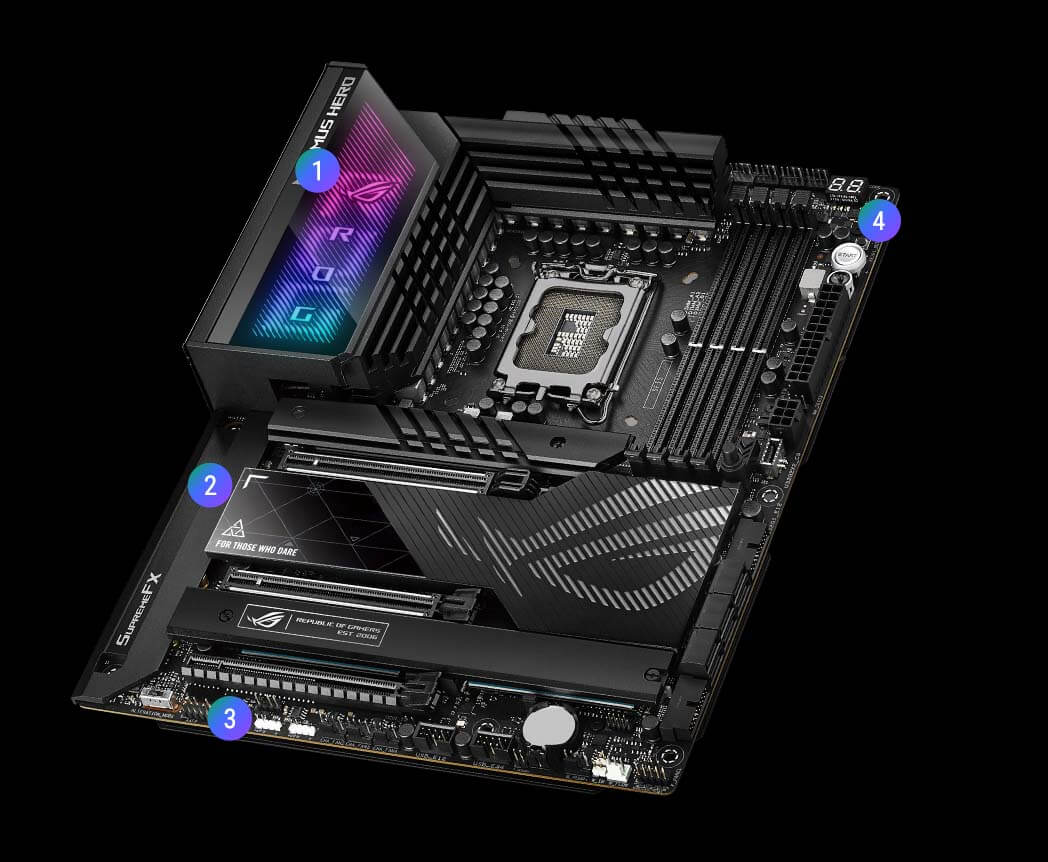 Other options include the MSI Z790 Edge WiFi (DDR4) and the MAG Z790 Tomahawk. Gigabyte's Z790 Aorus Elite is also a good option.
However, a more mid-range option could be pairing a 13600K with a B660 board. A great way to save some money right now is to go for a DDR4 board as those are seeing a remarkable price slash. Across the board.
Note that the upcoming 14th gen will use the LGA1851 socket and the Z890 chipset. None of these motherboards will support Intel's upcoming Meteor Lake processors, in other words.
Intel 13th gen vs. AMD Ryzen 7000
It's not so easy to give you a winner here. A high-end Ryzen 7000 CPU and a high-end Intel 13th gen CPU will not affect the in-game FPS of any major AAA title in the same system when it's not bottlenecking. But pricing, thermals, power consumption, etc. all matter.
Performance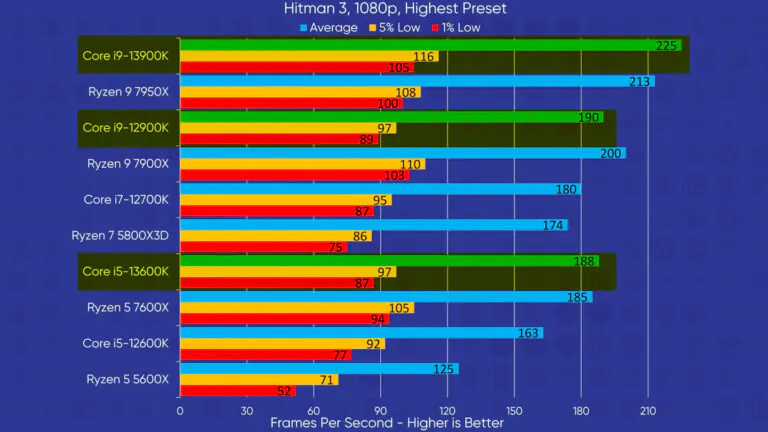 The 13th gen is not only more powerful in sheer performance in a head-to-head comparison, but also packs more cores at most price points, has more options available, and isn't so bad with thermals either.
At the very top end, i9-13900K and 13900KS easily outperform Ryzen 7900X and 7950X in benchmarks.
So, definitely, Intel 13th gen sends the Ryzen 7000 packing.
Price
Building an AM5 PC (Ryzen 7000) with DDR5 is notably more expensive than getting a high-end Intel 13th gen CPU with DDR4. As you'd know, Ryzen 7000 only supports DDR5. The Intel 13th gen can make do with a cheap $150 Z690 board.
In fact, you can pick a Core i7-13700K for $400 and a board like the $165 MSI PRO Z690-A WiFi for a total of $565. Depending on where you live, that could be the price of the AMD Ryzen 7000 equivalent CPU alone!
Thermals & power
Ryzen 7000 processors generally run hotter than Intel 13th gen counterparts. However, power consumption is a different story. The Ryzen processors consume very little power (comparatively) at full throttle whereas the Intel 13th gen CPUs consume way more.
For example, TechPowerUp did some multithreaded tests and found the following: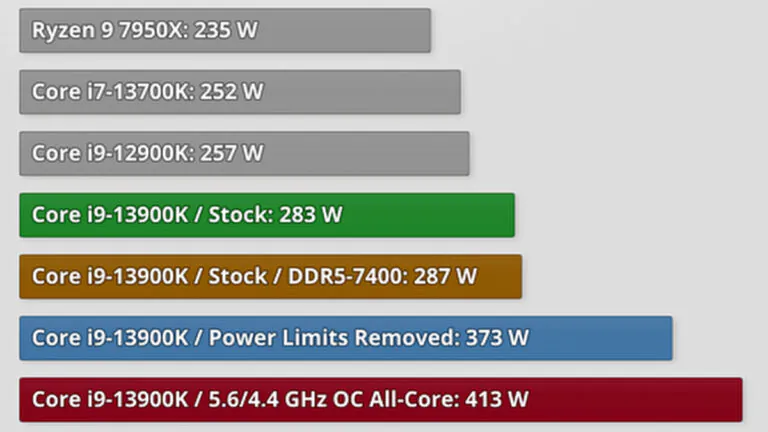 Gaming
Let's talk about the real-world case of gaming now.
Ryzen 7600X is marginally weaker than the Core i5-13600K. This doesn't translate to anything at all while gaming, however. And that's just one example.
If you're not a sucker for the technical nitty-gritty, you might as well stop comparing the two as in terms of performance, most Ryzen 7000 equivalent processors from the Intel 13th gen lineup are highly competitive for gamers. Those who need to focus mainly on video encoding and similar workloads should go with the Intel SKUs.
AMD Ryzen 7000 was launched before the Intel 13th gen on September 27, 2022. These CPUs are based on the AM5 socket and support DDR5 RAM and PCIe 5.0, being based on AMD's latest Zen 4 architecture.
There are 10 SKUs in the Ryzen 7000 desktop lineup. The highest-end CPU from the lineup is also a $700 processor but with fewer cores. The Ryzen 7950X3D is a 16-core CPU with a 120W TDP and a boost clock speed of 5.7 GHz.
Speaking for benchmarks and pure performance numbers, the 5nm Ryzen 7000 series is a good competitor for the Intel 12th gen CPUs and not the 13th gen ones.
Intel 13th gen vs. Intel 12th gen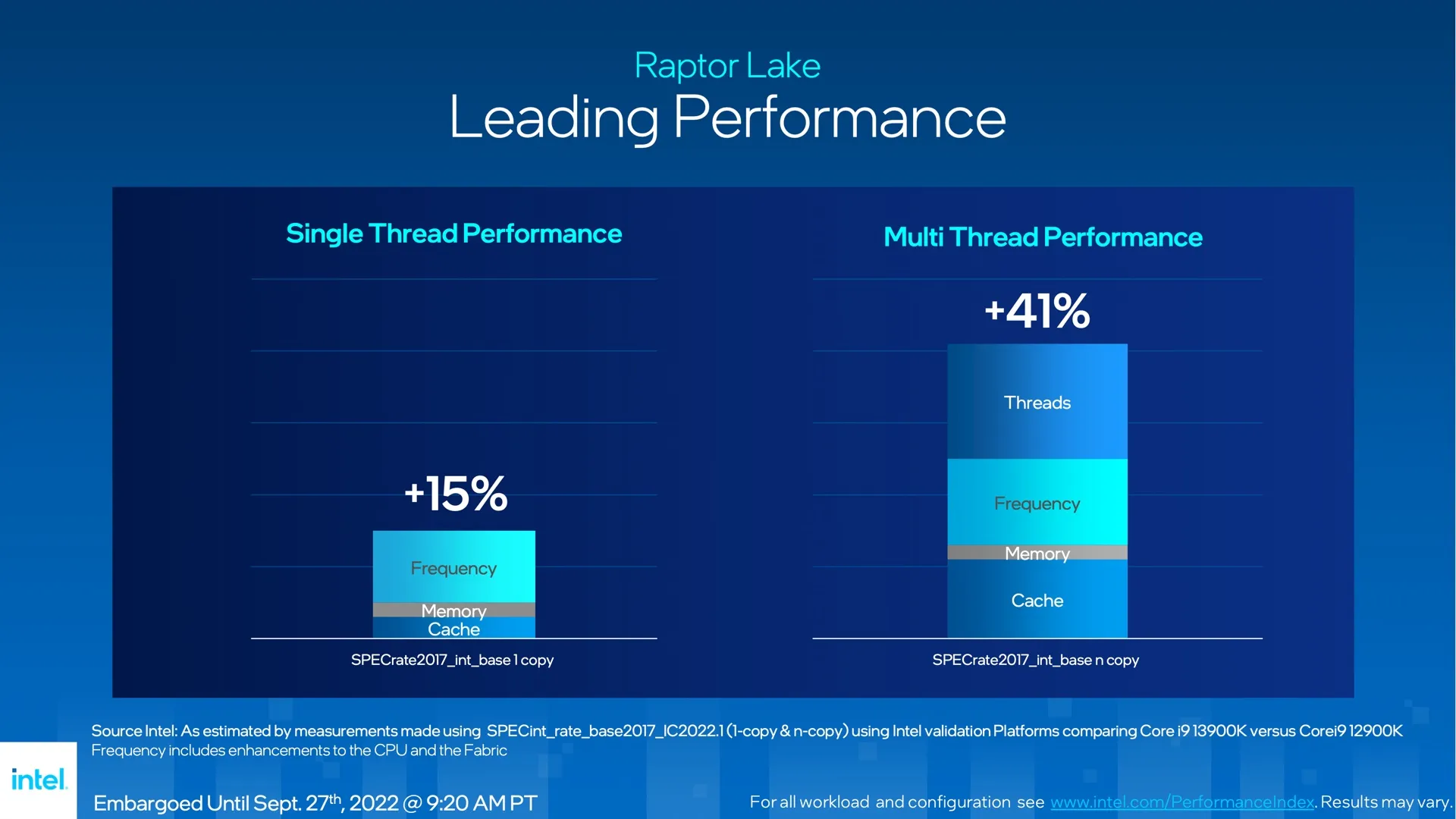 Intel has significantly improved the power usage of the 13th gen chips.
For example, the Core i9-13900K delivers pretty much the same performance as the Core i9-12900K gives at 241W TDP, while at only 65W. That's not just a hefty improvement, it's insane! Feed the 13900K more power and see the killer job it can do whether it's a single-core workload or multithreaded performance.
Roughly, in normal day-to-day workloads, you can expect around a 10-15% performance increase. In gaming and heavier workloads, it could be an improvement of anywhere from 30% to 40%+ when you compare Alder Lake equivalent CPUs to Raptor Lake ones.
Of course, each new generation is better. They try to keep the price points similar to the last one and fail, yes, so it's not really better for all. But apart from that, it's all better in some way. The jump from one generation to another is never tremendous. This time, however, it's closer to the tremendous end of the stick than to barely noticeable.
And that's a good thing for all PC users.
Final verdict
With class-leading single-core performance and a well-rounded architecture that balances thermals and power consumption, the Intel 13th gen has it all for all types of users.
Whether you're a gamer looking for a budget build that should be future-proof, an AAA-lover who needs all the bells and whistles turned on and maxed out in their games, or a high-end enthusiast who settles for nothing but the best—Intel has you covered with its latest lineup of crushingly powerful processors, both mobile and desktop.
If you're out for a new processor and have no problem with a rightly priced Intel CPU, then the 13th gen is a good recommendation for your build or laptop.
Latest posts by Earl "sloth" Richards
(see all)