Considering the astonishing rate at which digital gaming has been growing for the past couple of years, it is no surprise to see more than a few retail stores pop up every now and then.
Most games in every category are being discounted shortly after the official release and it is fairly easy to get ten, or even twenty percent off of any given game. However, now there is a new retail contender called The Instant Gaming that presents gaming enthusiasts with even a sweeter deal.
Website: The Instant Gaming. Not a sponsored post.
What is Instant Gaming?
Instant Gaming is a retail store that offers gamers from all countries an easy way of accessing their favorite games, membership plans, and weekly deals at a discounted price.
Being founded in 2010, Instant Gaming has already taken first spots in lots of categories. With this particular website, you'll be able to purchase various games for platforms such as Steam, EA Origin, Ubisoft, NCSoft, Playstation, Xbox, and Battle.net.
With the official CD Keys delivered to your mailbox almost instantly, you should never worry about the legitimacy of their store. Instant Gaming goes through a lot of trouble to demonstrate their honest efforts in providing 100% working and completely legal game copies to everyone.
How does Instant Gaming work?

There are no surprises here, the actual mechanism behind Instant Gaming's reselling platform is nothing short of what you'd expect. They managed to come up with a unique idea of purchasing game DVDs in bulk from cheap retailers and selling them online at a highly-discounted price.
It is no secret that Instant Gaming buys most of its products from countries that have games available at prices that are far below market value. However, this is neither illegal nor unethical. You are still getting all you have paid for and in some cases even a gift code which you can redeem later on their website.
Instant Gaming Prices – Are They Worth It?
Surely, yes. The main advantage of their store is that they offer games at ridiculously discounted prices. How they can afford it was carefully described above, simply browse their marketplace and get up to 80% off of your favorite games.
They even offer a Chrome addon called the Instant Gaming extension which displays their prices on platforms like Steam. This will help you compare deals without visiting two separate websites each time.
Purchasing and Activating a Game
Buying and activating any product from Instant Gaming is child's play. After signing up for an account, you will be asked to verify the ownership via Email. You can do so by providing the security code, or simply signing up using your Gmail account which might be linked to various gaming platforms later on to save your progress.
After your profile is activated, choose a payment method you're comfortable with, and go ahead with your purchase. There seem to be no instances of declined purchases that might be linked to Instant Gaming's inadequacy, so if you are unable to make a transaction, check the funds or contact Instant Gaming support via ticket or Email.
Is Instant Gaming Legit?
Yes, Instant Gaming seems to be 100% legit. They have more than twelve years of practice in selling digital games successfully, which means there is no reason to doubt their trustworthiness. Surely, some users are seldom unable to redeem newly acquired CD Keys, but as it is stated in Instant Gaming's FAQ, they are more than happy to replace such codes without the extra cost.
If you are still in doubt, feel free to choose the most trusted review community, TrustPilot. This platform accepts and reviews real players' assessments, and the rating is determined by the thousands. With an excellent score of 4.7 and more than 560,000 reviews, Instant Gaming seems like a pretty safe website to conduct business with.
Payment and Security
There are only a few payment methods you can choose from including Visa, MasterCard, Paypal, Skrill, CoinPayments, and Paysafecard. You can either top up your account funds by choosing the desired amount or simply link your credentials and purchase games as you go.
Your financial data will be quite safe since there have been no instances of users losing funds due to unknown reasons and as their database is safely stored.
Instant Gaming uses the latest version of SSL, the most secure encryption method. All of this assures that it is physically impossible for even Instant Gaming staff to view your financial info.
If you want to stay extra secure, choose PayPal as your payment method. You should do this in order to get back your funds as soon as possible if you are scammed. PayPal always makes a client's query a priority.
Support – Is It Reliable?
While they don't offer a 24/7 live chat to their users, getting in touch with Instant Gaming's support is fairly easy. After visiting the "Contact Us" page, choose your favorite way of communicating and describe your issues. You can do so by opening a ticket or sending a short email. The support staff will get in touch with you shortly.
If you are somehow unable to get a hold of them, go ahead and open a ticket on TrustPilot, after which you will be surely contacted. Nothing is worth ruining a good reputation.
Conclusion
After scouring the web and checking out multiple gaming communities, it seems like there is no reason to be fearful of making a purchase at Instant Gaming. They also have a nifty tool that allows you to see the Instant Gaming price on other websites, such as Steam (shown below).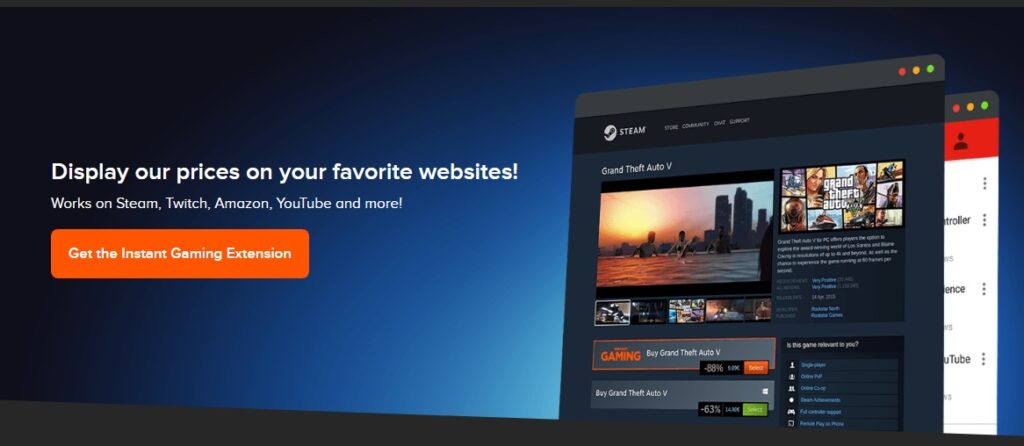 Latest posts by ShadowPanda
(see all)