Every PC needs an antivirus. Though most general PCs do just well with Windows Defender (now rebranded to Security), as a gamer who browses the internet a lot, you might want an extra layer of protection.
But antivirus software are always on, don't die when other processes are taking up resources, and throw notifications around when least expected.
All of that ruins a good gaming session.
If you haven't used a good antivirus in a while, nevertheless, you'd not know that it was mostly the case in the 2000s. Today, the majority of antivirus programs have acclimatized to workaholics with do-not-disturb, power users who care about their memory usage, and most importantly, gamers who don't like distractions or major resource leakages.
With that, I have put together a guide of sorts to help a gamer find a good antivirus program that doesn't eat resources, doesn't distract, and is easy to kill when needed.
Top 4 antivirus programs for gaming laptops & PCs
It could be too much work to try and find a good antivirus. More importantly, not everyone has used or has the time to use multiple antivirus software to effectively compare their features. Constantly upgrading software, new features or updates, and optimizations or bugs don't help either.
That's why I have listed the best antivirus software for a gaming PC below after years of usage, research, and expert opinions of gamers themselves. You simply can't go wrong with any of these (mainly the first two).
1. Norton 360 Deluxe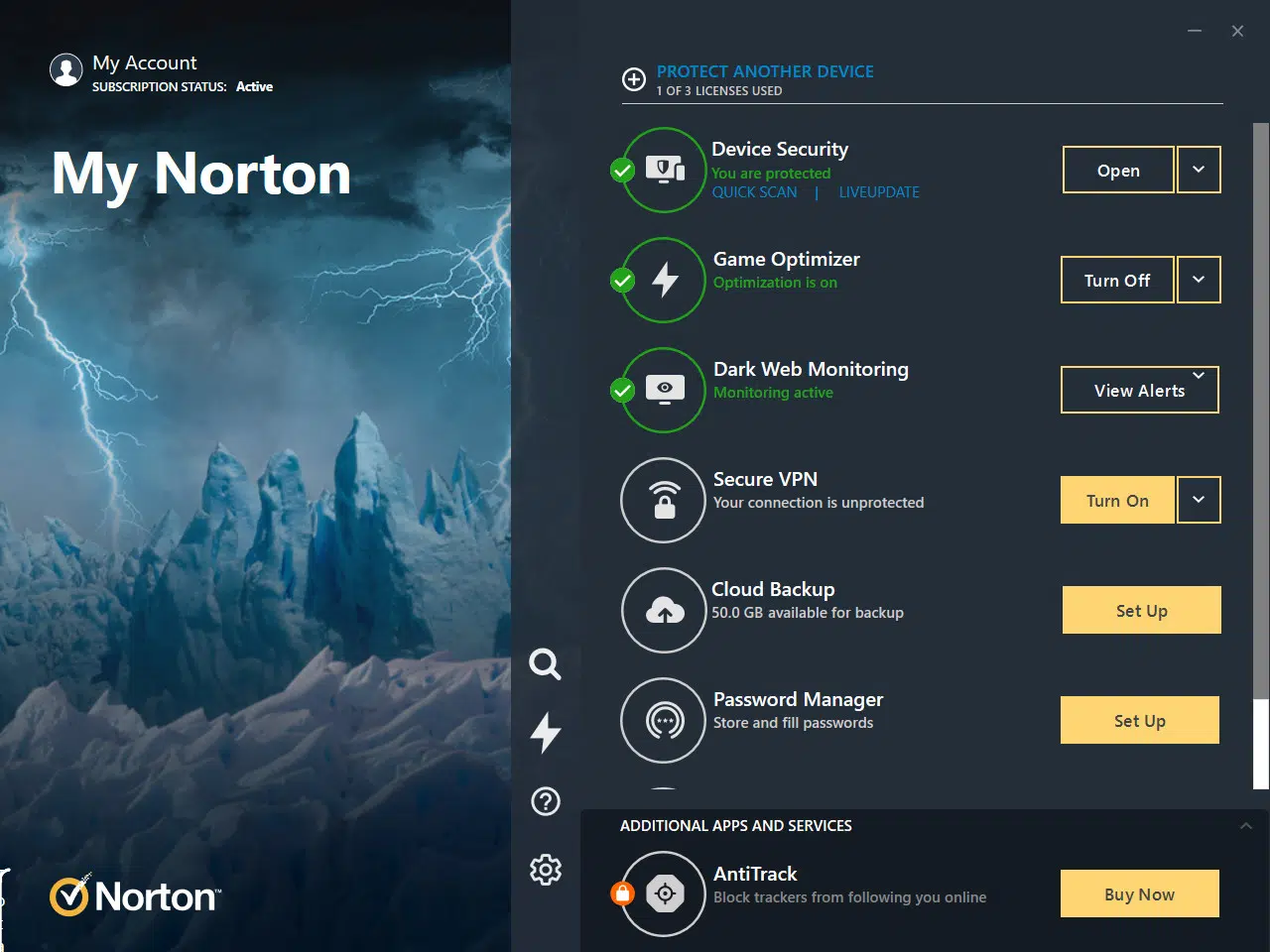 Norton 360 Deluxe is the ultimate security solution for gamers. It includes advanced protection features such as automatic backups, secure VPN, password manager, and more. It provides the industry-leading protection you need to stay safe from cyber threats, malware, and hackers.
The antivirus protection included in Norton 360 Deluxe is top-notch. It can detect and block malicious software and viruses that can damage your gaming system and threaten your privacy. It also runs regular scans to identify and eliminate any threats that may have been missed.
Another great feature of Norton 360 Deluxe is its automatic backups. It will securely save all of your gaming data, so if you ever need to restore it, you can do so quickly and easily. This is particularly useful for gamers who want to be able to continue their game from where they left off.
The secure VPN feature is also great for gamers. It creates a secure connection between your gaming device and the internet. This way, you can rest assured that all of your data is kept safe and secure from hackers, malware, and other cyber threats.
The password manager included with Norton 360 Deluxe is incredibly useful for gamers. It helps you generate strong passwords for all of your gaming accounts and store them securely in one place. This way, you don't have to remember all your passwords — just one master password.
2. Bitdefender Total Security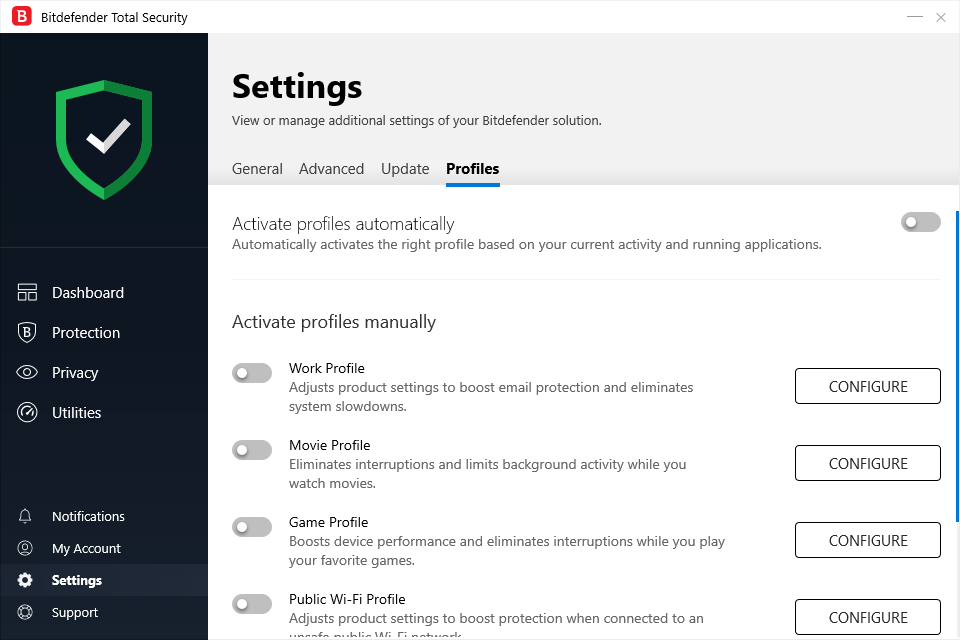 This one has a game mode that limits background processes, a Gamer Network Protection that monitors online gaming sessions, and a Game Booster.
Bitdefender Total Security is a comprehensive Internet security suite that provides protection from malware, viruses, phishing attacks, and other online threats. It is a powerful suite that is designed to keep your computer and other online devices safe from harm. One of the key features that make Bitdefender Total Security stand out is its gaming features. These features provide gamers with the necessary protection to enjoy their gaming experience without worrying about malicious threats.
It has a specialized game mode, which will ensure that your gaming experience is uninterrupted. With this mode, the performance will automatically detect when you are playing a game, and it will limit all the background processes to make sure that your gaming experience is not affected. Additionally, it will disable any notifications that may distract you during your gaming session.
Bitdefender Total Security is also equipped with a Gamer Network Protection feature. This feature works by monitoring all incoming and outgoing data, and it will block any malicious traffic that may be attempting to enter your device. This feature also adds an extra layer of protection against DDoS attacks, which can interfere with your gaming experience.
If all that wasn't enough, it additionally includes a built-in Game Booster. This feature will optimize your device for gaming by allocating more system resources to your games. This can improve the performance of your games and make your gaming experience smoother. There's no difference in performance to be seen on higher-end PCs, but there are some noticeable advantages to this mode on lower-end hardware and even mid-range gaming PCs.
3. Kaspersky Total Security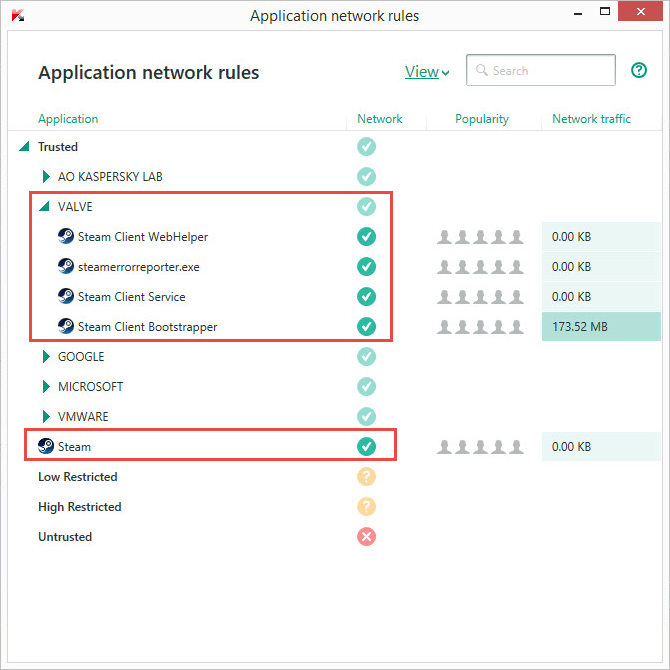 If I was choosing, I'd go with either of the two above. But let's say for some reason you need another option that's just as good but definitely not better. That option, right now, is the Kaspersky Total Security.
Kaspersky Total Security is an all-in-one security solution that offers the ultimate protection for gamers. It provides robust antivirus protection, parental controls, protection against phishing and malicious websites, a firewall, and much more. With Kaspersky Total Security, gamers can rest assured that their gaming systems are secure.
It has several features specifically designed to enhance the gaming experience. The Gamer Mode feature allows gamers to disable notifications from Kaspersky Total Security so they can enjoy uninterrupted gaming sessions. The program also has protection for up to five gaming devices, allowing gamers to play across multiple gaming devices without having to worry about any security issues.
It also provides remote control and data backup features, perfect for gamers who want to protect their gaming data even if their PCs are stolen or damaged. Finally, the program comes with a VPN that helps gamers protect their online identity or unblock geo-censored content.
4. McAfee Total Protection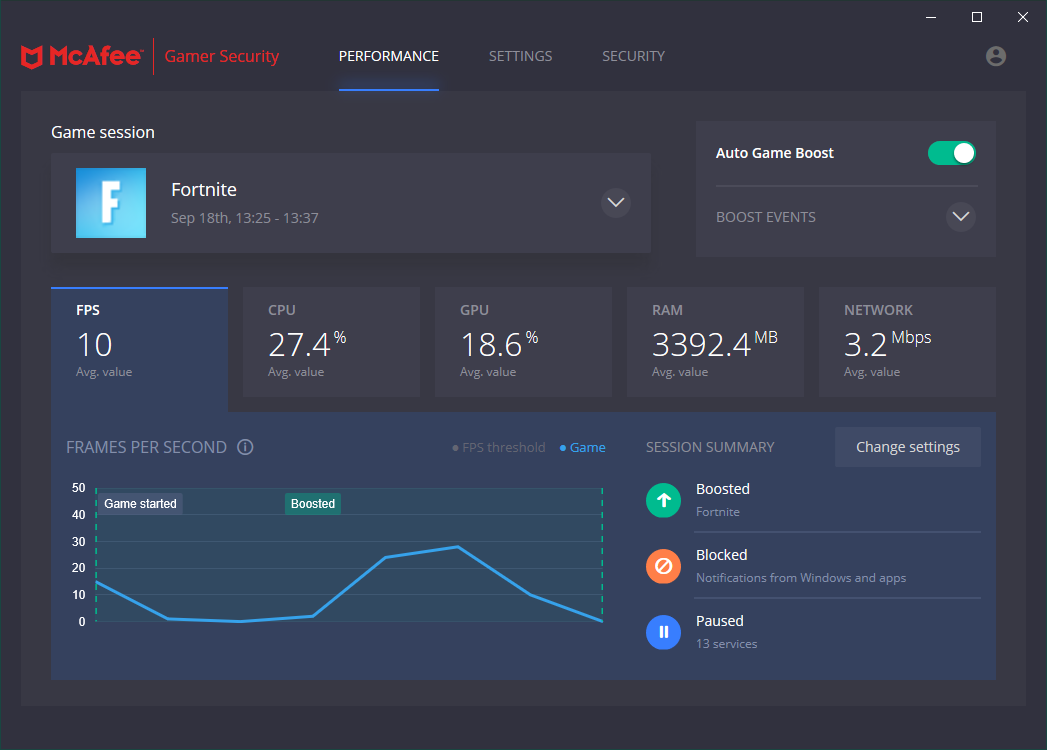 If you have still not made up your mind, I will give you one last option. This is the least favorite of mine but it's still better than a bunch of free antiviruses out there that promise big things but always hamper the user experience and fall short of delivering protection when it's required. McAfee might be a little bothersome but it does what it's supposed to do.
McAfee Total Protection provides excellent protection against viruses, malware, and other malicious software. It also includes real-time scanning and automatic updates to stay ahead of the latest threats. It can also encrypt your sensitive data to keep it safe from hackers and other cybercriminals. It also offers secure storage for your game files and settings, so you can always have access to your gaming data.
It ensures secure network connections and firewall protection to keep your gaming data secure and private. It also features parental controls to help parents monitor their children's online activity. As for performance optimization, McAfee Total Protection includes some tools that help keep your gaming system running smoothly. It also helps free up disk space so you can store more of your games and other data.
McAfee Total Protection offers specialized gaming features to enhance your gaming experience. It has game boosters that allow you to customize your gaming environment for optimal performance. It also offers gamer profiles, which allow you to create different gaming profiles for each game you play.
What to consider when picking an antivirus for a gaming computer?
When it concerns gaming, having a swift and responsive computer is crucial. However, a computer that lacks antivirus software can swiftly become infected with malicious software or viruses, leading to a slowdown and potential breach of personal information.
Therefore, it is vital to have a dependable antivirus program installed on your gaming laptop or PC to keep it functioning smoothly and safeguard your data.
Device maintenance
The general performance of the device is improved by deleting cache and other files that take up space. It's important to think about an antiviral that performs this action automatically.
Game boosters or game setting
Antivirus software is essential to keep you and your device safe, but it can also make gaming less enjoyable. In this situation, you should purchase an antivirus software with a gaming option. For the antivirus to continue operating in the background without interfering with gameplay, a feature like this is created to enhance CPU and GPU efficiency when gaming.
Cloud-based scanning
The entire antivirus package won't use your CPU for scans or other antivirus-related tasks if it is cloud-based. This will free up processing power for the finest possible gaming experience.
Additional features
A password manager, cloud storage for your files, or antivirus with a VPN are all optional extras that enhance the finest antivirus experience you could have.
Wrapping up
Many gamers are unaware of the statistical fact that malware and phishing attacks can target gaming PCs just as easily as they can target a normal user's computer. In reality, there have been reports of con artists and threat actors focusing specifically on gamers. When faced with the dangers of malware, phishing, and doxxing, purchasing an antivirus specifically designed for gaming may be the wisest move you can make. However, antivirus software also affects CPU speed, which degrades gaming quality.
There are numerous other antivirus apps, though, that have speed enhancement tools and excel at preventing malware infections. I hope this guide helped you figure out which one is the finest for you.
Latest posts by Emiel Willis
(see all)