From chairs that allow you to lie down 180° to ones that come with a bunch of adjustable panels – there are many features to look out for when buying a gaming chair. Gaming desks are theoretically simpler. You have much less to talk about in terms of specs, features, or performance. Desks are mainly chosen based on the gamer's budget and required durability.
Budget is an important consideration all the time. Generally, the superior build quality and more features you want, the more you'll need to spend – but that's not always true.
Avoid brands that have higher minimum prices – basically the price range where their entry-level SKUs start at. Some brands have something for every price range – and I recommend these brands over those that start with a premium price. The higher you go in such versatile brands, the better quality you'll get.
Chairs
Let's first talk about buying gaming chairs, or as Newegg once called them in an article, your throne of games. Too good to not mention.
We'll cover:
There are three main types of gaming chairs: rockers, recliners, and racing. It's best to go gaming chair shopping without already having a preference.
Comfort and ergonomics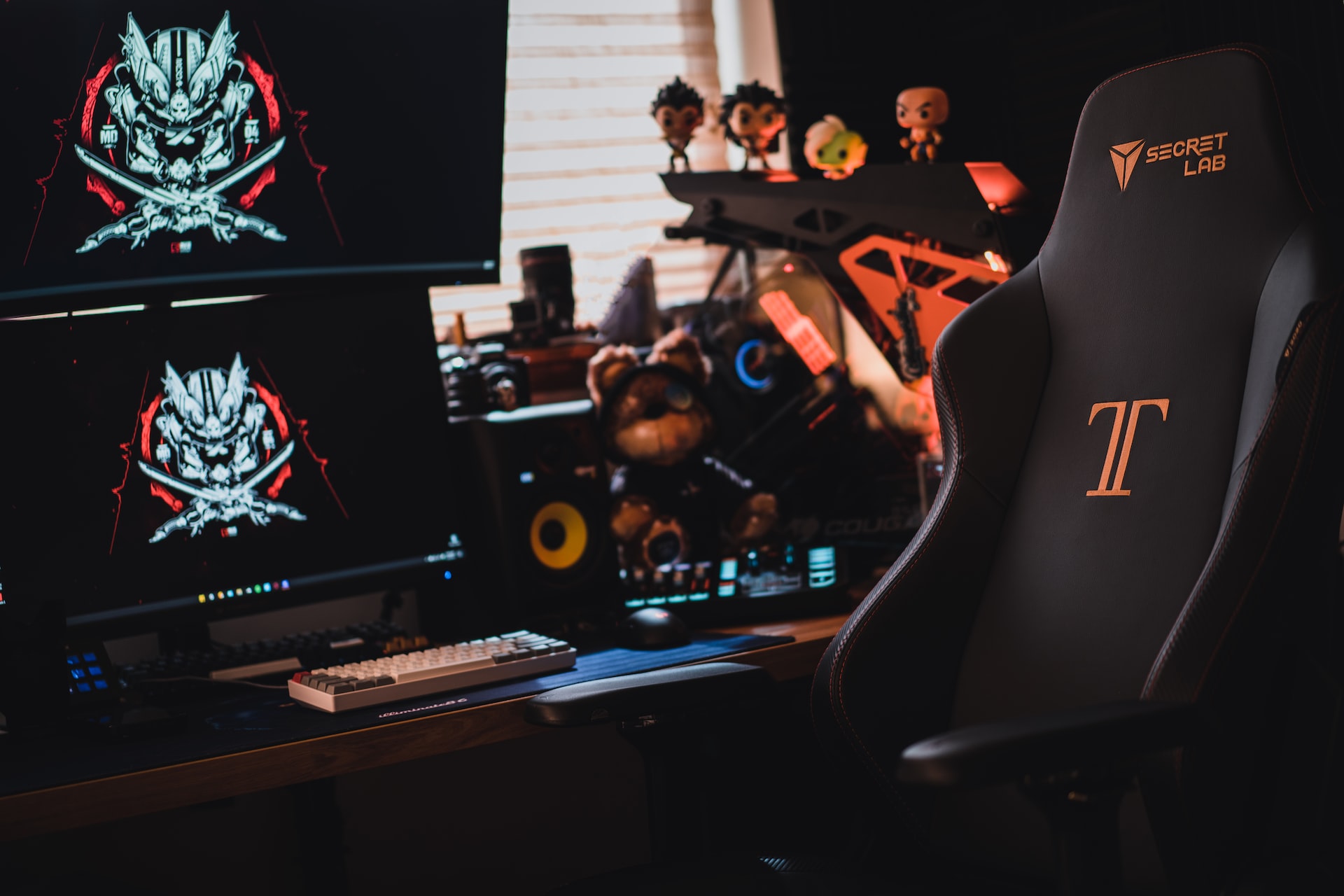 Comfort and ergonomics are intertwined. Different features make a chair more comfortable or less. However, it's important to remember that the chair holds the entire body's position and weight for long hours – so it has to fit you specifically. In other words, what's super-comfy for someone else might not be so good for you.
Generally, you want to tick as many ergonomic features as possible from the following list:
Built-in lumbar support
High-quality steel frame
Neck pillow
4D adjustable armrests
Plush fabric
Adjustable lumbar arch
A deep-enough seat depth that fits you
Adjustable/flexible panels
Ventilated seat
Also, remember these:
If you have two similar options but one offers memory foam instead of regular padding for the neck – go for that one. It's worth spending some extra money. There's also a better type of memory foam – cooling gel memory foam. It keeps you cool, obviously.
Only choose among chairs that have a tilting backrest and armrests.
If you game or stream for long hours, you need a chair that's specifically built for comfort and support. These usually cost more and provide remarkably superior "fit," which is great for long hours. These chairs are distinguished by a sturdier backrest, adjustable lumbar support, and other features to reduce back pain.
When faced between leather and any other material, don't overestimate leather. Leather is not the best material to sit on for long hours – especially when compared to the many types of hybrid foam materials you can get in good gaming chairs.
Height & load
Different gaming chairs have different heights and weight/load capacities. Having the right idea of what your height and weight requirements are is step #1 in choosing the most comfortable and ergonomic chair for you.
Some chairs come with complex height adjustments. Frankly, this is a feature you'll be using rather occasionally so don't pay a lot of attention to this. A basic height adjustment is enough – and as long as you have a good eye level – it doesn't matter how higher or lower you can go anymore.
Padding
Padding density is also important. Denser padding has more long-lasting comfort. Don't be sold to overly cushiony paddings. You don't want the paddings to be super-soft and fluffy – it just means it will wear out sooner.
You want something that's not hard or painful to sit on – but is dense enough to not feel "super soft" and "comfy." You'll understand this better if you've taken a ride in cars of different price ranges. More premium cars don't necessarily have softer upholstery. It's just denser to offer long-duration comfort.
Support
The chair will have a "support" quality to it. It's a culmination of padding density, frame durability, bolsters, overall flexibility, etc. – but in broad strokes terms, it means how well the chair will fit you. It shouldn't feel too tight or too loose.
Upholstery material
Different gaming chairs are made from different materials – however, the most important material to pay attention to is upholstery. You can choose between faux leather (PU, PVC, EPU, etc.), fabric, PVC leatherette, linen, polymer mesh, leather, and so on.
All of these materials have their own pros and cons. None is the best or the worst. But more often than not, you will get a better experience with types of faux leather.
Durability and build quality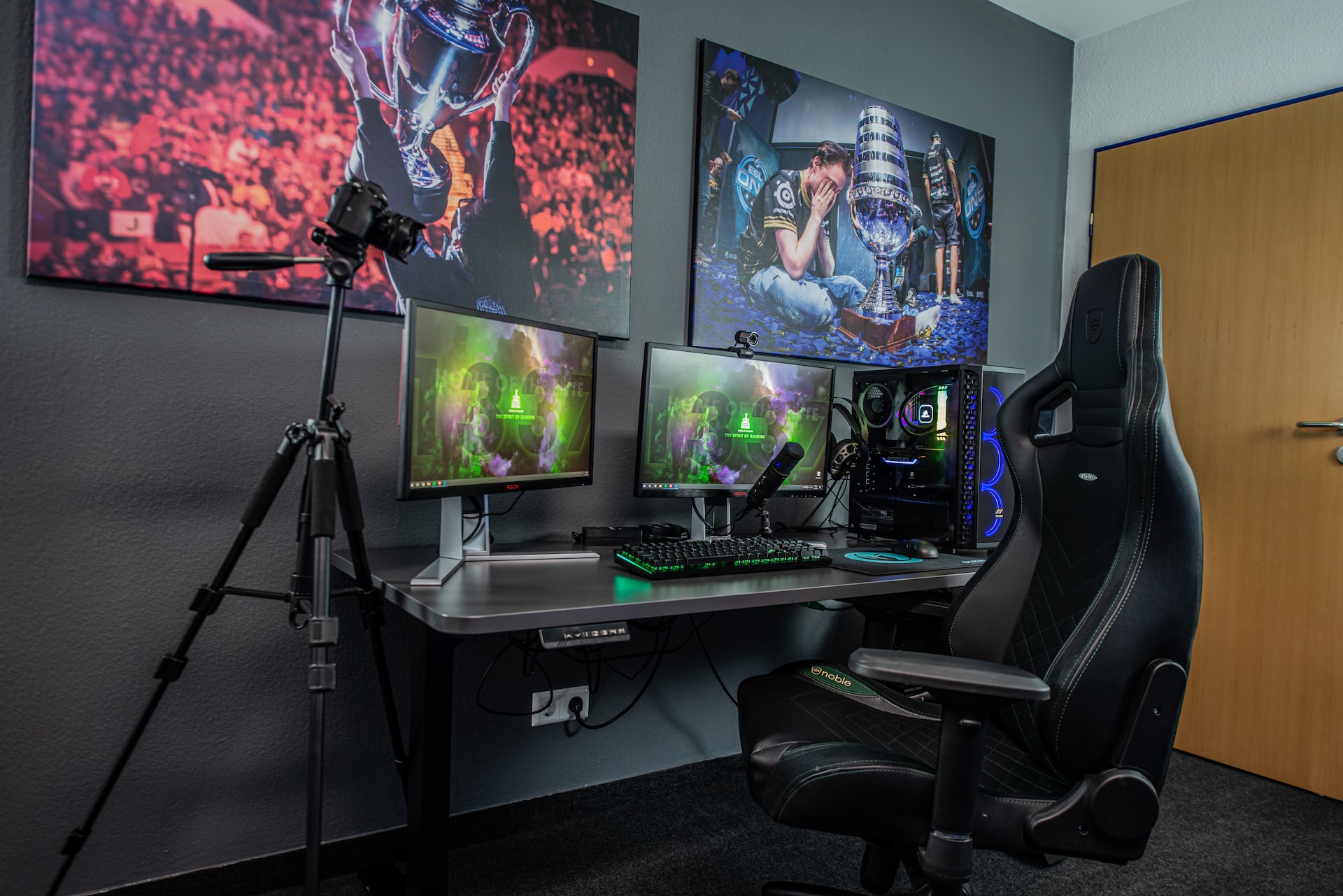 The core of any chair determines its durability and flexibility. More well-built chairs from reputable manufacturers such as Secretlab, Razer, OFM, Noblechairs, Corsair, Respawn, Homall, DXRacer, Vertagear, Thermaltake, etc. often have superior build quality than local gaming chairs and most office chairs.
Sadly, there's not much to learn from pictures when it comes to determining the overall build quality and durability. It's all a matter of checking out customer reviews on Amazon and looking for any complaints.
A good deal of reviews on tech and media sites are typically sponsored – and might not be the best way to figure this out. They also try to sell all items they review without telling what one product has over the other, which makes their reviews all the shallower.
Durability is something you need to test for yourself. Some manufacturers are known to build better quality gaming chairs than others. Also, as a general rule of thumb, the more money you spend, the superior build quality you can expect. Cheap chairs will almost certainly use lower-grade material including frame steel.
Backrest and armrests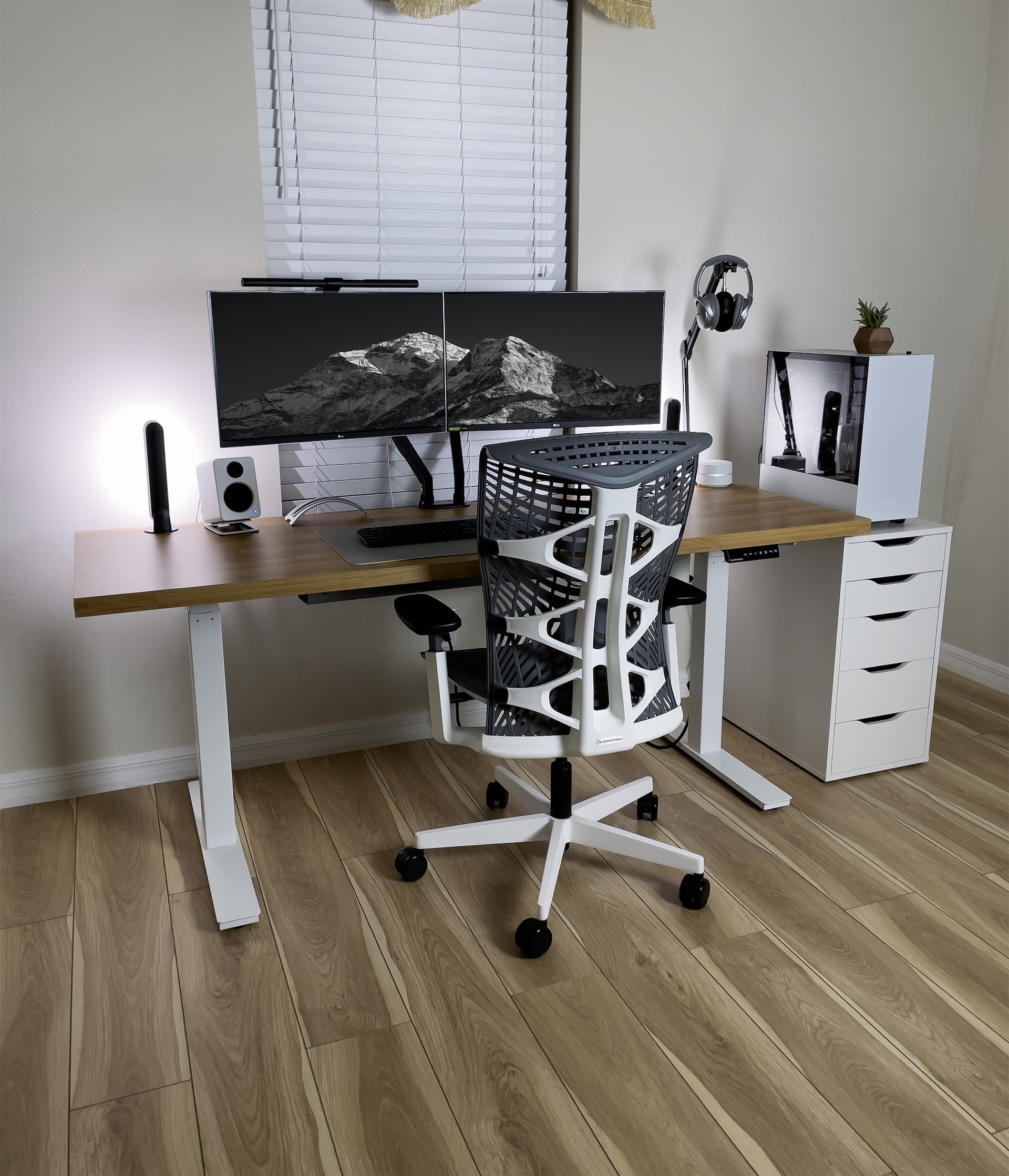 As mentioned earlier, you want a gaming chair that has a backrest with a wide angle range (meaning that it can be tilted) and with adjustable armrests. Armrest adjustments are usually up/down, in/out, forward/backward, and inward/outward from the body (rotate).
Backrest reclines are typically between 90° and 120° – but some go even higher (technically lower), up to 180° degrees (for a lying down posture). Some offer free reclining where you lock the angle at any level, while others offer a stepped configuration with a lever of a similar tool.
Ones with steps are more durable and longer-lasting.
Looks
Shapes and colors determine how the chair will look. Looks are important because we're more concerned about building the ideal gaming setup for you – not just buying a chair. Pick something that goes with your den or setup.
How sporty the profile is, what are the color accents, how well-designed are the shoulder vents and pass-throughs, how exaggerated the backrest styling is, and so on – these are all preferences that differ from gamer to gamer.
I'm sure the first impression of a chair is enough to decide whether you'll read up on its features or not. There's not much to flesh out here because looks are subjective.
FAQs
Let's answer a few questions regarding gaming chairs and their usage.
Are gaming chairs worth it? Can I game on normal/office chairs?
Almost all office chairs come with mesh backs vs. the racing-style solid back of gaming chairs.
Often, you'll find that gaming chairs only have one potential benefit over work, office, or executive chairs – and that is aesthetics. Office chairs, too, are designed for long hours, not just gaming chairs. So, are looks really worth it to spend so much more?
Well, upon a closer look, you'll quickly understand how a gaming chair's comfort and support fit a gamer better. Gaming is not working. We're generally more relaxed with our bodies when gaming. An office chair is supposed to restrict you while being comfortable so you can work tirelessly – whereas a gaming chair is supposed to make it fun while you game tirelessly.
Good gaming chair manufacturers have this figured out. You'll notice this distinction when you use a good gaming chair after using work or office chairs mainly.
That being said, today a lot of boss and executive chairs come with similar levels of comfort and are a serious contender to all types of gaming chairs.
Do gaming chairs help me correct my posture?
The answer to this depends on the chair in question but generally, they offer better posture correction than most average chairs and office/work chairs. Executive work chairs are more ergonomic and offer comparable posture correction and support benefits to gaming chairs.
Gaming desks
Now, let's talk about buying gaming desks. Gaming desks are simpler to choose from and durability and budget are most likely your only deciding factors. Still, there are a few things to know beyond those two points to get the best gaming experience from your legendary gaming setup!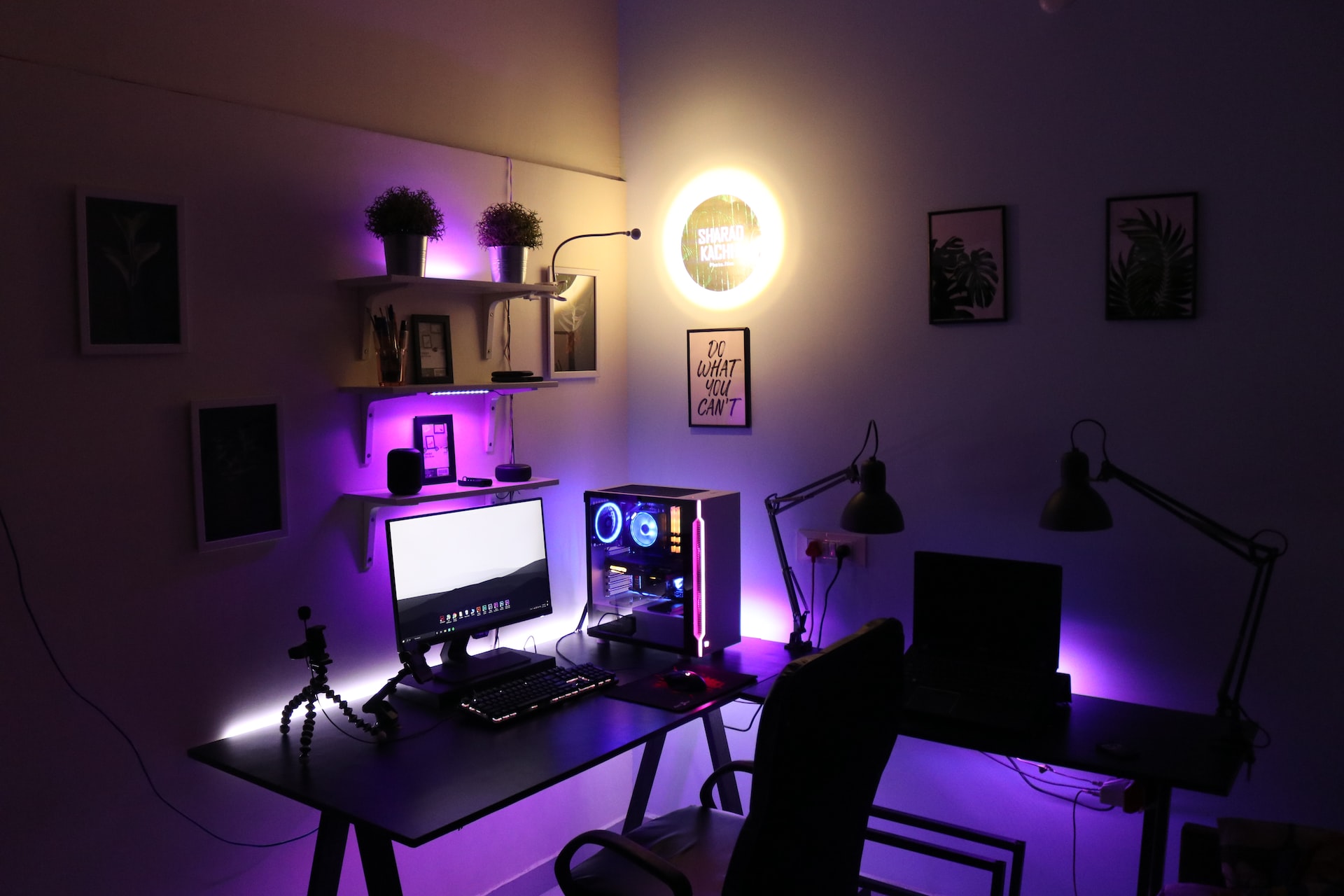 Gaming desk features to look out for:
Cost: Material, features, and most importantly, the size determines the cost of a gaming desk. It can cost anywhere from $100 to $1000+.
Size: The size of the desk is an important consideration. It depends on what kind of space you have available in the room or your gaming den. More volume and greater size are directly proportional to storage space. Multi-monitor setups and more elaborate gaming setups such as those with headphone stands, speakers, and other peripherals require a large desk area.
Height: Some tables offer adjustable height but more often than not, you'll find a good desk height as long as you limit your search to computer tables.
Shape: Not all desks need to be flat rectangles. Some come with side flanks or in an L-shape (corner-style desk). Usually, L-shaped or U-shaped desks offer better comfort and increased usability but there's nothing wrong with a simple rectangular desk for gaming.
Accessories management: Trays, drawers, raised areas, hooks, etc. are good to have. They allow you to store your peripherals and accessories in a neater way. For example, headsets hooks/hangers/clips, cup holders, slots, etc. don't necessarily offer more storage but do provide better management for your on-desk stuff. Also, some desks come with cable management bays/nets/trays, holes, grommets, etc. – these help you manage the cable mess a little better unless you have an all-wireless gaming setup.
Build quality and material: Mostly, you'll be spending a good amount of money on a gaming desk that's built with metal parts on a real wood frame/structure. Avoid desks made with particle boards. Run away from anything made from plastic. You'll be hardcore gaming on it, which entails all sorts of violence. Plastic is too weak unless it's for a laptop or console.
Assembly: Common to both, gaming chairs and gaming desks
Lastly, a point that's common to both – gaming chairs and desks.
The assembly of the chair or desk has to be hassle-free. Inconvenient assembly is generally bad as it often precedes an anti-user-centric design priority. If a manufacturer doesn't care to make the assembly process as easy and smooth as possible, there's no telling how good their support will be or the quality of other parts too for that matter. That's something I've learned the hard way.
Also, if you move between places like me for any reason, you want a smooth disassembly and assembly process over other priorities such as armrest adjustability on chairs or extra peripherals storage on desks.
Conclusion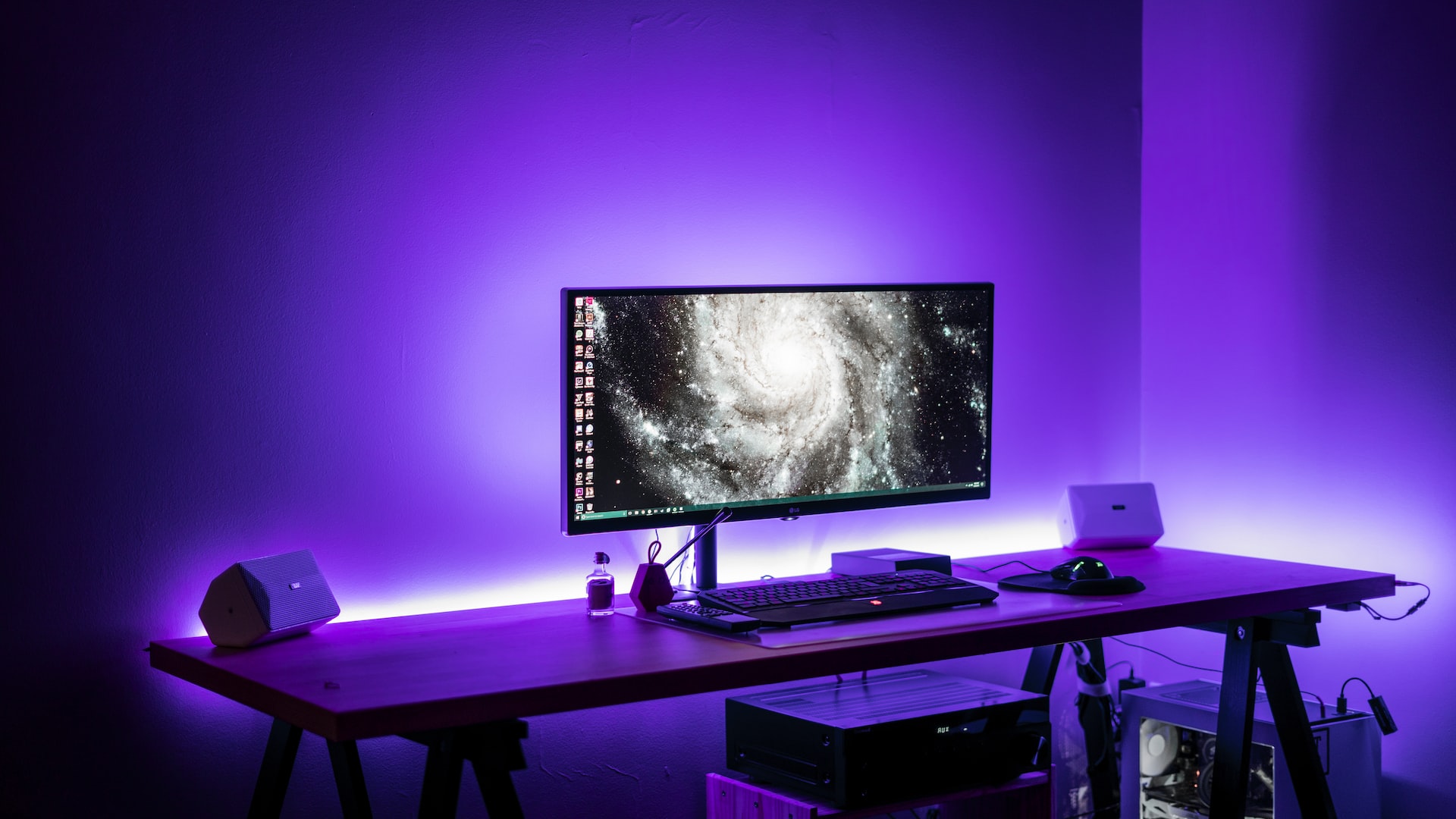 The chair and desk are the largest parts of your gaming setup. They are also what decide how your gaming area generally looks from a distance. It's important to put a lot of thought into what's important and what's not before you start making decisions.
Hopefully, the pointers I talked about did you some good. If not, I'd like to know what else you think a gamer needs to consider when buying a gaming chair or a gaming desk.
Ultimately, it all boils down to being able to discern what's truly important for your comfort and gaming experience. A magnetic neck pillow is easily adjustable and 3D armrests allow you to change the position of your arms on a super-tilted chair – but are these really features worth spending $100-200 extra on?
Once you have your own comfort known you'll be able to make better decisions. The same applies to desks though the features are fewer – making your choice simpler and more budget-oriented.
Latest posts by Shane "raven" Watson
(see all)