We'll start with the lowest tier. If you haven't bought many gaming keyboards in different price ranges before, understand that the quality of the parts or components, durability, and convenience of use decrease the lower you go. This can range from something like the keyboard having cracked keys within a year to the keyboard being inconvenient to use.
All these keyboards have adjustable LED or RGB backlighting. LED backlit keyboards are less customizable with a few presents, breathing speed control, and on/off toggles. Some RGB keyboards can be customized in many more ways using software.
All the keyboards tested here are reliable in their price point and are not as cheap as many others that also cost pretty much the same amount.
Fiodio Rainbow ($25)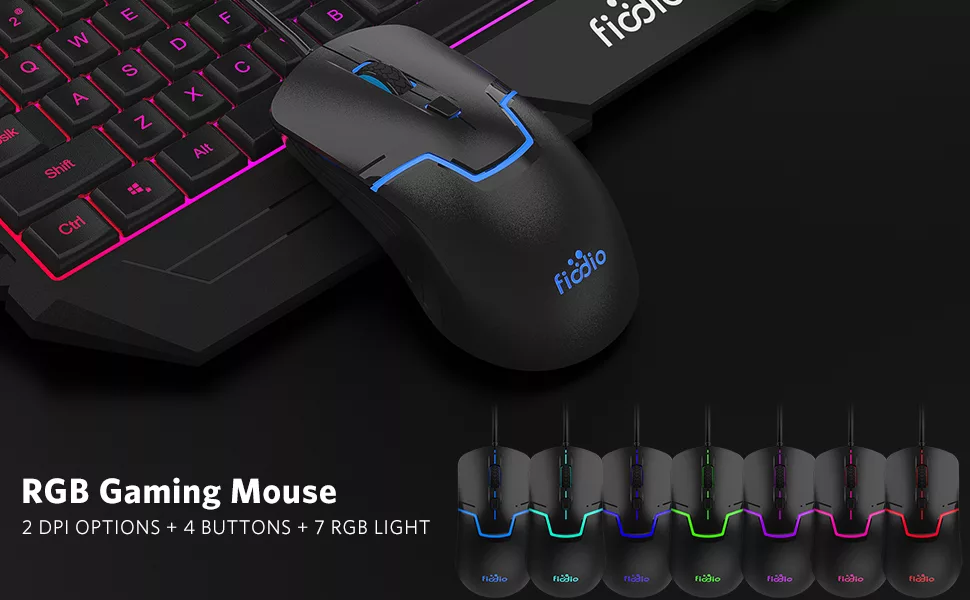 Membrane, USB, LED-backlit, full numeric keypad, 26 conflict-free keys (total 104)
The cheapest good or reliable gaming keyboard actually comes with a 1600 DPI mouse as well. The standard version is $28. We didn't choose that one because that looks more like a PC keyboard than a gaming keyboard.
This keyboard is pretty comfortable both in terms of typing and the backlight. Not very quiet. Note that this is a membrane keyboard, not a mechanical keyboard. Membrane keyboards are cheaper and differ from mechanical ones most importantly in that you need to apply more pressure (actuation) for the system to register a keypress. In other words, membrane keyboards like this one are less sensitive than mechanical keyboards below on this list.
As an aside, membrane keyboard switches are rudimentary and don't have a good lifespan.

Cooler Master CK552 ($75)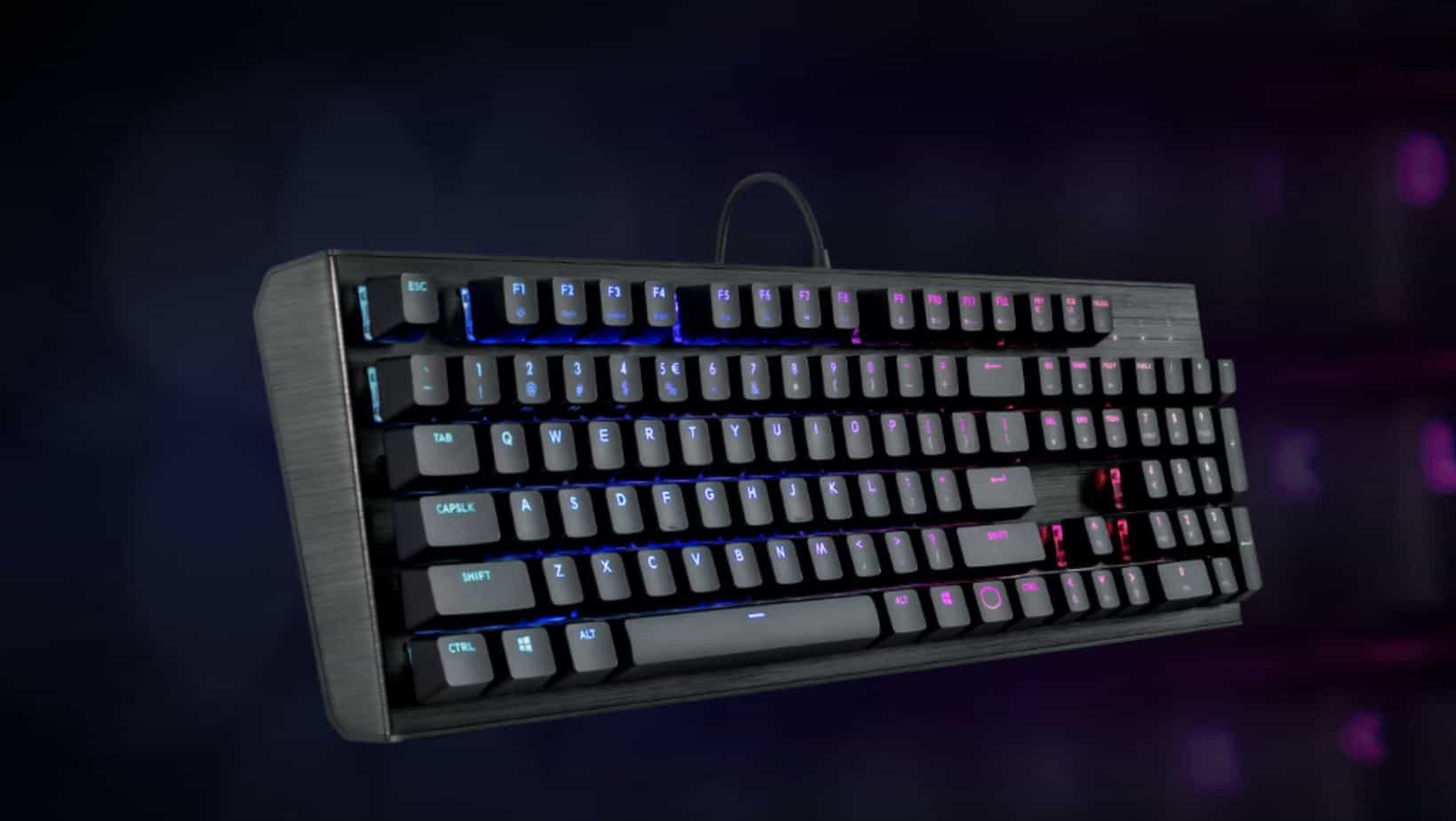 Mechanical, wired, aluminum top plate, smooth RGB illumination with 16 presents and custom controls as well
The CK552 from Cooler Master is the first actually good gaming keyboard on this list. It has it all: customizable RGB, linear (Gateron Red) switches, and a gamer-friendly brushed aluminum texture. This is what we recommend to gamers looking for an entry-level mechanical keyboard.
The laser-etched ABS keycaps are a little bit of a downer. In our experience, there have been similarly-priced mechanical gaming keyboards from same-niche brands such as Corsair and Razer that had significantly more durable keycaps. But if you're a gamer who will be installing their own keycaps anyway, this keyboard is fantastic for you.
The linear switches in this keyboard are very sensitive and it doesn't take much force for them to register a press. If you're coming from a tactile switch or more importantly, a membrane keyboard where you bottomed out every key back into the PBC, you will find yourself accidentally pressing keys until your fingers get properly acclimatized.

Asus ROG Strix Scope ($103)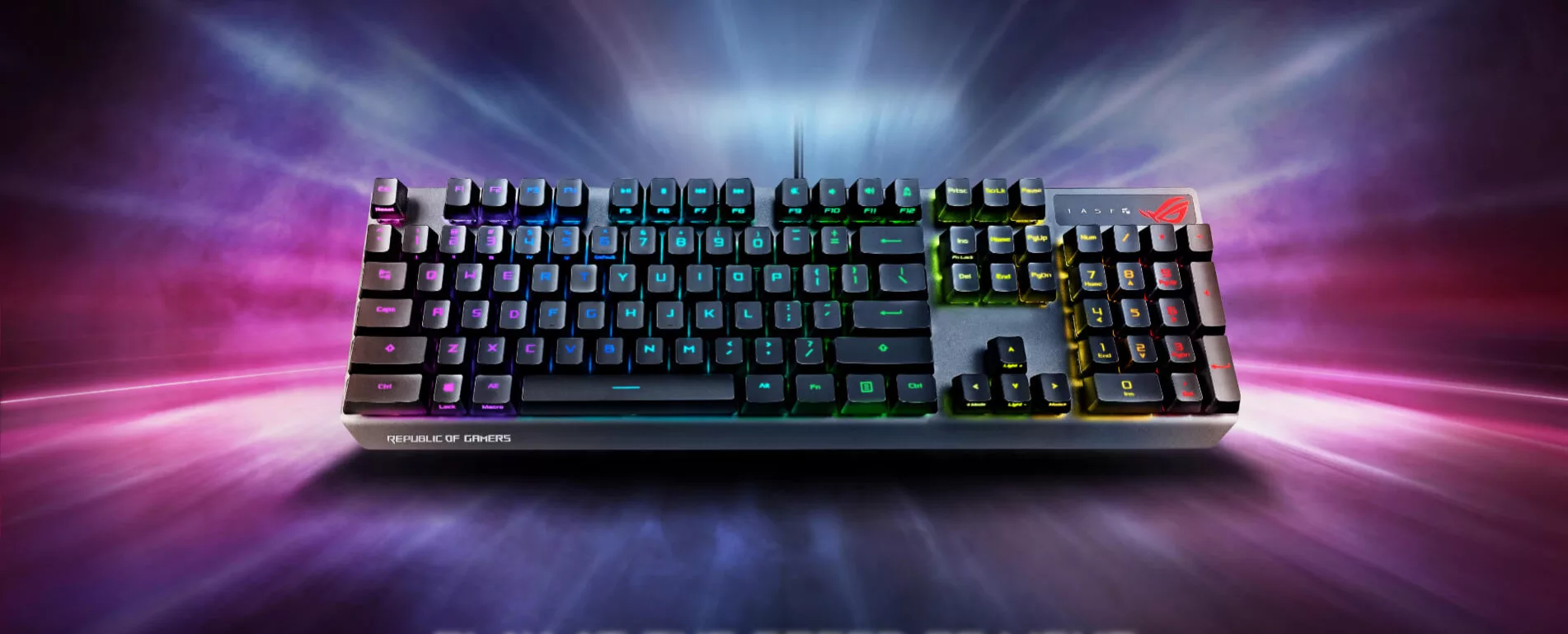 Mechanical, TKL, aluminum top plate, Cherry MX Brown/tactile switches, wide CTRL button, custom RGB
This is a TenKeyLess mechanical keyboard, meaning it's pretty compact. Asus ROG is one of the brands that have an official tie-up with Cherry MX and this keyboard uses brown/tactile switches which are very durable. Though in our experience tactile switches are slightly better for professional typing and red ones are slightly better for gaming, it doesn't matter unless you're very particular about these things.
ROG keyboards are very durable and look very good. This one packs many powerful features such as a larger left CTRL key for FPS gamers, a stealth key to hide/mute everything, a detachable cable, RGB underglow, etc. It's also surprisingly good for professional use with textured keys and 5 custom profiles.
If you're looking for a $100 gaming keyboard that's TKL and durable – this one should be a serious option.

Mad Catz S.T.R.I.K.E. 13 ($120)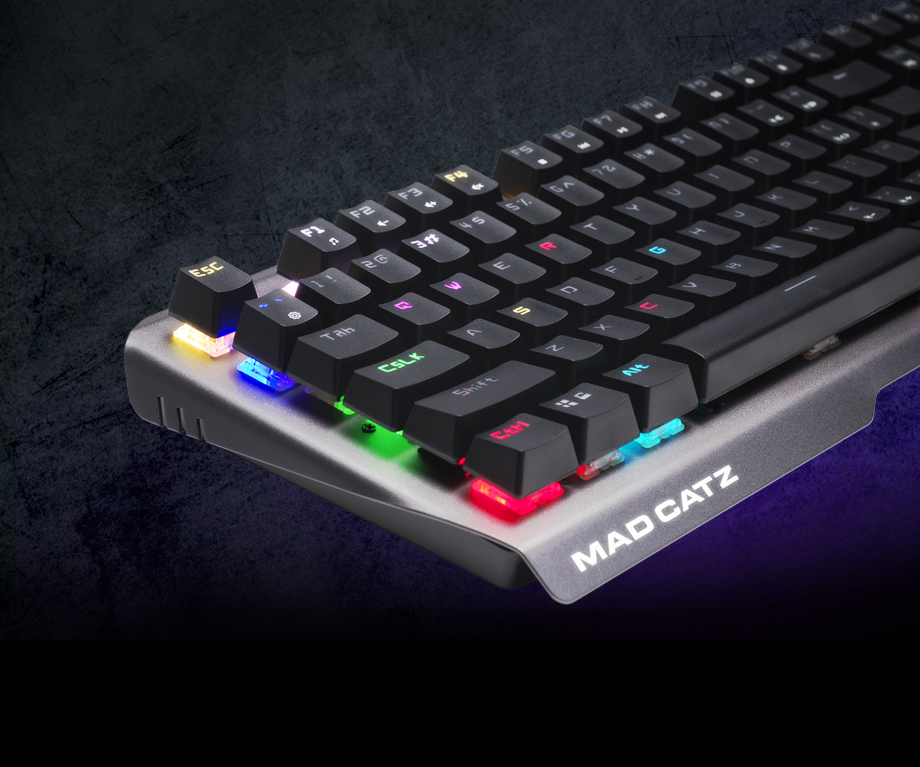 Mechanical, 96 keys, aluminum top plate, Cherry MX Red switches, customizable per-key RGB
The S.T.R.I.K.E. series has a keyboard from ~$50 to $120 (this one). These are Strike 2 (membrane), 4, 6, and 13. The 13 is a really advanced piece of gaming gear and comes loaded with all the perks of a mechanical gaming keyboard.
It has a solid, compact, and durable feel to it. Overall, using it feels very effortless and balanced. It's very pleasant to use and has good RGB patterns.
Some users have reported that the keyboard disconnects abruptly and the wire has to be reconnected. We didn't face any such problem.

Roccat Vulcan Pro ($160)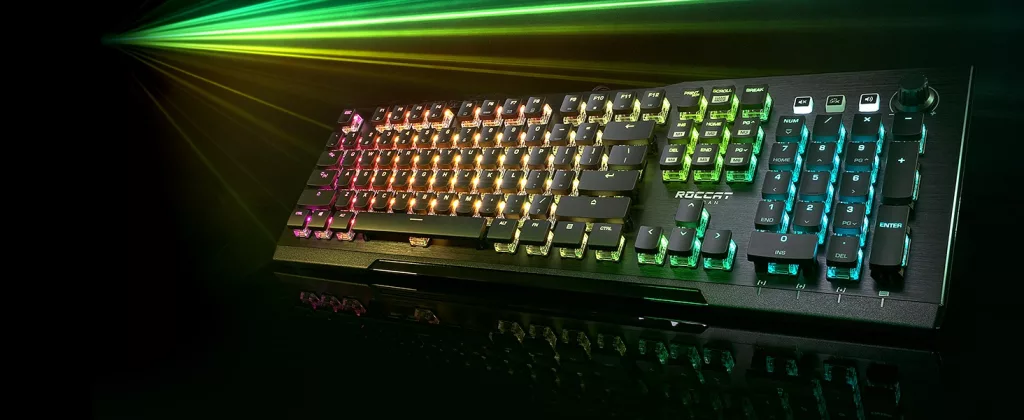 Mechanical, full size, tactile switches, per-key RGB, detachable wrist rest, aluminum top plate
In many ways, the Vulcan Pro is the unofficial entry to the mid-range. The Corsair K70 is also in the same price range. If the K70's closed keycaps aren't to your liking, then this one will surely be a killer look for your setup. The lights come out through the elevated keycaps. Like the K70, it also has dedicated volume control in a knob format (vs. the K70's dial/wheel format).
The Vulcan Pro with linear switches costs around $15 cheaper. Though linear switches are indeed more sensitive, the lack of feedback audio can be off-putting in the case Roccat Vulcan Pro.

Drop ALT ($200)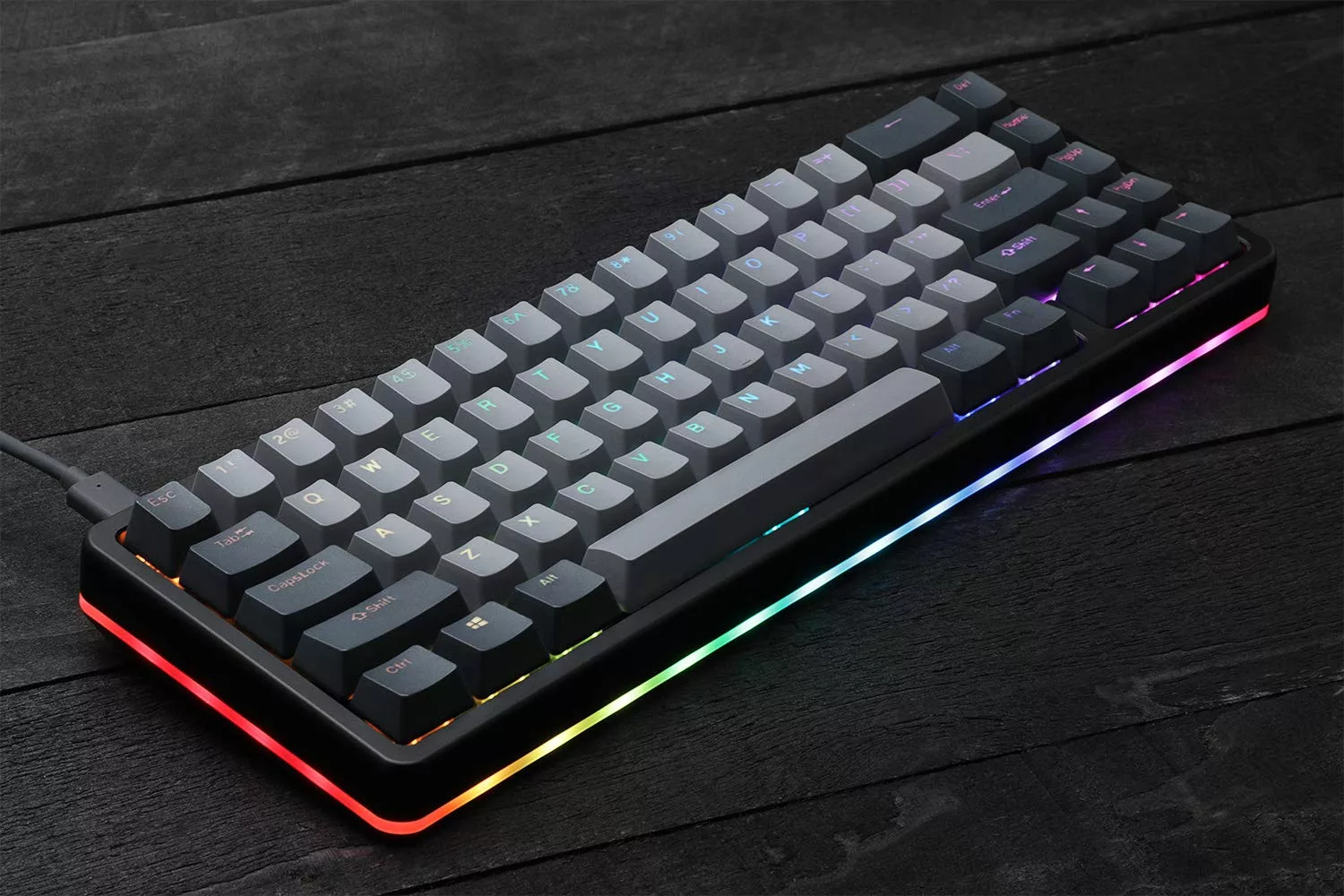 Mechanical, 65%, very durable, PBT doubleshot keycaps, programmable macros, customizable RGB, multiple switch options from Kaihua Box White ($86) and Halo True ($160) to Kaihua Speed Silver ($200) for professional gamers, comes in black and space gray
ALT is a 67-key (65%) keyboard that's loved by gamers mainly because of its sleek aesthetics, compact form factor, robust build quality, and hot-swappable switches. With sufficiently good RGB backlighting and programmable macros built on top of an aluminum top plate, the Drop ALT is one of the most price-justifying keyboards in the $200 bracket.
The keyboard is extremely durable with a strong build quality and doubleshot PBT keycaps as compared to the cheaper and weaker ABS doubleshots.
This keyboard is available in multiple switch variants such as Cherry MX Blue, Cherry MX Brown, Kaihua Speed Silver, etc. We recommend the speed silver from Kaihua if you're a professional gamer. If not, the Cherry MX Brown switches at $170 or the Halo True ones at $160 should be okay.

SteelSeries Apex Pro ($250)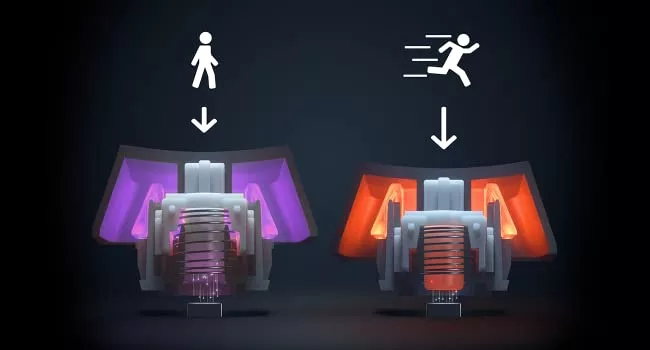 Mechanical, TKL, adjustable actuation, customization RGB, OLED screen, PBT keycaps, Bluetooth 5.0
Apex Pro is one of the best gaming keyboard product lines out there. The 2023 edition claims to be the world's fastest mechanical gaming keyboard.
If you're willing to pay $250 for a keyboard, then it must be damn good. The bottom line is that the Apex Pro from SteelSeries is worth every penny. After a point, it becomes pretty hard to innovate in a gaming keyboard. After all, it's not a piece of hardware packed with transistors and capacitors which can be increased to improve its performance. But the $250 Apex Pro still wows the user by reducing latency as much as possible – to a point where it's virtually unnecessary except in very niche cases or very top-level FPS esports tournaments.
The adjustable actuation force is a nice perk to have, ranging from 0.2mm (too sensitive) to 3.8mm (just painful). Over time, as your fingers acclimatize better to this keyboard, you can possibly keep lowering the actuation force and become faster and faster both in games and typing – at least on paper. Beyond a point, it becomes irrelevant for most. Increments are 0.1mm each, so you get a total of 37 levels.
The OLED screen displays GPU stats and notifications among other things. Apart from that, you get everything that you'd expect in a premium mechanical gaming keyboard such as volume control keys, Bluetooth 5.0 and WiFi 2.4GHz, well-built and ergonomically designed TKL format, and so on.
The keyboard also has a durable wrist/palm rest and comes with a bunch of proprietary tech such as OmniPoint 2.0 and Quantum 2.0 all aimed at improving the experience for the dedicated gamer.
Lastly, we love the 2-in-1 action keys. Using this feature, you can program two actions to the same key at different actuation forces – such as walking with a soft touch on W and running with a deeper press on the same key. This is good for games that have many controls as it nearly eliminates the need to move around your fingers all over the panel to perform actions by fitting twice the number of actions in the same keys – but there's definitely a learning curve to this.
This keyboard is far from quiet.

Honorable mentions
Apart from the 7 gaming keyboards listed above, here are some other options you can also check out:
Razer Huntsman Tournament ($80): It's simply one of the best TKL mechanical keyboards out there. Not ideal for those who also type a lot as the actuation force is too light.
Corsair K70 MK.2 ($160): This is a more premium offering than the Huntsman, and offers dedicated media keys, a volume wheel, and a significantly higher polling rate. This is good for a mid-range gaming keyboard. A notable feature is the use of PBT keycaps vs. ABS, which are better quality.
Logitech G715 ($150-180): This is more toward the higher end. Overall, this is a good keyboard for those who love the light pastel look and that cloudy wrist rest.
Latest posts by Spearblade Staff
(see all)