One of our top recommendations for any new gaming PC is the right software to get you started. Nowadays a lot of standard Windows PCs have all the basic features that you really had to think about before like antivirus software or system monitoring apps, but most of these programs are now standard (Windows Defender and Task Manager, for example, have become very advanced). But that doesn't mean that the time of dedicated apps is gone. For more control and customization, third-party apps are still recommended for any gaming PC.
So, what are the best apps for a gaming PC to enhance your gaming sessions?
Note: We're not going to talk about software like Steam, Epic Games, Origin, BlueStacks, etc. which allow you to install games. As a gamer, we're sure you already know where to get your games from.
Drivers: Nvidia GeForce Experience or AMD Software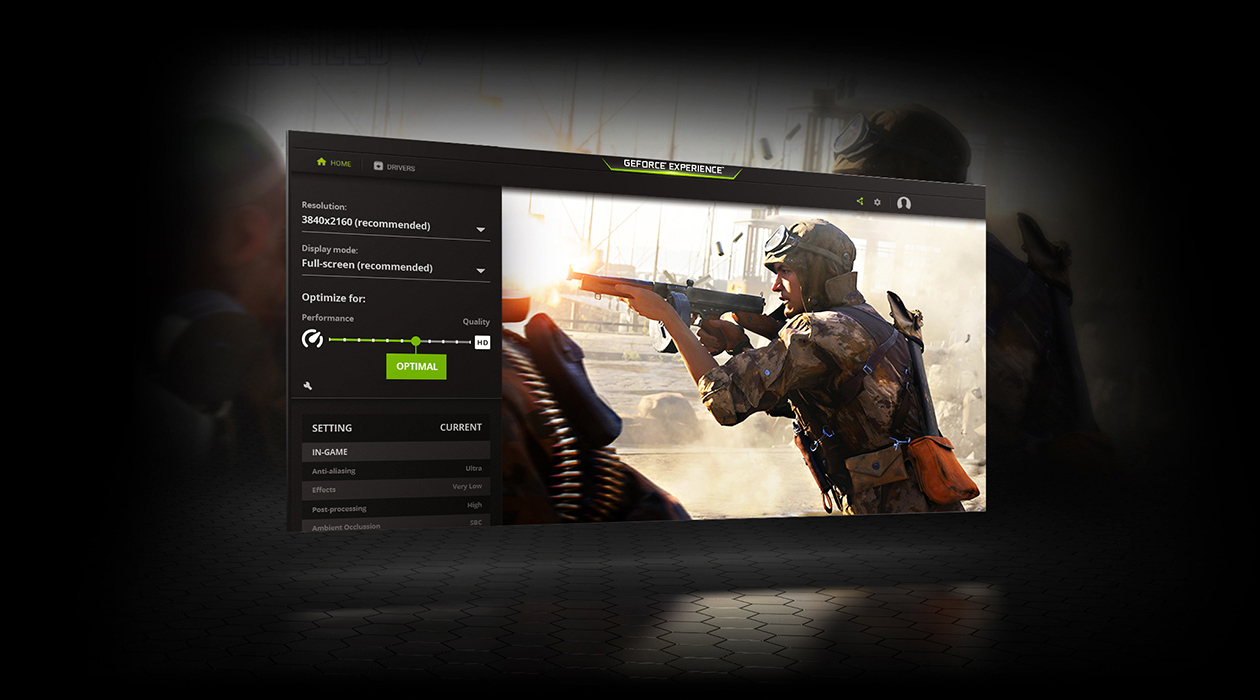 This is pretty standard. You need the native application of your graphics card. For Nvidia cards, it's the Nvidia GeForce Experience and for AMD cards it's the AMD Software (Adrenaline/Radeon). For AMD CPUs, you can also install the AMD Ryzen Master for CPU tweaking. You can find whatever you need for AMD parts on their support page.
Needless to say, these apps help keep your drivers up to date.
Voice chat: Discord, TeamSpeak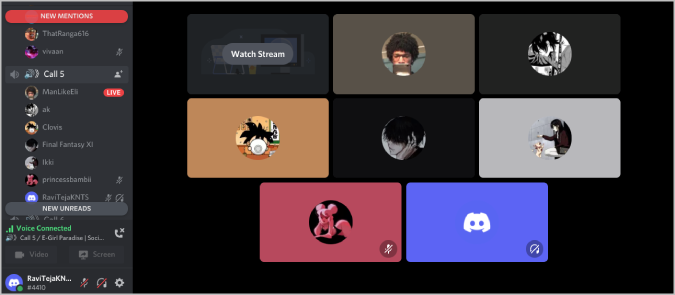 If you play with friends or in teams it's important for you to have voice chat software, even though all multiplayer games provide native voice or party chat support.
I strongly recommend that a gamer install Discord because it allows you to join communities related to your favorite games, genres, or even other stuff you're passionate about. It's a whole ecosystem to find help, get your technical questions answered, share screenshots, find party members, and so on – given you join the right servers and are active.
TeamSpeak, on the other hand, provides more specialized features for team communication such as encryption, fine sound adjustments, LAN functionality, and private server hosting for local team chat. A more professional esports team, for example, will gain from these features. Casual gamers can stick to Discord.
Overclocking: MSI Afterburner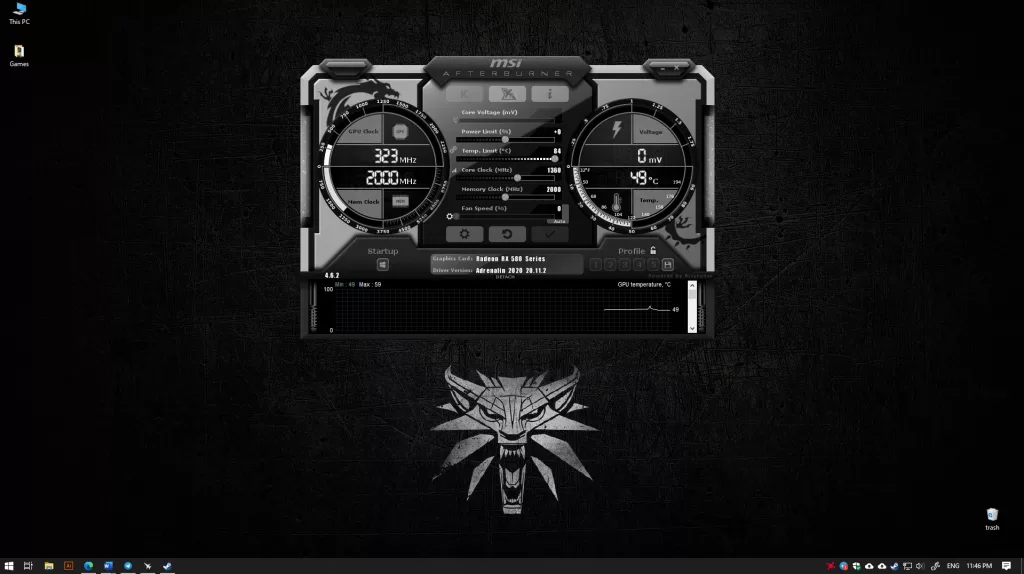 MSI Afterburner is a simple-to-use tool that doesn't require much tinkering to overclock your GPU. I always recommend Afterburner, though other methods exist for enthusiasts and professional overclockers.
For AMD graphics card users, the AMD Software: Adrenaline Edition also provides one-click overclocking that's quite similar to Afterburner (Performance > Tuning > Tuning Control > Overclock GPU).
Caution 1: Overclocking your graphics card is not child's play. It's serious stuff. Only overclock if you understand how it works, what the terms mean, what are the safe limits, and what are the recommended OC settings. Do not attempt overclocking of any type, one-click or manual, if you're not sure about it. It can brick or crash your PC and recovering from that can range from a headache to a nightmare depending on your troubleshooting skills. Do not overclock older GPUs or if your temperatures are not in control.
Caution 2: Technically there's no way to know for sure if a GPU has been overclocked using MSI Afterburner, but please keep in mind that video card manufacturers void your warranty if you overclock. Theoretically, you can take a GPU you bricked due to bad overclocking while it's under warranty and give a different reason, or replace it online, as they cannot know that you overclocked. But it's still generally not recommended to push a GPU beyond its safe limits by OC as some manufacturers will put the blame on you entirely thereby voiding the warranty anyway.
Caution 3: Overclocking is often done in incremental steps. Let's assume you wish to increase your GPU's core clock speed. You first add +10 to it, apply, and see if everything is working. If it doesn't crash (sadly, that's the only reliable way to find out if the setting works), up it by +10 more, and so on. If your GPU is typically overclocked to a high limit, such as 1900 MHz (as per researching on the internet) while yours is sitting at 1400 MHz, you might increment by a larger amount, let's say +50, until you reach 2300-2400 MHz, then by +10 again.
Streaming: OBS Studio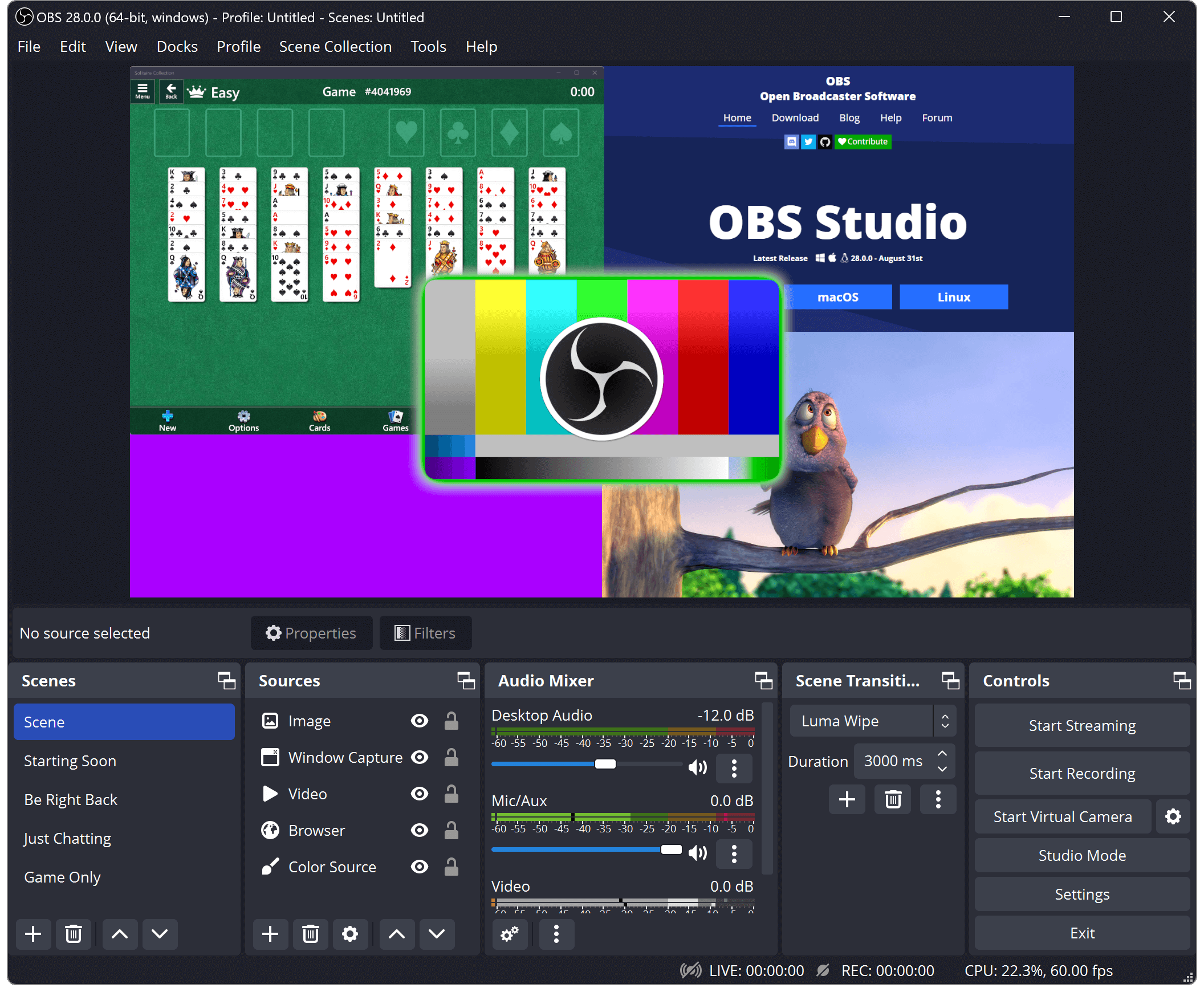 OBS Studio is the streaming solution for gamers. It has all the features you'd need such as audio filters and a robust docking system, but it also makes doing more complex stuff easier, such as adding multiple scenes like your gameplay, a live chat feed, your face, your dog in the background so you can keep an eye on him, and even virtual cams.
The best part about this open-source software isn't its slew of features and capabilities, which is indeed more than what any gamer will need, but how seamless and easy it is to set everything up.
OBS stands for Open Broadcaster Software.
Monitoring: CPU-Z, GPU-Z, CPUID, GPU Monitor, etc.
There are many GPU and CPU monitoring apps to always stay on top of your hardware's health, speeds, temperatures, and so on. Note that these are not overlays. Other apps such as Afterburner and your native GPU software also include monitoring and performance overlays. It ultimately depends on which UI and method you like the most. I recommend testing all options and then making your decision.
Privacy and security: VPNs, antivirus
Virtual Private Networks or VPNs for short are absolutely must-haves on any PC, including gaming PCs. With streaming becoming the main source of entertainment, having a VPN to move you from country to country is essential. Also, being able to access other geo-blocked sites is super easy with the right software. Lastly, we cannot forget how your internet browsing becomes completely anonymous which is a massive increase in cybersecurity and privacy for anyone.
You can tell by the recent increase and interest in VPN how important this technology is for any PC connected to the internet. But at the same time, it seems as if there's a new VPN every month, so it can be hard to find the right one. They usually have different advantages and disadvantages to them. We recommend using a site like VPNPro.net, these guys review and compare the features of all the VPNs available on the market.
Overwolf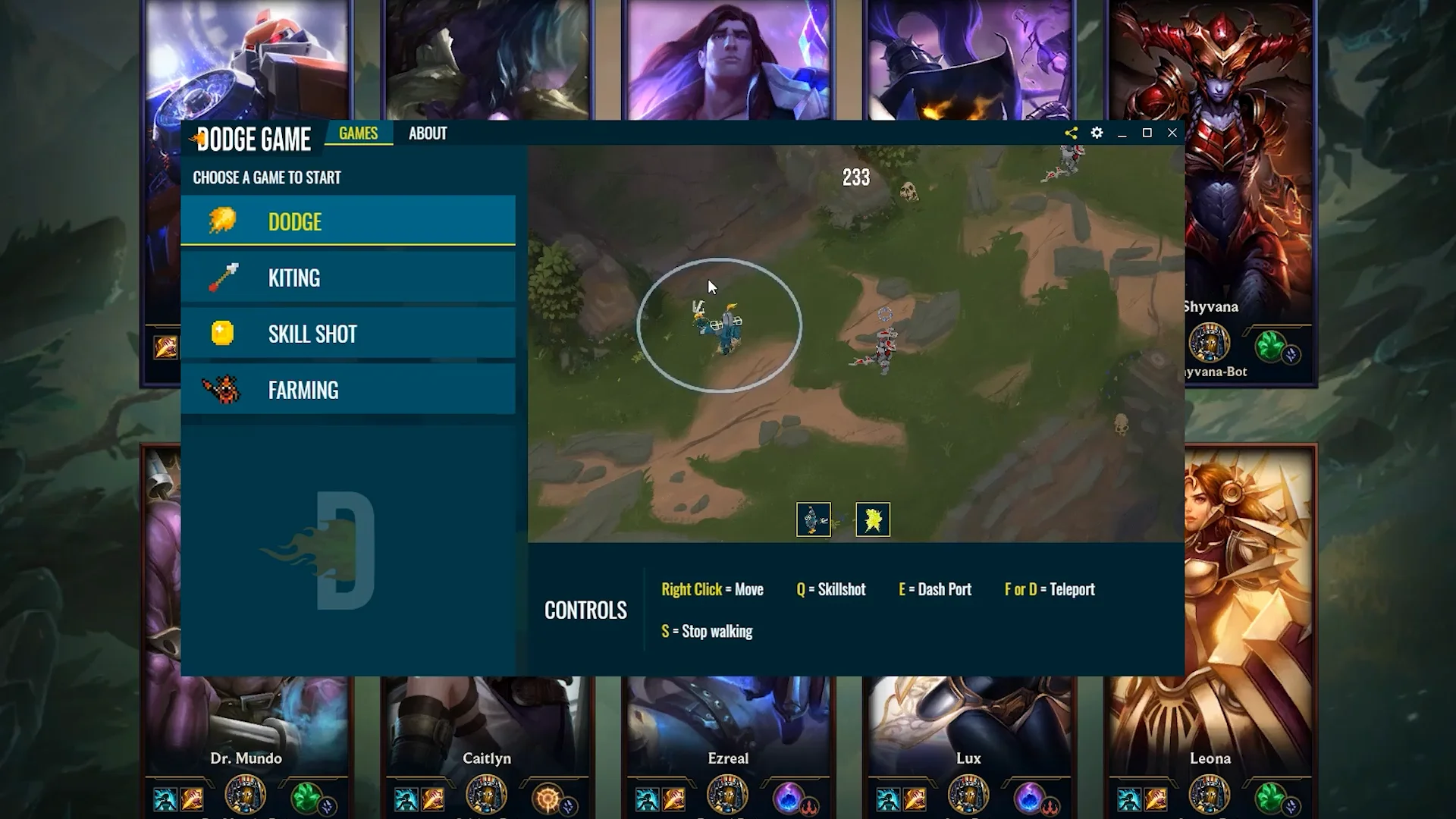 Overwolf deserves special mention here. The platform includes mods, apps, skins, guides, and other types of content for 27 games. Anyone can develop apps for any of these games and deploy them through Overwolf. For example, you can find trainer apps, tutorials, overlays, chats, guides, in-game help content, matchmaking strategy apps, and so on for these competitive games.
Check out the full store library to find if it has something for your favorite game. Note that different developers create these apps and publish through Overwolf. As such, the UI, experience, and process can differ from app to app even for the same game.
Optimization: Razer Cortex, SSD Fresh, WinDirStat, CCleaner, IOBit Uninstaller
Not all of us have top-end hardware. Here are some optimization tools and utilities you should know about.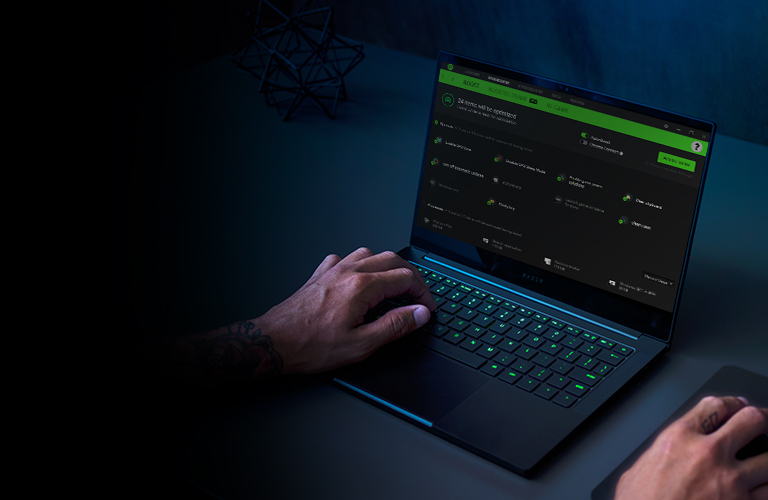 Optional utility: F.lux, MalwareBytes, Xbox Game Bar, Nexus Mod Manager
That's pretty much all a gaming PC will require. But you can add more stuff for different uses.
In conclusion
I don't want your PC to bloat, but sometimes, it's better to install some of these free, third-party apps to tweak, control, and optimize your gaming PC. Hopefully, my apps list (of a whopping 20+) helped you get more out of your gaming PC.
If you believe a deserving app has been left out then don't be shy! Point it out in the comments below and I'll look into that.
Latest posts by Lydia Miller
(see all)