Trying to choose between Xbox, PlayStation, Switch, and Steam Deck? This article provides an overview of each console's strengths and weaknesses, helping you make an informed decision about which one is right for you.
Which one you choose depends on a variety of factors.
First of all, you have the material points to compare. Exclusive titles, performance, online services, price, controllers, user interface, load times, online gaming experience, and raw hardware specs like teraflops or clock speeds.
And then you have the preferential comparison points.
Some gamers are locked into specific ecosystems, for example, always after the next PS, Xbox, or Nintendo exclusive and cheering for first-party games. Others might be more open to exploring more titles or even indie and casual games.
For some, higher graphical fidelity certainly means a big leap in the gaming experience, and for others, the preference might be simple games but on devices with a solid battery backup.
The whole review below is written in a way to bring out the good, bad, and ugly sides of each device so you can make the final decision yourself.
Before that, a quick comparison:
Xbox Series X: Series X is right up there with PS5 in terms of performance and offers a gaming PC-like experience equivalent to an $800-1000 gaming desktop with RTX 3060. Has ray tracing, 4K@60 for many games, HDR, and overall great first-party game options.
Xbox Series S: Not recommended for Xbox fans. A heavily compromised version of the Series X with no optical drive, just 512GB storage, and generally clocked-down hardware.
PS5: Perhaps the most powerful of the lot, PS5 offers lightning-fast game and map loading times, excellent gaming performance, and most importantly, a host of truly spectacular exclusive titles. It's also 4K@60 and comes with HDR, ray tracing, and all the bells and whistles to make it worth your money.
PS5 Digital Edition: The Digital Edition is highly recommended for PS fans as it's pretty much the same PS5 just without an optical drive.
Nintendo Switch OLED: The Switch OLED model is a great improvement over the LCD model, which was itself a great improvement over Wii U. None of these compete with Xbox or PS in any way. Switch OLED is both, a handheld and a console. Full of Nintendo classics as well as interesting indie games, it does have a few major drawbacks. Regardless, it's a great gaming device for casual gamers and is very portable. Lacks all high-end features including 4K and ray tracing. Does not have an RDNA GPU or Zen 2 CPU.
Steam Deck: A more powerful handheld system than Switch, the Deck has taken the world by storm. It's bulkier and can act as a full desktop, running almost all popular titles from the Steam library. It has RDNA 2 GPU and Zen 2 CPU, the same architecture as Xbox and PS, just lower-end versions (lower clock speeds). For almost the same prices as the Switch OLED, more serious gamers can choose it over the Switch any day.
Jump to:
Xbox Series X/S
The Xbox Series X/S is a next-generation console that offers impressive performance and features. It also has a large library of exclusive games and supports backward compatibility with many older Xbox titles.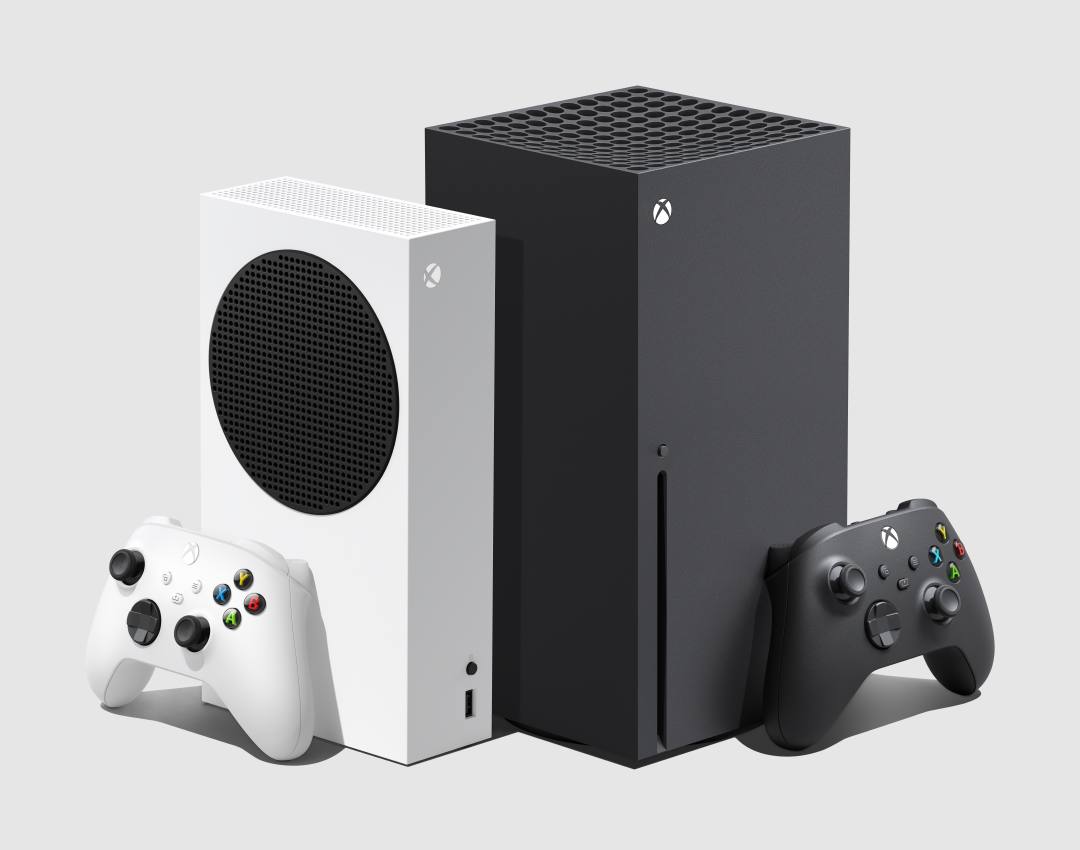 The Xbox Series X/S is the latest gaming console from Microsoft, designed to provide an immersive gaming experience to players. With its powerful hardware, fast load times, backward compatibility, and access to subscription services like Game Pass and Xbox Live, the Xbox Series X/S is a top choice for gamers who want the best possible gaming experience.
Xbox Series X, particularly, is one powerful gaming machine. Games and maps load lightning fast, Series X-optimized games have stunning visuals, and the machine can run games like Dirt 5 at nearly 60 FPS even at 4K. If you're looking for a console in the $500-600 segment, then the Xbox Series X is definitely a good choice. If you're gravitating toward Series S, read all reviews first.
Xbox Series X
16GB GDDR6 RAM
Blazing fast 1TB SSD
8-core AMD Zen 2 CPU at 3.87GHz
RDNA 2 52-core AMD GPU at 1.825GHz with 12 teraflops
MSRP $499
The $499 Series X has amazing graphical prowess. It's a native 4K gaming powerhouse with HDR. The super-fast SSD is the first thing you'll note when gaming on it. The console's built-in SSD allows games to load quickly and smoothly, reducing wait times and increasing immersion.
Xbox Series S
10GB GDDR6 RAM
Blazing fast 512GB SSD
8-core AMD Zen 2 CPU at 3.6GHz
RDNA 2 20-core AMD GPU at 1.565GHz with 4 teraflops
MSRP $299
The $299 Series S is the little brother of Series X. Apart from good looks and fast SSD, however, the Series S doesn't perform as well by today's gaming standards. With an 8-core Zen 2 processor from AMD, it's can run all games that Series X can but at lower framerates. Series S has notably 50% of the storage space of Series X and no optical drive (digital-only), which can limit how many games you can install at a time. There is an expansion slot.
Pros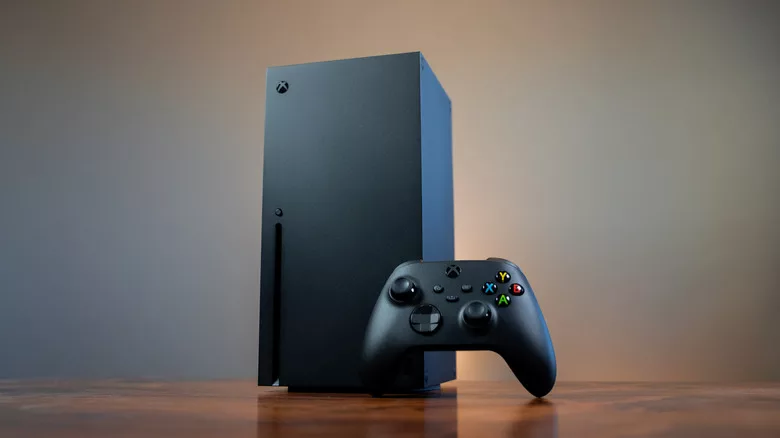 Series X is definitely one of the most powerful gaming machines out there. It competes with gaming PCs. The equivalent discreet PC graphics card is the Nvidia RTX 3060 with 13 teraflops. It's true that with good RAM and a powerful CPU, the RTX 3060 can outperform the Xbox Series X in pure FPS and thermals, the Xbox Series X is a whole machine for $500 whereas a gaming PC with an RTX 3060 will cost at least $1000 (prebuilt) or $800 (custom build).
Xbox Series X is great for those looking for 4K gameplay with HDR graphics. It's overall a very powerful machine that can play games at high FPS at higher resolutions comfortably (without any thermal throttling).
The controller was already good and it has been fine-tuned further for both, the Series X and Series S. It's running a USB-C now and has a button to take screenshots or record clips directly. Overall ergonomics are great.
Series X (and not Series S) comes with an optical drive that you can use to play game discs or content.
The user interface is also pretty much the same as One, but has some notable improvements and user experience tweaks, making the Xbox user interface one of the best gaming management systems out there. It's beautiful to look at and everything is well-arranged so that you can find what you're looking for quickly.
Cons
If you're buying the Series X specifically for 60 FPS at 4K, then you will be disappointed in many games. A lot of modern AAA titles can only manage half of that at 4K. It's not a 100% 4K gaming machine, you need a $1200+ gaming PC for that with a minimum of Nvidia RTX 3080.
Original Xbox and Xbox 360 games are not all compatible with the Series S/X. Always make sure your favorites are going to be there.
The exclusives are few. For most of the big names to become available, you still have to wait anywhere from 6 months to 6 years! Warhammer 40,000: Darktide, Everwild, Perfect Dark, The Outer Worlds 2, State of Decay 3, Redfall, Stalker 2: Heart of Chernobyl, Ark 2, The Elder Scrolls 6, Senua's Saga: Hellblade 2, Forza Motorsport, Fable, Starfield, and Avowed are all in production but most of these titles don't even have a confirmed year yet.
The Series S is not recommended for high-end gaming. It lacks storage, graphical prowess, and an optical drive. Under the hood, it's equivalent to an entry-level gaming laptop or a mid-range gaming PC.
PlayStation 5
The latest console from Sony is a powerhouse of gaming technology, offering stunning graphics, fast load times, and an extensive library of exclusive games.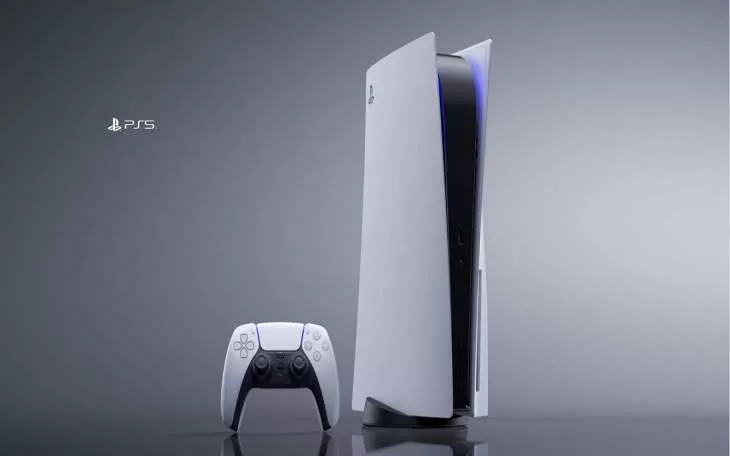 16GB GDDR6 RAM (same as XSX)
Blazing fast 825GB SSD (175GB lower than XSX)
8-core AMD Zen 2 CPU at 3.5GHz (~380MHz lower than XSX)
RDNA 2 36-core AMD GPU at 1.825GHz with 10.28 teraflops (~415MHz more than XSX)
MSRP $499
Sony's PlayStation 5 console is a powerful gaming machine. Though it's not easy to compare it with Xbox Series X as both have different builds and games, generally the PS5 outperforms the Xbox Series X (marginally) while providing an overall better experience in terms of performance, exclusives, and the controller. It's also significantly larger.
The PS5 is a fantastic piece of technology that has taken console gaming to the next level. With its advanced features, stunning graphics, and immersive gameplay, the PS5 offers a truly unparalleled gaming experience. From the moment you turn it on, you can feel the power and sophistication that went into its development.
With a wide range of exclusive games and features, the PS5 is undoubtedly a game-changer in the world of console gaming. If you're looking to take your gaming to the next level, the PS5 is the console for you.
Pros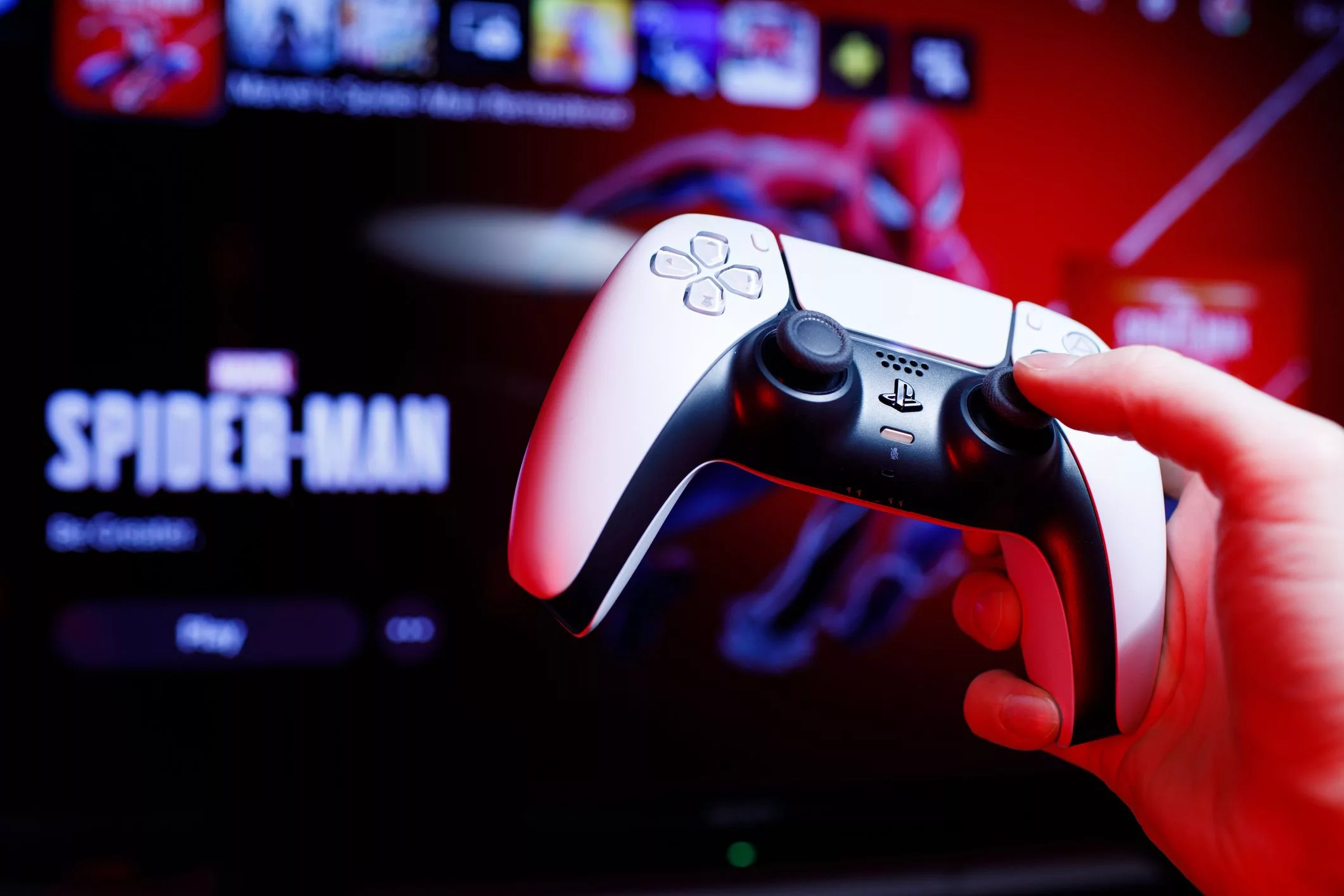 It's a high-end gaming console that can run games at 4K with HDR. The graphics prowess is simply excellent. If you're after a console that can run AAA titles at high graphics settings and are conflicted between the PS5, Xbox Series X, and a gaming PC, then I'd say go with a PS5, given first-party games are not holding you back.
PS5 boasts many amazing exclusives that you cannot play anywhere else, including Spider-man: Miles Morales, Uncharted, Sackboy, Horizon Forbidden West, God of War (now can be played on PC), Stray, Ghost of Tsushima, Death Stranding, and The Last of Us. There are also a few more Final Fantasy titles that are upcoming.
The intuitive user interface is great for quickly launching your favorites or tweaking the settings.
Games and maps load in mere seconds. It's faster than Xbox Series X but that could easily be about game optimizations in some cases. Still, you won't ever be stuck on a game loading screen, and neither will you ever see any map/area loading tip. Note that PS4 titles will not be able to use all hardware improvements, so might still load as before.
The new DualSense controller is simply excellent. It has really well-thought-out ergonomics, haptics, and comfort. It just feels great. This is the best controller to ever grace gamers, period. The size and density have improved over DualShock 4. It's bulkier and offers a redesigned front profile with fang-like grips. It comes with the R2 and L2 adaptive triggers which vibrate short or long depending on the pull. The overall haptic feedback is surprisingly satisfying and accurate.
PS5 is 100% backward compatible with all PS4 titles.
Whereas no Xbox fan should buy the Xbox Series S, any PS fan can easily buy the Digital Edition and save $100 as it's pretty much the same machine without an optical drive.
Cons
The PS5 is the tallest gaming console. That might sound like a Sony flex, but it quickly turns into a huge problem for gamers who don't have a lot of space to spare. Plus, on the sides (without a stand) it's a little wobbly. A strange block of a white jacket on a black shirt in the middle of the living room is an alien look that might feel cumbersome to many.
It might be a 4K gaming console but pulling 50+ FPS for many AAA titles at that resolution is not something that a 10.28 teraflops GPU can easily do. You need a beefy machine for that.
There is no backward compatibility for older PS titles, including the original PS titles, PS2, or PS3 games. Absolutely none. And the PS4 backward compatibility is just that – there are no graphical improvements, optimizations, or new versions to make use of the PS5's upgraded hardware.
Honorable mention 1: The PS5 Digital Edition is $100 cheaper and lacks an optical drive. The other specs are pretty similar and it's not that big of a downgrade from the PS5 as the Xbox Series S is from Xbox Series X.
Honorable mention 2: Although it's an older console, the PlayStation Vita is still a popular handheld gaming option among gamers. It has a vast library of games, including many popular titles from PlayStation's extensive history.
Nintendo Switch OLED
The Nintendo Switch is a unique console that can be played both as a home console and a handheld device. It features a large library of exclusive games, including many popular franchises such as Mario, Zelda, and Pokémon.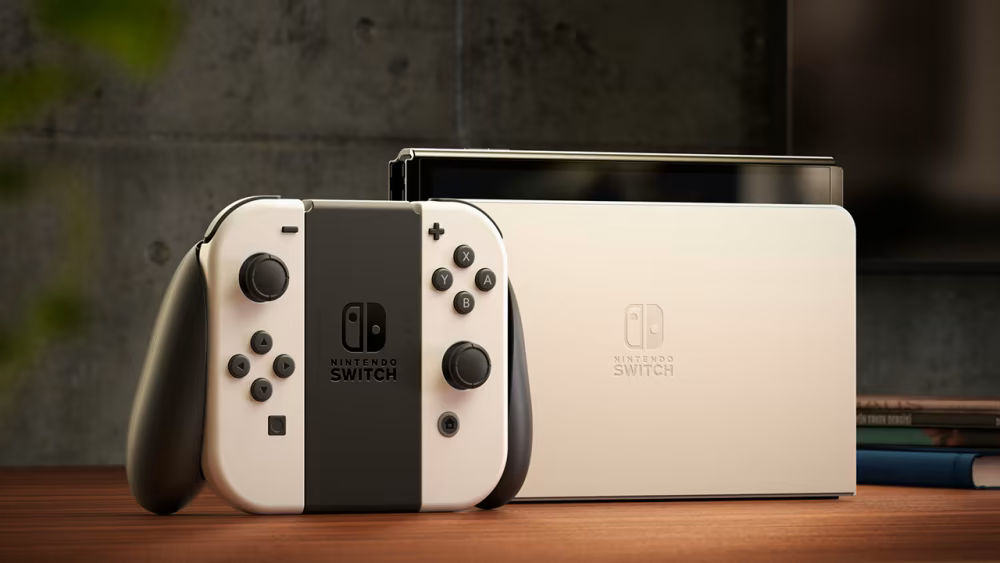 4GB LPDDR4 RAM
64GB storage (can be expanded up to 2TB)
ARM Cortex-A57 4-core CPU at 1.02GHz
Nvidia Tegra X1 GPU at 768MHz with 1 teraflop
MSRP $350
Nintendo's Switch OLED is the best Switch yet. The original Switch had a weak kickstand, an LCD screen, and a few problems. The OLED model improves greatly on all of them, slaps better speakers, and adds roughly $150 to the price tag. The hardware and game library remain the same. With its versatile design and extensive library of exclusive games, the Switch has become a fan favorite for gamers of all ages.
It's not a competitor to PS5 or Xbox Series X in sheer performance. If you're in the market for a powerful gaming machine to run whatever is the latest AAA sensation at ultra-settings, you'd better look elsewhere. But it's a serious contender because of what nostalgia can do to a gamer, and incidentally, has entered the market with quite a force.
It offers a tablet-like design that can be the best portable gaming handheld ever. And then it can also be used to play on a TV when the sides transform into Joy-Con controllers. The connection to a TV and back to the handheld is seamless and quick.
The Nintendo Switch OLED is a fantastic gaming console that offers a unique gaming experience unlike any other. Its versatility and portability allow gamers to play their favorite games anytime, anywhere, and its exclusive games library provides hours of entertainment for players of all ages. From the nostalgic charm of Super Mario and The Legend of Zelda to the innovative gameplay of Splatoon and Animal Crossing, the Switch has something for everyone.
Pros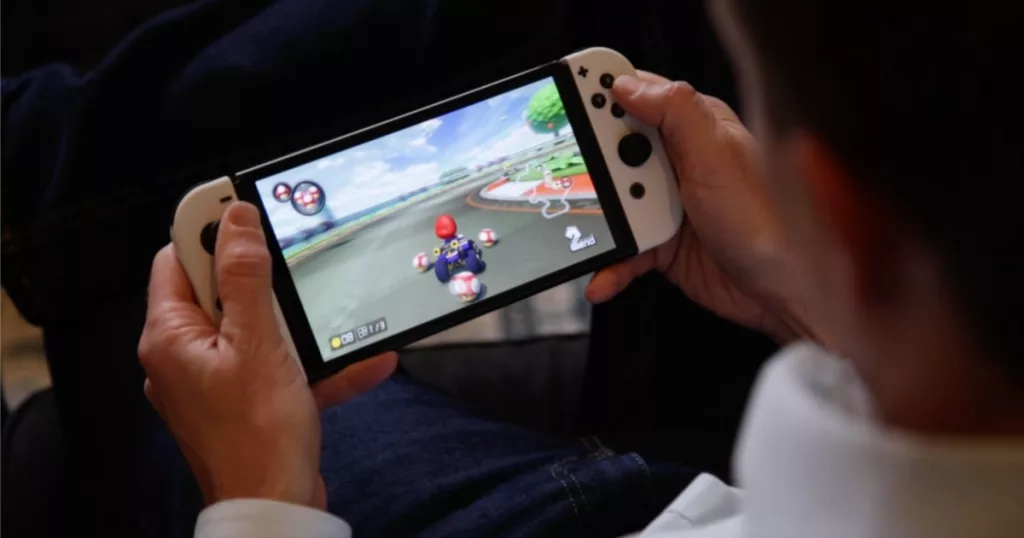 It offers a rich 7" screen running at 720p with capacitive touch and 237 PPI. The display has been calibrated really well and the OLED technology makes the visuals even sharper, crisper, and more colorful. When connected to a TV, it can output 1080p via an HDMI cable.
The biggest strength of the console/handheld is that it features a sleek, compact, and stylish look. It might be borderline "big" by handheld starters but is pretty ergonomic to hold and game on for long hours. It offers an innovative design and you're bound to fall in love with the console, if not its performance or games for any reason.
The Nintendo world is full of game titles that bring us back to childhood. With frequently updated graphics, these games have today become amazing getaways for people of all ages. If you're a sucker for franchises such as Super Mario, Splatoon, Animal Crossing, Tetris, Xenoblade, Pokémon, Legend of Zelda, Metroid, etc. then the Switch OLED is a great handheld to own.
With the Switch OLED, Nintendo has come in strong with a host of indie titles as well. Anyone who buys the Switch OLED will never run out of interesting games to play in all genres.
The ergonomics of the Joy-Cons are great. They are held with metal rails on the sides of the main tablet and are well-rounded and feel comfortable.
The online multiplayer subscription service is $20 per year or $4 per month, which is significantly lower than PlayStation Plus and Xbox Live Gold.
Cons
The battery life is abysmal. From the very beginning of Nintendo consoles, I don't think any handheld gaming device has had such a small/weak battery. A 4310mAh battery on a bright OLED screen with wireless controllers is simply insufficient. It used to be even lower in the earlier models.
The display might be good and well-calibrated, but it's still 720p. A modern smartphone today costs less than the Switch OLED and offers more screen real estate and a 1080p display with a 120Hz screen. If you're not after Nintendo-exclusive titles, you might be better off buying an Android smartphone that can at least run PUBG Mobile, Call of Duty, Mobile Legends, etc.
If you're deciding between, let's say, the Xbox Series S, PS5 Digital Edition, and the Switch, though the Switch is not in this category, then the Switch is the weakest. It has vastly inferior specs both in quantity (like 4GB RAM vs. Series S' 10GB) and quality (the CPU is not a gaming-oriented processor). It has no SSD, no 4K, no ray tracing, and poorer performance overall.
Honorable mention: The Switch Lite is a more affordable and portable version of the Nintendo Switch, designed exclusively for handheld play. It offers the same great gaming experience as the regular Switch, but with a smaller screen and longer battery life. It cannot be connected to a TV.
Steam Deck
The Steam Deck is the latest of the popular gaming consoles. It would be well-placed in the tablet/handheld gaming category, rivaling Switch OLED – but the truth is that it far outperforms that, even competing with Xbox Series S and PS4.
16GB RAM
Moderately fast m.2 SSDs
4-core AMD Zen 2 CPU
RDNA 2 AMD GPU
Starts from $399
Valve came up with a handheld gaming PC. The Deck is a monster that eclipses the Nintendo Switch OLED. In terms of sheer performance, everything else pales in comparison. Plus, it's based on SteamOS and is basically a PC – giving you access to the whole Steam library. Under the hood, the majority of games are Windows games running through Proton.
The 1.6 teraflops GPU can go up to 40 FPS on Red Dead Redemption 2 at 1080p. In pure numbers, it's significantly weaker than Xbox Series X and PlayStation 5. But practically, things aren't as black and white as those and the Deck is a completely different type of gaming machine.
For PC Mag's Jordan Minor, it's the PSP and Vita actually worth owning. If you're conflicted between the two similarly sized and similarly priced handhelds – Steam Deck and Nintendo Switch OLED – the Deck is significantly better. It can run games like Control, No Man's Sky, and Jedi: Fallen Order at good quality settings and high FPS. The only areas where the less powerful Switch wins are battery life and weight.
Pros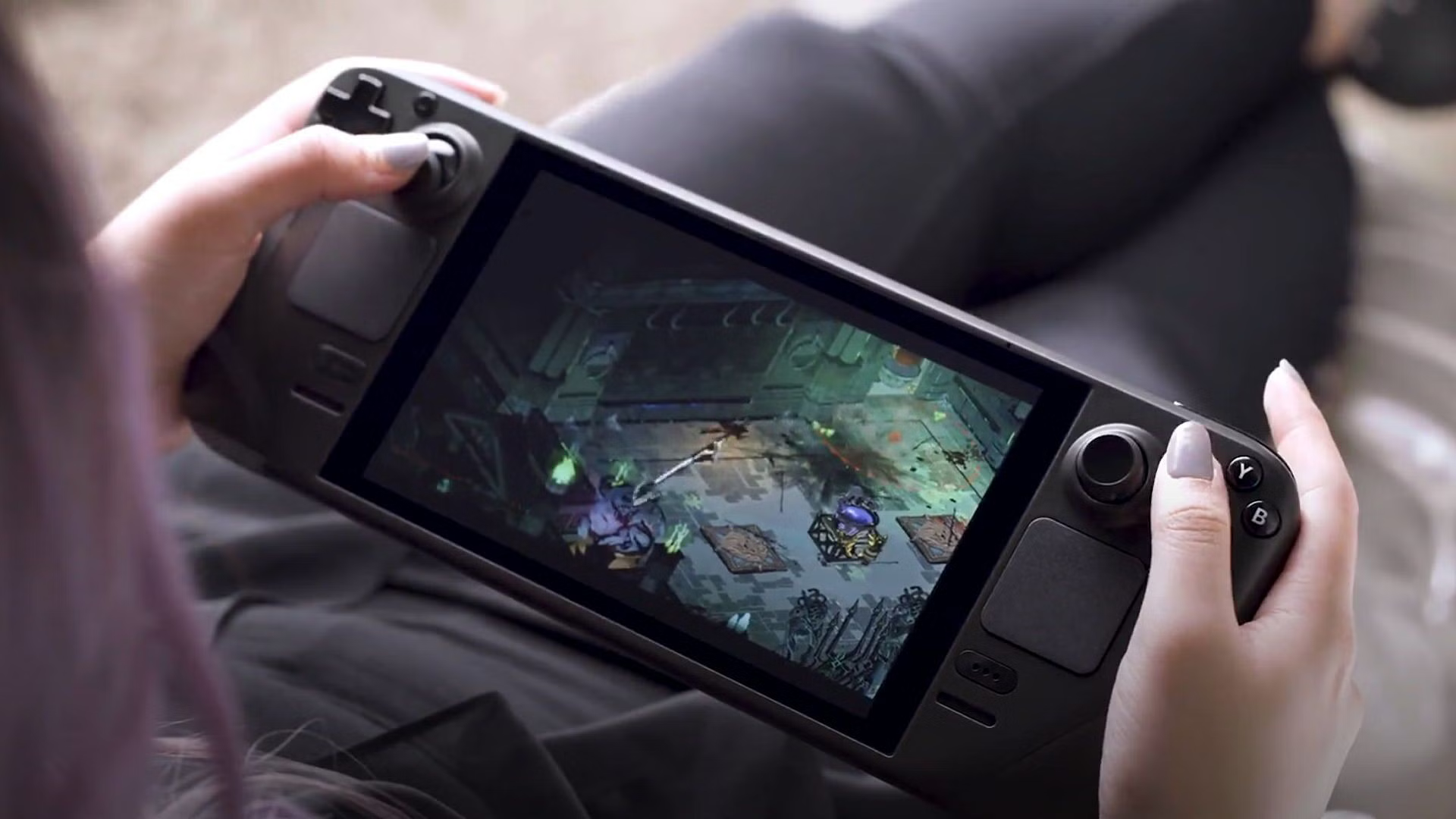 A full gaming PC (Linux-based) that runs pretty much everything on your Windows Steam Library, and connects super easily to TVs and monitors with a stylish dock. The full PC experience (Desktop Mode) gives you access to browsers, additional software, more customizations and settings, and miscellaneous apps apart from games in a Linux KDE Plasma environment.
If you don't care about first-party games and games exclusive to Sony's PlayStation or Nintendo, the Steam Deck is a great option. Steam doesn't have Nintendo games (though you can emulate them – it's basically a PC) and as for PS, you will get any major title a few years after release when it's ported to PC. Microsoft is more lenient in this regard and has better care for PC gamers, so all those games are available. But if you're not locked into any ecosystem, the Deck is great to explore new titles.
Achieving higher framerates and utilizing the Deck's native hardware that provides greater visual fidelity are both easy options. This is what you'll love if you appreciate graphics quality above all.
When needed, the Deck can actually replace all others. It can run most modern AAA PC games at 30-40 FPS, plays all Xbox games, emulates Nintendo games really well (retro game emulation is excellent), and with the recent PlayStation ports, can also run many games that were signature Sony games.
The Steam Deck firmware is regularly updated. Where you have to wait years for a new console release and long months for the simplest bugs to go away, the Steam Deck is developed at a lightning-fast speed and has been perfected really well over time.
If you're a little technical, you can do amazing stuff on the Steam Deck including running Windows, modding games, and running different platform titles by tinkering a little.
Cons
The Steam Deck is too big for a handheld gaming device. It's bulky, heavy, and has a whole presence. It might be ergonomically well-designed and comfortable to hold, but the weight stops many from playing for long hours.
On higher-end titles, the battery is drained pretty quickly.
For many, it's somewhere in between. Not a traditional gaming PC and neither a lightweight, compact handheld gaming device like the Switch OLED. That can be a dealbreaker for many and already, many complain how they never use it enough.
Those who are not acclimatized to PCs can easily find the Steam Deck unbearably overwhelming. A console has a whole ecosystem optimized for the particular, limited library and a few controllers. The Steam Deck is a whole world in itself full of internal customizations, controller mappings, software tweaks, graphics customizations, etc. which might not be ideal for console lovers. Compatibility issues can happen anytime.
Final verdict
Without beating much around the bush, I have given the TL;DR comparison at the very beginning. The rest of the review delved deeper into what works nicely for each gaming platform and what's a little off.
Hopefully, the information in this guide has been sufficient as a starting point. Let me know your thoughts!
Latest posts by Shane "raven" Watson
(see all)