In this piece, we're going to compare the specs, performance, and design of the best budget gaming laptops. I'll be comparing options from brands such as HP, MSI, Acer, Asus, Lenovo, and a few others. You'll not find the mention of high-end brands or product lines such as Alienware, Razer, Asus' ROG, etc. here.
So, what is a budget gaming laptop? Any laptop that:
Has decent hardware worthy of playing AAA titles at over or around 60FPS, at least at medium settings when it comes to games released in 2022;
Does not look or feel cheap, has good build quality, and isn't manufactured using low-quality parts and materials;
Comes from a brand that has sufficient customer ratings to assure me of good support;
Has at least a "decent" cooling system that isn't marred with thermal throttling problems – which hints at bad design in general;
And most importantly – doesn't break the bank.
A limited-budget laptop can be a $500 product from a little-known brand, a $700 outdated laptop that's loaded with problems, or a $1000 laptop with an RTX 30-series card depending on who you are.
I'm not going to look only at the price tag, but also at when it came out, whether is it long-lasting, whether are there any glaring issues, and so on.
MSI's lower-end models
MSI is although known for high-end gaming laptops – they do have several entry-level product lines. I put MSI first because apart from the price point, they are better than all others on this list in terms of build quality, features, specs, and support. These are not the cheapest gaming laptops on this list. These are simply the most cost-effective and bang for the buck.
MSI Katana GF66 ($1000 onward)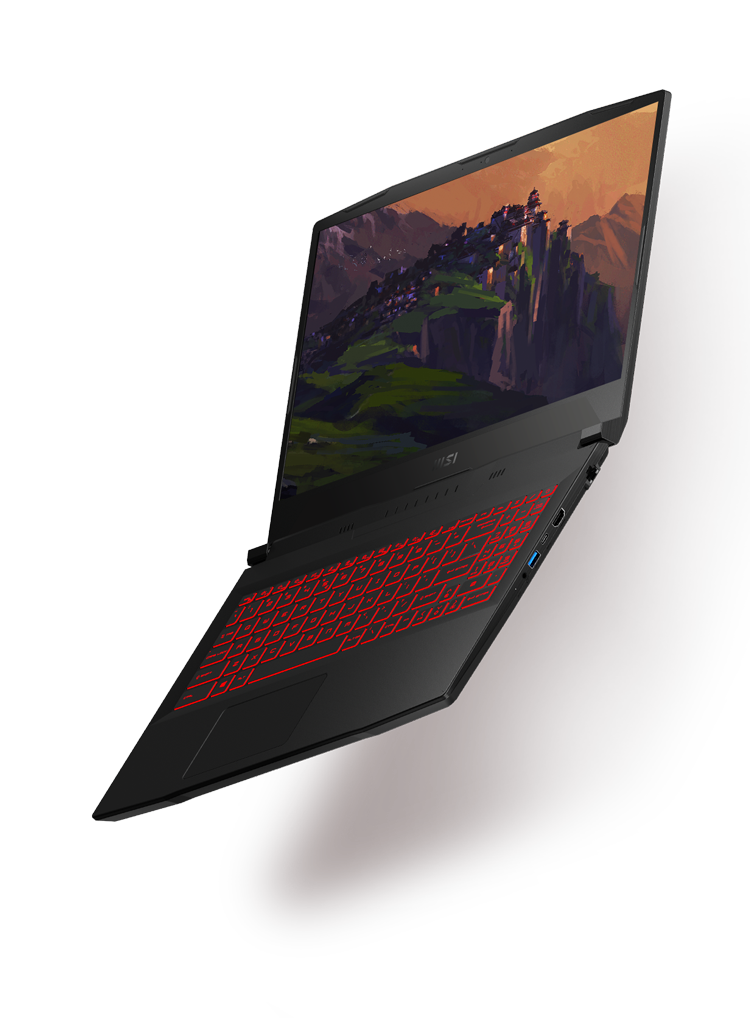 I talked about the Katana GF66 in my article on MSI's best gaming laptops. To quickly recap, it's not a cheap option but the GF66 offers plenty of MSI exclusivity alongside pretty decent specs. It is fashioned as a great work-play laptop that won't stand out in any workplace.
Exact model: 2022 MSI Katana GF66 12U ($999 on Newegg)
15.6", 1080p, 144Hz
Intel Core i5-12500H, Nvidia RTX 3050 4GB
8GB RAM + 512GB SSD
Thin bezels, good cooling
MSI GL66 Pulse ($800 onward)
The GL66 Pulse is a well-rated gaming laptop. It offers the older MSI aesthetic. Though it performs averagely well and features good looks, it is somewhat okay-ish in terms of price-to-performance. With the GL66, you'll be compromising a little on the cooling, battery life, and (keyboard and touchpad) ergonomics.
Definitely a distinct offering, the GL66 Pulse comes in many flavors and variants which can hike the cost considerably. Look only at the lowest priced ones.
Exact model: MSI Pulse GL66 11UCK-234 ($799 on Newegg)
15.6", 1080p, 60Hz
Intel Core i5 11400H, Nvidia RTX 3050
8GB RAM + 512GB SSD
Mostly plastic body, lower-than-average display brightness, loud fan
MSI GF63 ($650 onward)
The GF63 offers a good price-to-performance ratio. It's fast, slim, and light while being overall good in terms of specs. Again, much like the GL66 Pulse above, you'd be compromising a little on the cooling and ergonomics. It's not a standard, modern MSI gaming laptop.
If you're planning on running AAA titles from 2021-22, turn the settings to medium or low even for smooth gameplay. This is more intended for casual gamers or gamers with a library not loaded with the highest-end games.
Exact model: MSI GF63 Thin 10SC-222 ($649 on Newegg)
15.6", 1080p, 60Hz
Intel Core i5-10500H, Nvidia GTX 1650
8GB RAM + 256GB SSD
Small SSD unless you upgrade, dimmer screen, overheating issues on high FPS gameplay
Asus TUF series gaming laptops
The TUF series is Asus' entry-level gaming laptop line vs. the ROG series – which is high-end. We recently covered the entirety of the Asus TUF series and what it includes, what are its features, and so on. We'll be looking at a couple of TUF gaming laptops here. TUF laptops are built for tough gaming but the acronym stands for The Ultimate Force.
See our full coverage of the Asus TUF series products.
Asus TUF Gaming A17 (~$1000)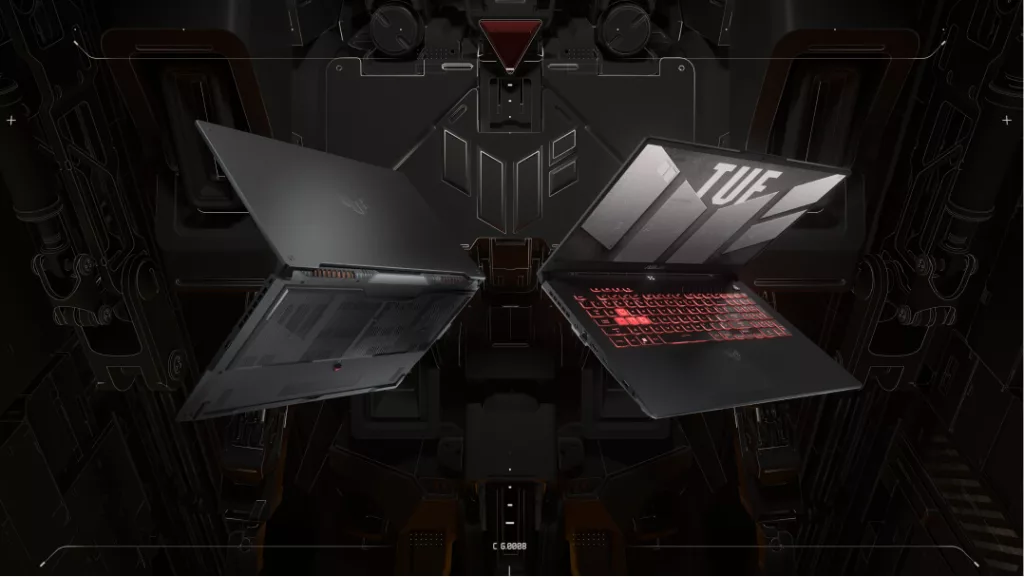 A17's 2022 model is definitely a favorite among laptop gamers who don't always go for the most cutting-edge hardware. It's a great entry point that's not "cheap" per se, but definitely worth every penny. The A series of Asus TUF is for AMD Ryzen processors. It's a 17-inch laptop which sounds great for this price range but the screen isn't the sharpest or the most brilliant that you can find under $1100.
Still, the high refresh rate (144Hz) and the GPU is the 3050 Ti vs. the normal 3050 are perks to consider seriously.
Exact model: Asus TUF Gaming A17 TUF706QE-MS74 ($1029 on Newegg)
17.3", 1080p, 144Hz
AMD Ryzen 7 5800H Nvidia RTX 3050 Ti
16GB RAM + 512GB SSD
No Wi-Fi 6, display quality below-average, generally well-received among budget-oriented laptop gamers and power users
Asus TUF Dash F15 (~$1000)
The Dash F15 outperforms many others in the price range thanks to its 144Hz refresh rate. Budget models don't go up until this point. Where are the compromises made, then? As it turns out, the build quality isn't excellent as with other Asus gaming laptops and the machine runs quite loud.
Note that Asus releases yearly models. We're talking about the 2022 model here.
Exact model: Asus TUF Dash F15 FX517ZM-AS73 ($1160 on Amazon)
15.6", 1080p, 144Hz
Intel Core i7-12650H, Nvidia RTX 3060
16GB RAM + 512GB SSD
Heats up easily, DDR5 RAM can be upgraded to Gen 4 M.2 SSD, sleek build
Acer Nitro 5 2022 ($800)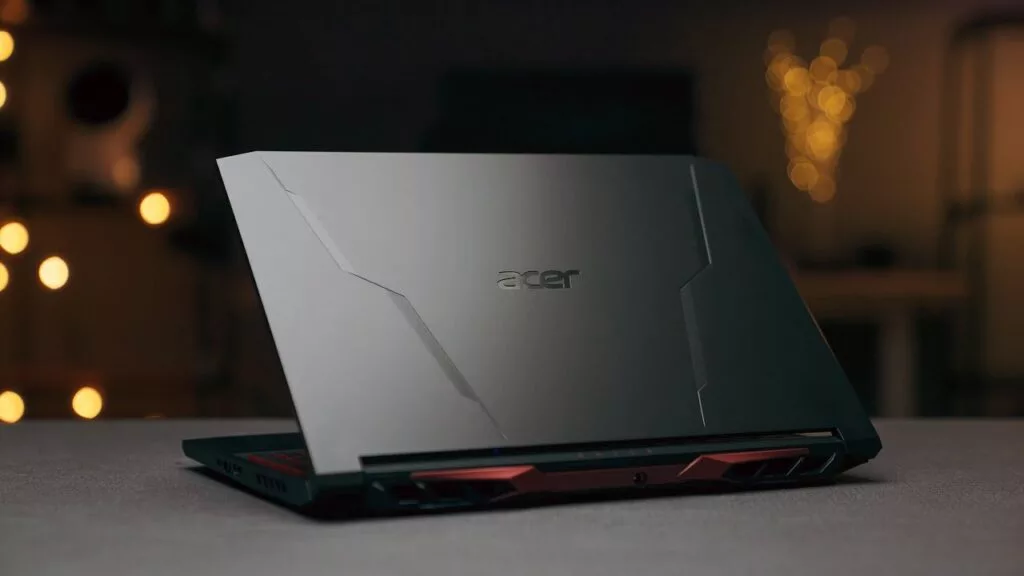 Nitro 5 has been my top recommended budget gaming laptop for a while now. The Acer Nitro 5 2022 variant improves things further and there's no reason why it shouldn't be on your list of potential cheap gaming laptops you can buy.
The Nitro 5 has been one of the best balances between performance and price in gaming laptops. If you're after mainstream gaming and low on budget, the 2022 variant of Acer's Nitro 5 is more than sufficient.
It has a good gaming performance and specs overall.
Exact model: 2022 Acer Nitro 5 AN515-44-R99Q ($810 on Amazon)
15.6", 1080p, 144Hz
AMD Ryzen 5 4600H, Nvidia GTX 1650
16GB RAM + 256GB SSD
Limited storage, not the best laptop for high-end 60FPS gaming, build quality is mediocre
Lenovo IdeaPad Gaming 3i ($700)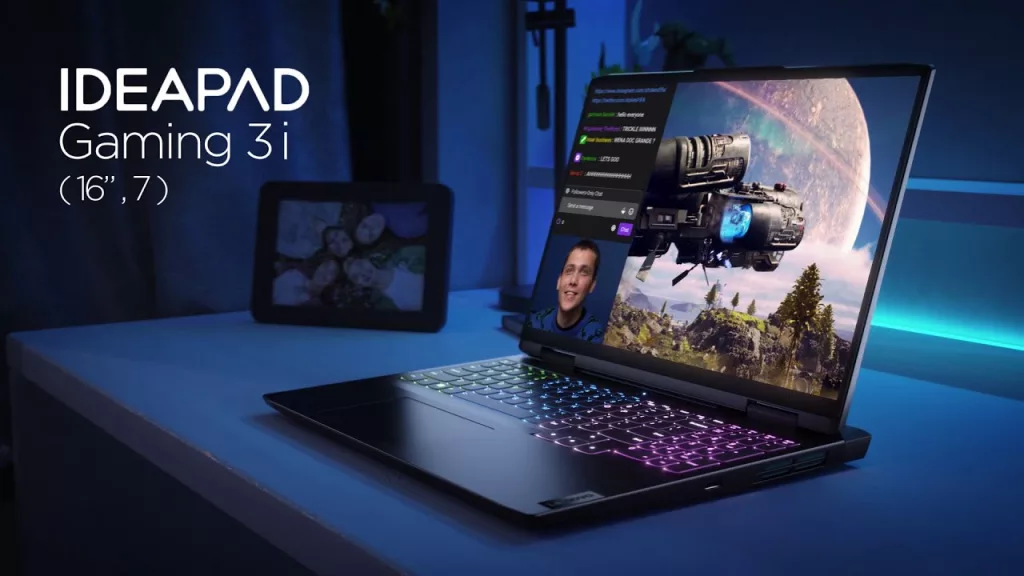 Fast, ergonomic, and sleek — the IdeaPad Gaming 3i from the Lenovo lineup is a good option for an alternative gaming laptop. The IdeaPad series is neither designed nor known for its gaming performance, but Lenovo aims to change that. This model single-handedly is taking up that task.
It's a solid laptop from whichever angle you look at it: performance, speed, specs, display, build quality, etc. There are 4 variants with the highest one offering an RTX 3050. The cheapest model has a 60Hz refresh rate.
I'd recommend buying the RTX 3050 model with 8GB RAM + 256GB SSD and upgrading both of these components later. It will be significantly cheaper than buying a product with higher RAM and SSD for RTX 3050 performance.
That being said, as we're talking about the cheapest gaming laptops you can buy for decent gaming, I'll be talking about the variant with a GTX 1650 and 16GB RAM.
Exact model: Lenovo IdeaPad Gaming 3i 82K10198IN ($703 on Amazon)
15.6", 1080p, 120Hz
Intel Core i5-11300H, Nvidia GTX 1650
16GB RAM + 512GB SSD
Sturdy and well-built for a budget gaming laptop, GTX 1650 might be outdated for some
HP Victus 16 ($800)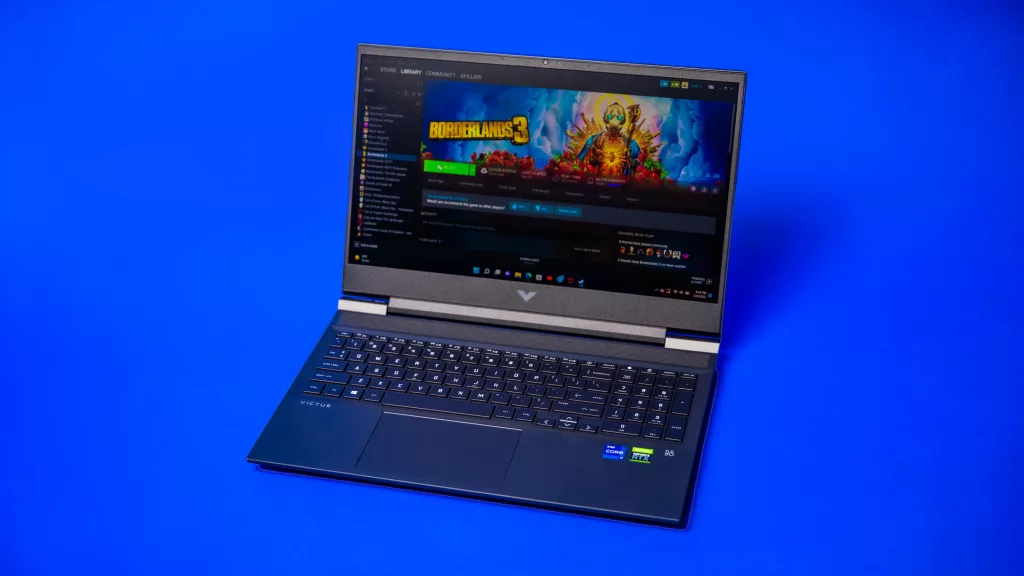 Victus 16 is a strange gaming laptop. It further cements my opinion that HP has a long way to go before they understand gamers fully. It's a budget offering that can be surprisingly good for some. But it also features dealbreakers such as a cheap-feel plastic build and a weak hinge. Not a fan of the texture either which, for some reason, continues on the touchpad as well.
Overall, it's a decent budget offering. Victus is a mid-range gaming laptop line from HP and ranks after the Omen line. With the Victus 16, you're looking at sufficiently fast 1080p gameplay that comes with all the performance you'd need in a budget gaming laptop.
The 8GB + 256GB configuration might be a bummer – but it's much more cost-effective to just upgrade the RAM and storage rather than look for another laptop with higher numbers.
The Victus 16's Intel 12th gen version costs $1200 on the official website. We're interested in the cheaper one with an older (11th gen) processor.
Exact model: HP Victus 16 2021 ($790 on Amazon)
16.1", 1080p, 144Hz
Intel Core i5-11400H, Nvidia RTX 3050
8GB RAM + 256GB SSD
Not a premium-feeling gaming laptop, high noise, and high heat
Dell G15 ($980)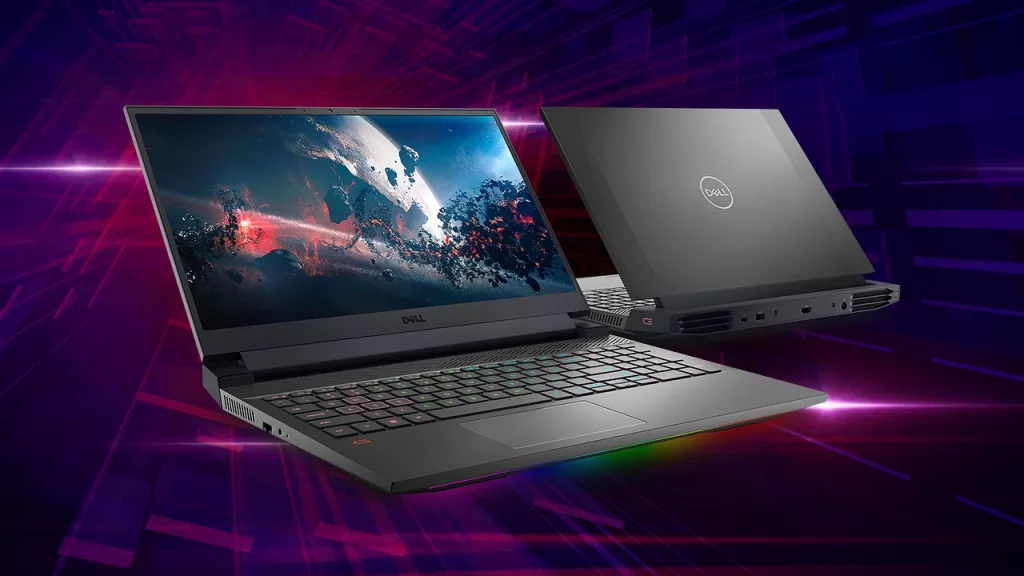 The Dell G15 is a great laptop at the under-$1000 price point. It has all the bells and whistles you'd need in a decent-budget gaming laptop while featuring a sufficiently good design, build, and material quality.
All in all, it's a good competitor to many budget gaming laptops listed here.
Exact model: Dell G15 ($983 on Amazon)
15.6", 1080p, 120Hz
AMD Ryzen 7 5800H, Nvidia RTX 3050 Ti
32GB RAM + 1TB HDD
Roomier storage, more RAM, and a 120Hz refresh rate combined with the Ti version of the RTX 3050 – this a decent gaming laptop under $1000
Wrapping up
You're sure to find something that you like out of the 9 budget laptops we listed above. All of these products have different priorities, pros, and cons. It really depends on what matters the most to you, plus the looks.
Generally, all of these products offer a decent build quality and don't overly compromise on anything like cooling or ergonomics to reduce their price point. You should be good to go with any of these. Check their reviews first, of course. Video reviews can give you a much better idea of aesthetics, shape, size, portability, colors, etc.
As an add-on, let's do a short honorable mentions list as well.
Schenker XMG Core 15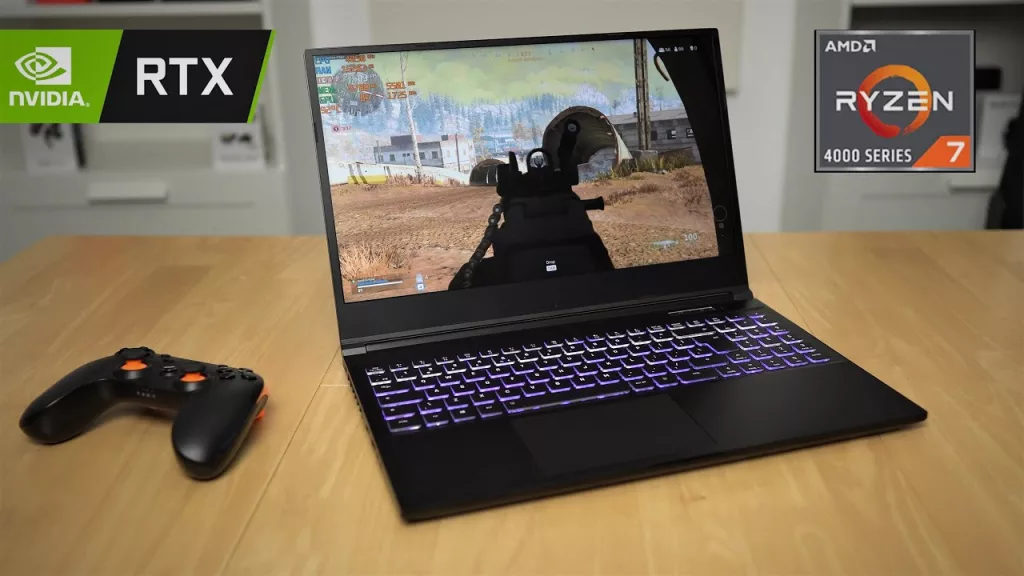 Schenker is a German brand that delivers in the EU region. Buying the XMG series products from the Bestware store allows you to configure laptops in real-time from choosing the SSD brand to removing the brand logo on the lid. It's insane.
Out of the many models and configurations, the cheapest is perhaps the XMG Core 15. It costs €1300 or roughly $1250. However, for the higher-end specs, it's definitely better.
15.6", 1440p, 165Hz (or 240Hz at 1080p)
AMD Ryzen 7 5800H, Nvidia RTX 3060
8GB RAM + 500GB SSD
Medion Erazer Deputy P25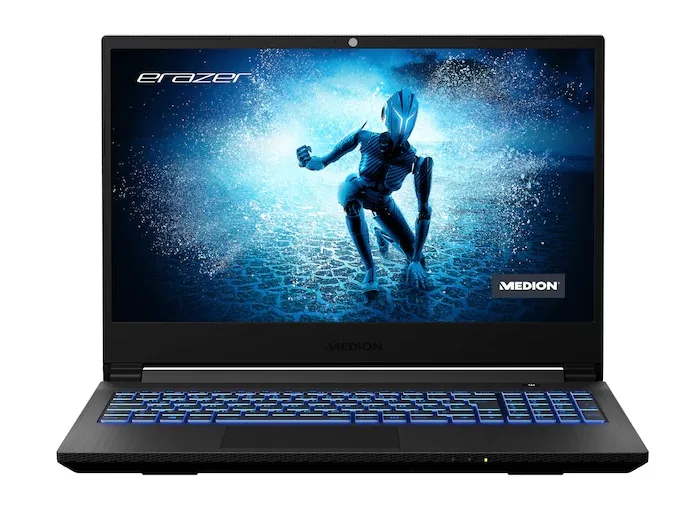 Medion is a Dutch brand (Netherlands) and their Deputy P25 laptop features some great specs for an €1150 laptop or $1110 roughly. Medion's Erazer series gaming laptops are all well-rated among European tech reviewers. It offers the same CPU-GPU combination as the Schenker XMG Core 15.
15.6", 1080p, 144Hz
AMD Ryzen 7 5800H, Nvidia RTX 3060
16GB RAM + 512GB SSD
EVOO LP-7
EVOO is a fairly obscure brand with little information on the internet. Their website also seems to be under construction. They have a dedicated gaming series and the LP-7 is a laptop from that lineup. It's listed on Amazon at $1200 but you can get a restored version from Walmart at $640 or a refurbished one from eBay at $600.
15.6", 1080p, 120Hz
AMD Ryzen 7 4800H, Nvidia RTX 2060
16GB RAM + 512GB SSD
HP Pavilion Gaming
HP Pavilion series has also launched a gaming category. I talked about how it's not suitable for gaming at all given it's still $700+ in an article about the whole HP Pavilion series – but it can be added as an honorable mention here. Maybe in the future HP Pavilion will focus on its gaming category with better design and features.
There are three gaming SKUs in HP's Pavilion lineup. The cheapest is $800.
16.1", 1080p, 60Hz
Intel Core i7-1195G7, Nvidia GTX 1650 Ti
8GB RAM + 1TB HDD
Latest posts by ShadowPanda
(see all)