This is a product review of the DUEX Plus from Mobile Pixels, a company specializing in manufacturing add-on displays to act as the second monitor for laptops. Portable, durable, and snappy – here are the pros & cons in our honest review.
Before that, the specs.
13.3" screen with a perfect 16:9 ratio and a 1080p resolution with 300cd/m2 brightness
60Hz refresh rate – you can set it at 50Hz too
Lightweight, auto-rotating, quick connectivity
Inbuilt/OCD menu for brightness, contrast, saturation, temperature, eye care, G-sensor
270° rotation meaning you can keep the screen at any angle that's comfortable for you
Amazing display and color reproduction
Decent build quality (more on this later)
All of this is powered by a single USB-C port (4.5W). It can also connect to Samsung DeX devices and Nintendo Switch (not general smartphone devices).
All media taken from the Mobile Pixels website except when noted.
The price
The price of this product is currently $300 on a discount.
This is not uncommon for portable monitors, in fact, ones from hardly known brands such as Goshyda, Jiewen, etc. all start from roughly the same price point for their low- or mid-end models. The DUEX Plus is one of the higher-end models from Mobile Pixels.
ViewSonic also has some portable displays in this range but those are mainly used as controllers for systems or kiosks. The DUEX Plus is marketed toward the computer user who wants another monitor. This ensures better compatibility, drivers, display quality, and fewer troubles in general.
The price point is justified for the portability and convenience it offers. It's not justified for the hardware or specs, as you can easily get a low-bezel 24" 1080p monitor with a higher refresh rate and speakers, all for half the price.
Review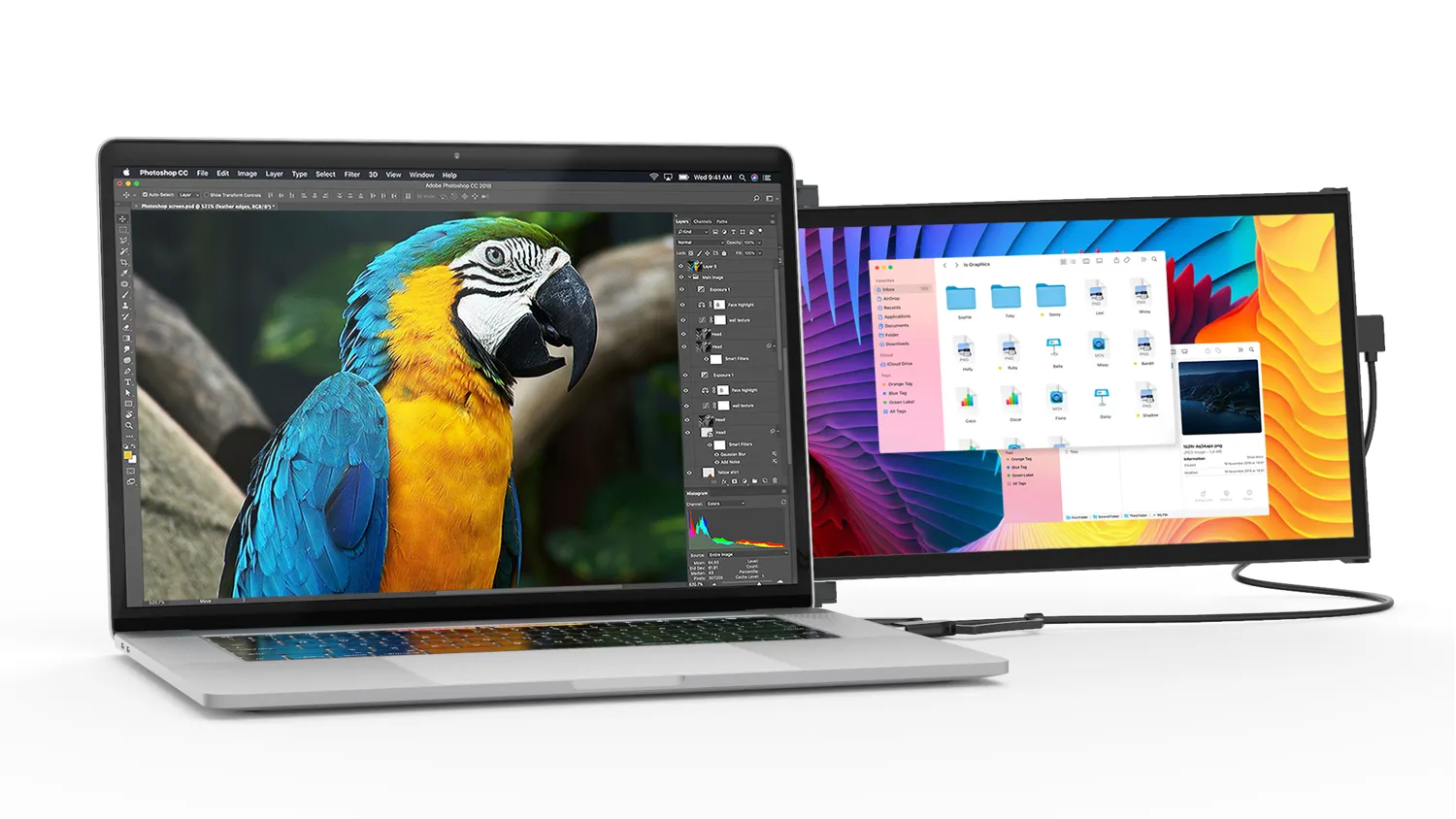 The main application of the product is to snap on a laptop lid with powerful magnets and become a screen you can pull out from the sides. This screen can be pushed inwards to have an angled display, put on the side with any orientation, and also used as the laptop's backside display.
It's not very appropriate to review the DUEX Plus as a display or monitor. It's fairly decent in terms of display quality. As such, the most important points of consideration are the build quality and durability.
Build quality
DUEX Plus features a good build quality. Taking the screen out and pushing it in is a struggle, however. It's supposed to snap in and out seamlessly – but that only happens when the panel is perfectly aligned with the case. That's not always the case. Because the screen can be angled, you can't instantly make it perfectly flat when it's time to snap it in.
As a result, a little bit of struggle is required when the screen is slipped back inside the case/holder. And it's not just the display's angle, but also the slight vertical tilt that the display has against the case.
That being said, everything else works just as expected. The parts are all high-quality. Leaving finger marks all over the display and the case while struggling to push it in is a bummer, however.
Durability
The frame is built from ABS plastic and aluminum alloy.
I accidentally dropped it at least 4 times in different low-height/cushioned situations and am happy to say it passed the accidental drop test. I have personally used phones in the past that were weaker than that. The case, display, cable, and rotation mechanism are all durable enough for most users. As long as you're careful and not using it in a barbaric way, you should be in the clear.
Nevertheless, I'm not very confident remarking on the durability. It's a portable monitor and I have no other product to compare it with. This is my first. But for what it's supposed to do, it has a pretty solid construction and design.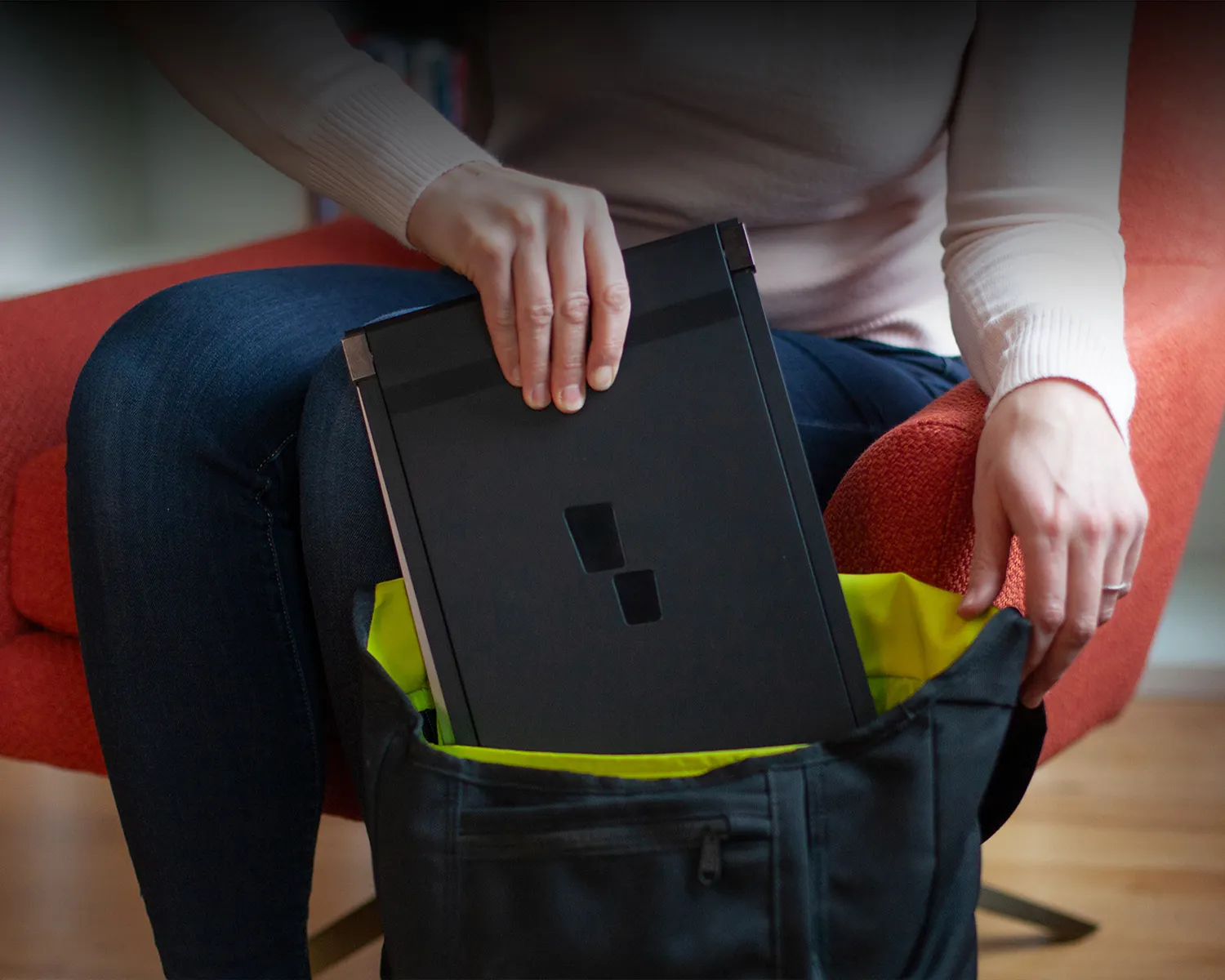 Shortcomings
I've been using the display for a while now. Here are a few notes from my usage.
I tested it on different laptops. Laptops that have a curved back are a problem because the magnets can't grip the lid's surface perfectly if it's not flat. I don't recommend using the display on those as it will fall off.
The display only works on USB3.0 (blue USB ports). I accidentally plugged in the display on a USB2.0 port in an older laptop I use mainly for a "can I run it with a 10+-year-old GPU" series. The display didn't work and I had to install the drivers – which was also futile. Plugging it into the USB3.0 port worked instantly.
The OCD menu doesn't rotate in portrait mode, it's always horizontal. If you're using it as a portrait screen and wish to adjust the menu settings, be prepared for some head-tilting.
The OCD menu doesn't have a sharpness control. For better or worse, I'm used to slightly more than normal sharpness on my PC. AMD Software handles it for me as I mostly play RTS games. When outside a game, my monitor's native sharpness is also 10-15% higher than absolute zero. Having the add-on display not include a sharpness setting was a bummer. Though the display quality is good and nothing is problematic visually, in some cases the apparent lack of sharpness is visible to my eyes.
Should you buy it?
If you're looking for a second monitor for your laptop without having to buy an actual monitor that will take up desk space, then yes – there are no quality or design shortcomings to think of in the DUEX Plus.
The DUEX Plus sticks to the lid of your laptop and extends/retracts from this magnetically-glued case. Rotating, orienting, or taking the whole thing over to the other side – everything is easy and smooth. A lot of user experience research has gone into the design and engineering of this product and it shows.
I certainly recommend this display for anyone who can make use of it – not just as the intended "mobile" display, but also as a secondary or tertiary screen for your desktop PC.
For desktop users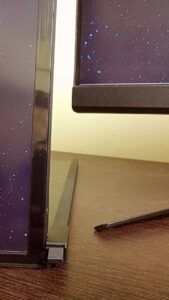 Surprisingly, the display is an amazing add-on screen for PCs as well. In fact, I'm not using the display on my laptop but instead on my work PC. I have a bunch of stuff that looks better on a portrait display, such as to-do lists, browsing Reddit or Twitter, keeping my Telegram and Skype open, etc.
Conventionally, you'd use the display by attaching it to your laptop's lid with magnets. I have taken the magnet pieces out (insanely strong ones, by the way) to protect the adhesive paste (though they send a leaf of additional adhesives).
Sadly, there's no way to keep the display in a landscape/horizontal orientation without snapping it to something unless you buy their (or another) stand. I guess stands meant for larger phones can hold it.
But the flip system itself works as the perfect portrait-mode stand. It's not wobbly at all and the display is fixed. The downside? You end up wasting a bunch of space behind the display because the "stand" is the same size as the display, actually slightly longer.
I must say this has enhanced my productivity. I use my second monitor mainly for games. This third add-on screen works more like a vertical pad to put priority stuff on. While my main monitors are busy gaming or displaying all the panels from any software, the DUEX Plus helps me keep my messages open, my to-do list open, or an article open that I can glance at between video renders.
Verdict
Starting from Kickstarter, they have certainly come a long way. This is their second version of the DUEX series if I'm not mistaken. I saw the pictures of the first model of the DUEX Plus and was impressed by the improvement. Slimmer magnets and a better display mainly.
There's a long way to go. This is definitely not an easy product to manufacture. It might work perfectly for many laptops and specific use cases, but it's not at all a perfect solution for all laptops in general. There are also inherent limitations – if the magnets are too strong it'd make taking the screen off the lid too much work, for example. If the magnets are all centered to enhance grip on non-flat laptop lids, then part of the extended display will get covered by the laptop's lid itself.
Tons of challenges to designing a product that does what the DUEX Plus (and the other Mobile Pixels displays too I reckon) does so conveniently.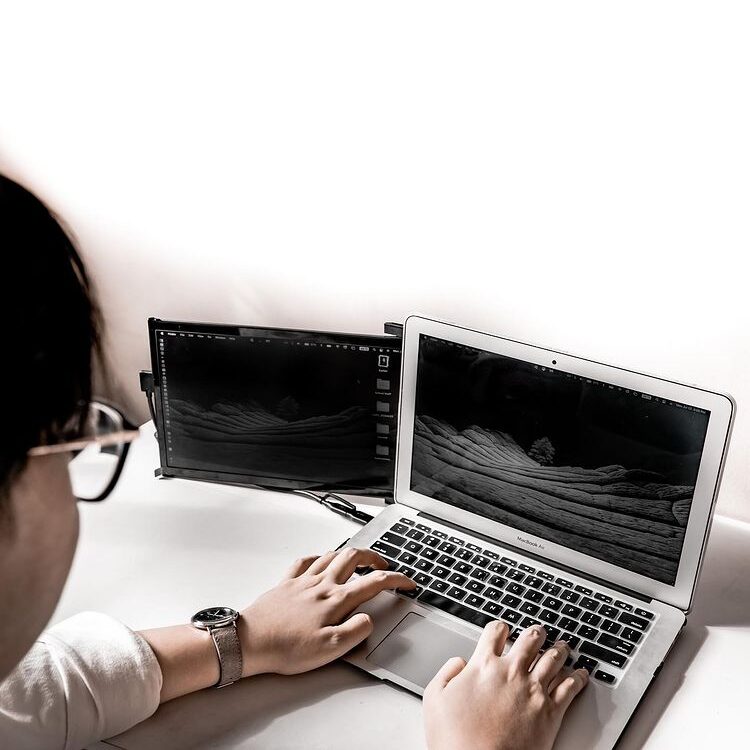 I'm certain that the research going into this product is phenomenal. They have taken feedback and user experience very seriously. I'm sure their engineers and product designers will improve the product line further.
Latest posts by ShadowPanda
(see all)