The monitor, originally priced at $710, retails for around $630-50 on online marketplaces. It has many bells and whistles that you will find in top models, but it still isn't one of the best gaming monitors in this price range – unless you really need this particular mix of features.
Let's find out more about what that means and where this monitor becomes viable. But before that, a couple of concerning points.

Bigger ≠ better
Before we get down to the review, know that bigger is not always better. Especially in the case of displays. Only increasing the size without increasing the resolution is a fool's errand, which many companies seem to be doing. That being said, 44" with 3840 pixels is not bad. It's not excellent, but also not bad. The subpar color reproduction and contrast of this panel also don't help.
44" non-curved
There's a reason why ultrawide monitors tend to be curved. Looking at a monitor this wide that's not curved is going to give you serious issues if you're not used to moving your head left and right constantly. Trust me, there's going to be a lot of that to the point that you'll stick to keeping everything on one side or in the center.
If these aren't valid concerns for you when shelling out $650, then by all means, move on with the review below.
Specs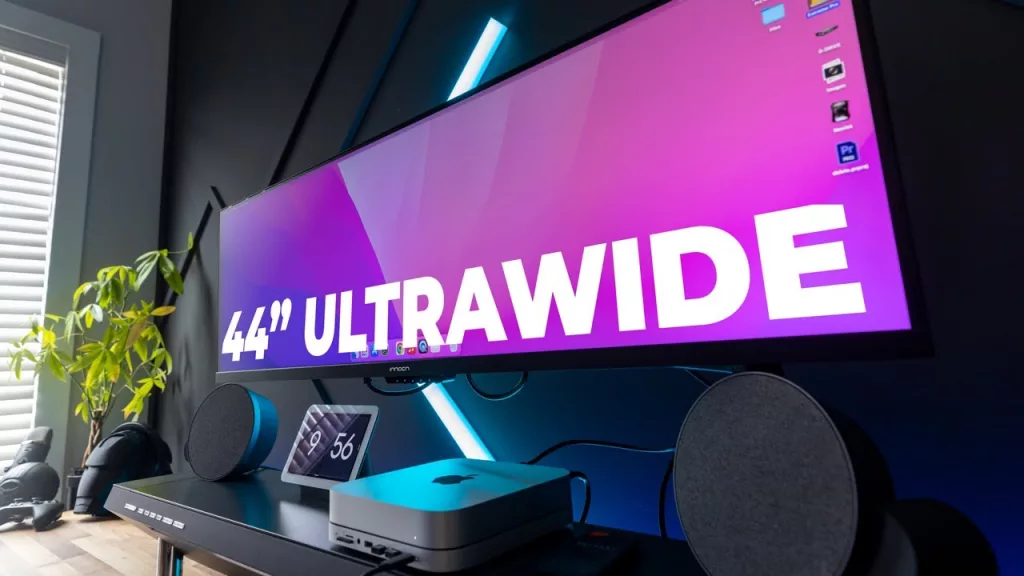 Let's get the fundamental specs over with.
This is a 44" monitor with an IPS panel. The aspect ratio is 32:9.
It's not technically 4K, as 4K monitors have precisely 4x the number of pixels of 1920*1080p panels. The 4K resolution or the UHDT resolution is 3840 x 2160 px. This panel is 3840 x 1080 px, which is WFHD – wide full HD.
This monitor is 100*100 mm VESA mountable.
The screen has a 60 Hz and a 120 Hz refresh rate.
Color reproduction, build quality, and speaker output are all generic at best, but not problematic for gaming, watching videos, office work, or doing photo editing. For more nuanced work such as HDR video editing or sophisticated graphic design work, this monitor is not ideal. The speakers are not good for a good cinematic ambiance.
Supports tilting, swiveling, and height adjustments to a good degree.
Has a USB-C port, meaning you can directly connect a USB-C device such as newer laptops, smartphones, Mac, gaming consoles like Switch, etc.
Connectivity options include DP 1.2, 2x HDMI (2.0 and 1.4), and one 3.5mm headphone jack apart from the 65W USB-C.
Gaming performance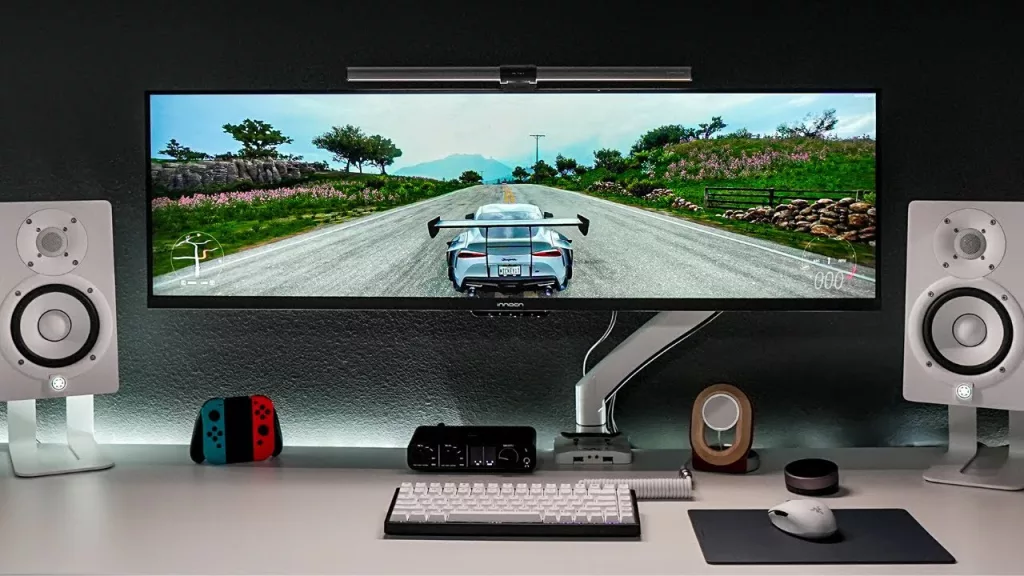 2ms response and 120 Hz refresh rates on a 44" ultrawide are more than enough for gamers. Note that not all games will support a 3840 x 1080 resolution. Those that don't will show black bars on the sides and those that do will allow for a wider peripheral vision, which can potentially give you an edge competitively.
On the packaging, it says 44" monitor for art. And certainly, it's ideal for artists and creators of all kinds who like an ultrawide display. That being said, the INNOCN 44C1G has sufficiently good gaming-tier performance. The HDR400 and 96% DCI-P3 coverage are both good to-haves. The contrast ratio of 1000:1 is simply too shabby to display rich blacks in most modern games, however.
The monitor comes with FreeSync Premium which is not something you find commonly in other products that are 3840 px wide at 44" and in this price range.
Wait, is this a "split screen" monitor?
The monitor accepts two inputs simultaneously – so that means you can have two displays side by side, including different operating systems and devices. This works on PBP technology. If you are in the PBP mode and using 2 inputs, the maximum refresh rate will be capped at 60 Hz.
The onboard chip does not, however, save the configuration. For example, if you connected a Mac and a Windows laptop to it and turned it off, then upon restart the monitor will not remember which side was for which display and will duplicate the same display twice. You will need to readjust when this happens.
Despite many of the official pictures showing a split screen prominently, including the title itself mentioning the phrase, this is not 2 monitors welded into one frame. It's a single 44" 1080p monitor that's very wide.
If you are not looking for using two devices on the same monitor, then it works just as well as a single 44" monitor, with a higher 120 Hz refresh rate.
As with any 3840 pixels wide monitor, you can snap two windows on both edges to give them both 50% of the screen real estate and it will be just like having 2 standard monitors (as 3840 pixels are literally two times 1920 pixels). With Windows 11 you have so many more snapping/workspace layout options that any ultrawide monitor's real estate can be properly utilized in a variety of ways.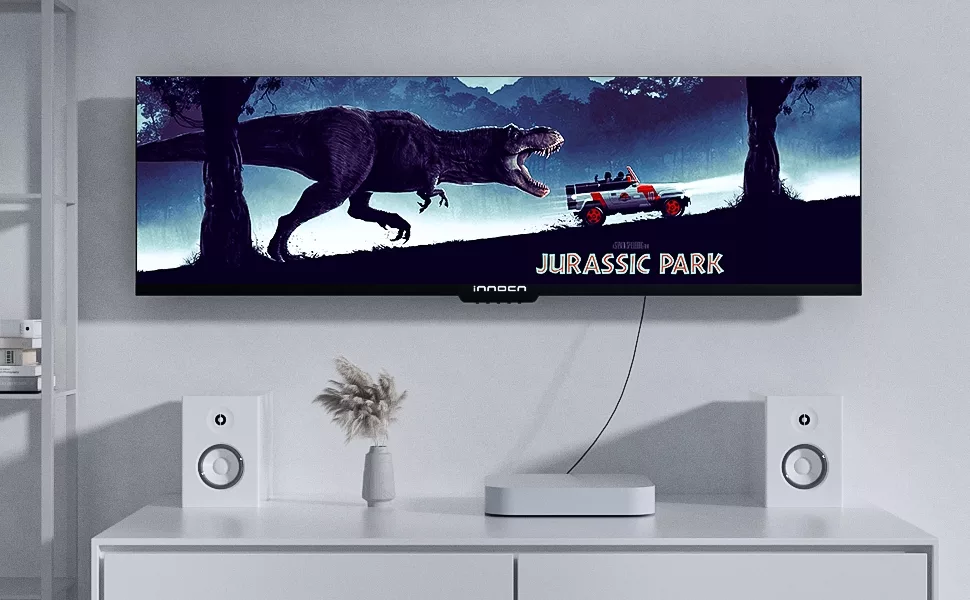 Final verdict
This monitor has a very specific use case. It's ideal for gamers who are looking for a fairly good 120 Hz monitor that's ultrawide. Shenzhen-based INNOCN specializes in commercial displays and some high-end computer monitors, though they are not known for gaming monitors. If you're looking for a gaming-first design, you need to look elsewhere.
Latest posts by Earl "sloth" Richards
(see all)