The cloud gaming industry has grown rapidly in the last few years. Cloud gaming services have made it easier than ever for gamers to play their favorite games on their own schedule, at home, or in the office.
Cloud gaming allows you to break free from having a powerful gaming PC to play even the most demanding of games. It also gets updates and downloads out of the way. You also get a bunch of free games with the majority of cloud gaming services. But it's not permanent. You're just a subscriber – and when you stop renewing your subscription, you no longer have access to your games, progress, etc.
The world seems to be moving towards a subscription-based culture in everything from TV shows and movies (Netflix, HBO, Disney, Prime) to software (Adobe, Microsoft Office). In this world of fast-disappearing true, physical ownership and over-reliance on essentially "renting" stuff, why should games be left out?
Subscription business trumps one-time sales – and corporates like that sweet cash. That's why cloud gaming has become so much more than a necessity – it's a heavily marketed industry poised to lure even gamers with proper means to run their own games into believing that they're following the old ways of manually downloading and updating games, upgrading their PCs every year or so, and so on.
What is cloud gaming? Is it good for me? Is it financially feasible? Can I get started today with a new service?
To answer these questions, we'll need to dig into the details of how cloud gaming works and how it affects your game experience.
The "cloud gaming" moniker is one of the many terms thrown around often to sell a simpler service disguised as something more premium. Remember, the cloud is just somebody else's computer. Contrary to popular belief, it's not "up in the air."
What is cloud gaming?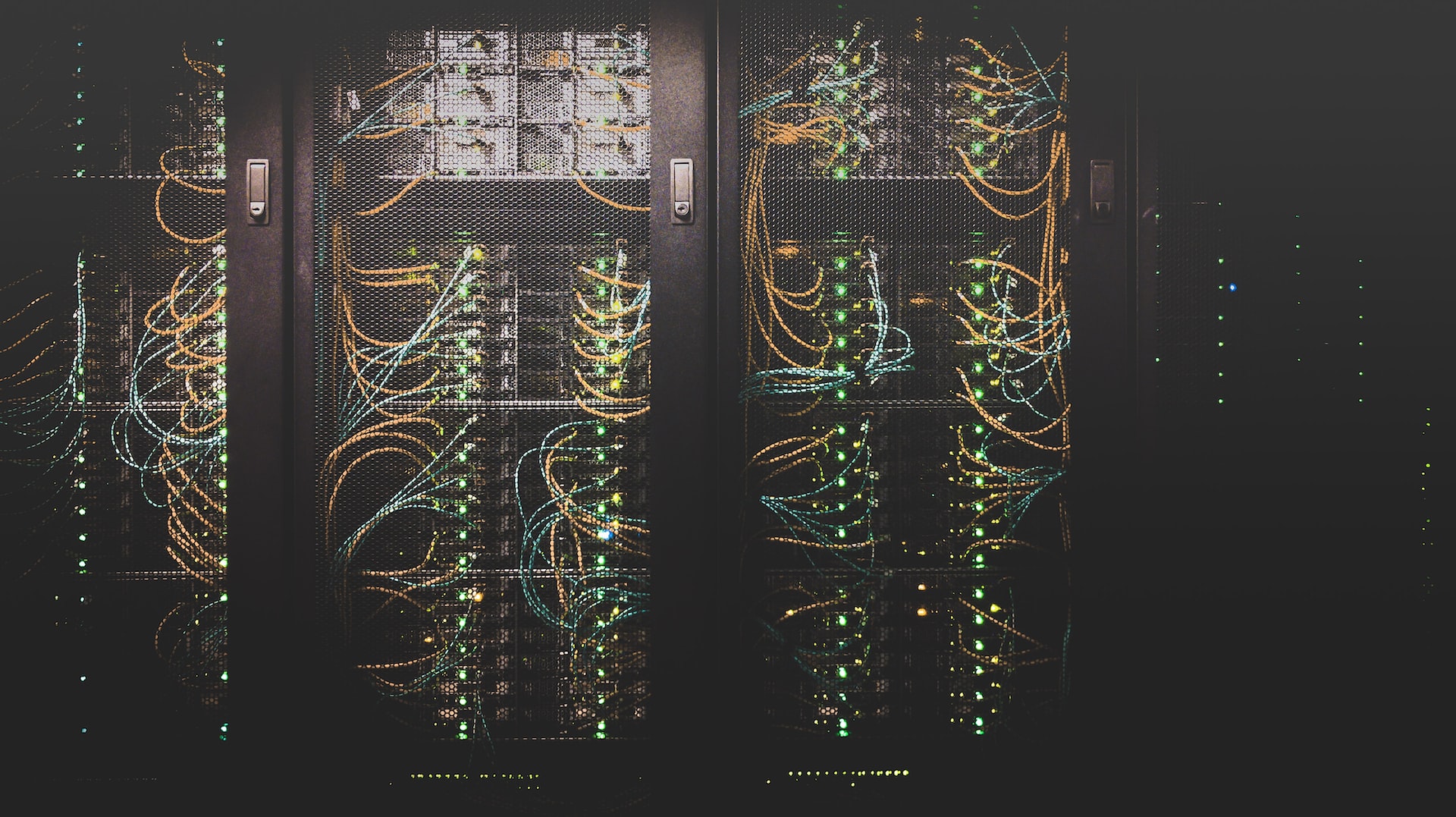 Cloud gaming is a service that allows you to play games from the comfort of your home, on any device. The term "cloud" refers to the virtualized computing environment that is hosted remotely on a server.
This means that your computer doesn't need to have all the hardware to actually run a game. The game runs on the cloud (which is essentially another server or computer connected to yours via the internet) and you stream it, while your instructions (such as key presses and mouse clicks) are sent to the remote server for processing.
It's basically remote controlling a different PC that's running a game. The main difference between traditional remote control/access and cloud gaming is that machines built for cloud gaming have superior hardware that can run any AAA game in high quality plus they need a high-speed internet connection to stream the data back and forth without any latency or lag.
It's just a term that refers to the practice of playing games on a computer or console from remote servers. When you play a game on your browser, it's just as if you were sitting beside your computer or console. The difference between cloud gaming and regular gaming is that with cloud gaming, you don't need high-end hardware such as the latest GPU to run games in high FPS.
You can also play games on multiple devices, which means that if you have an Android phone and an iPad, for example, you can play your favorite games on both of them at once.
Two types of cloud gaming services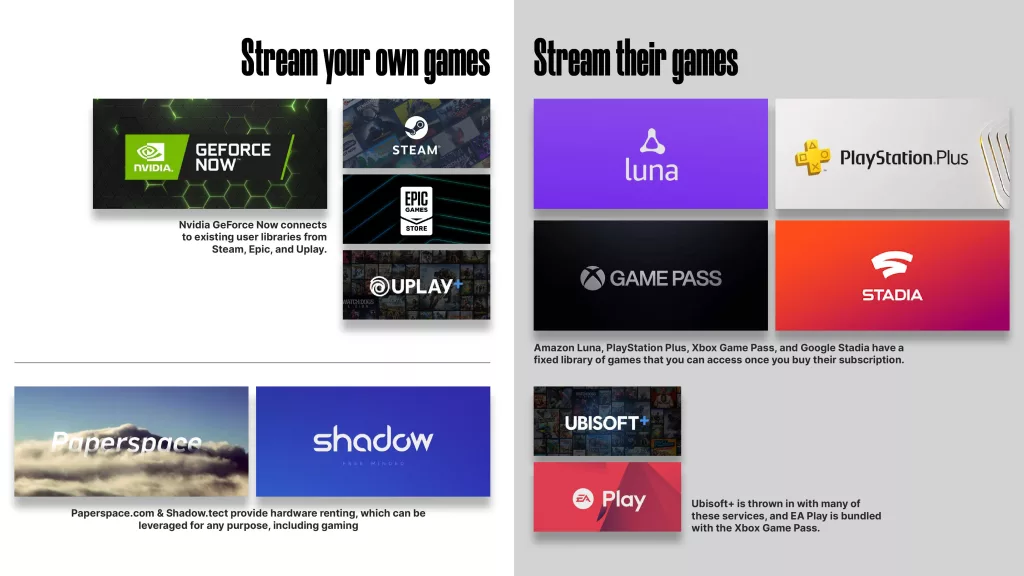 Note that different services have different features (maximum FPS, supported devices, maximum resolution, etc.) – but most importantly, there are two types of cloud gaming services.
You either stream any game you own or you play a game from the service's own selection/collection.
The streaming device is always yours. The cloud device is always theirs. The monthly subscription fee is your access key to the cloud server's hardware.
Stream your own games
Nvidia's GeForce Now connects with Steam, Epic, and Uplay. Once signed in, it works just like a remote-controlled PC. GeForce Now even has an hour-limited version for a basic cloud rig that you can use for free anytime.
GeForce Now can connect with a Steam library because of the Steam Cloud Play program, which is currently in Beta. Hopefully, we'll see it roll out for more partners.
These are services that allow you to play your own games – ones you have in a game library. Other such services often charge more and are simply infrastructure-as-a-service platforms where you're essentially renting hardware. Shadow and Paperspace are both such cloud platforms.
Shadow allows you access to a whole PC. It's not tailored for gaming but for renting a PC for any work in general. It costs $30/month. If you want 4K, you're looking at +$15/month extra.
You get GTX 1080, XEON 3.5 GHz, 12 GB RAM, 256 GB SSD, and a 64-bit Windows 10.
These are not specs to fall in love with for the hefty price tag, to be honest. You can get these exact parts for roughly $450 (excluding any peripherals – which you'll need in cloud gaming anyway).
This means after 15 months of usage; you're basically burning money.
Paperspace is mainly for heavier workloads such as AI, machine learning, and video encoding – but there's no problem with streaming games on it. It's more expensive with lower specs (CPU, RAM, etc.). Though Paperspace is for people and organizations looking to host their algorithms and code for multi-GPU processing, it can and is being used by gamers.
Xbox Game Pass Ultimate will also theoretically allow this to some extent but is largely limited to purchases made on the Microsoft Store. Many top game developers are yet to release their games on the Store. Read the story on CNET.
Stream their games
These services are more common and good for gamers who don't necessarily have particular titles to play. These services provide their own library and with the membership, you get access to this library and all its games. Even if they include a game that you already own, let's say via Steam, you can't play that over here. You'll need to repurchase this special edition of your game and lose all progress.
Examples include Amazon Luna, PlayStation Plus, Xbox Game Pass, and Google Stadia.
With companies like Google, Amazon, Sony, and Microsoft in this – you can expect good service, but I can't say the same for the variety or quality of games. Sure, for casual gamers these are good services, but if you're only after cloud gaming because of better hardware on top AAA titles, then know that you can't stream those here.
These libraries often include games from large studios and publishers such as Atari and Microsoft, but they are not typically the best PC games. If you are into console games, then the Xbox Game Pass or the PlayStation Plus subscription ought to be the best.
Google Stadia and Amazon Luna are pretty much competing in console games.
These services also often include a Ubisoft+ subscription – which is Ubisoft's monthly subscription service for hundreds of Ubisoft titles such as Assassin's Creed, Rainbow Six, Ghost Recon, Far Cry, The Division, The Crew, Watch Dogs, etc. Note that Ubisoft+ in itself is not a cloud gaming platform – it's just a subscription service for Ubisoft games that costs around $15 per month separately.
Currently, PlayStation Plus and Amazon Luna include some games from the Ubisoft+ collection (you'll have to check what's included in your region right now) whereas the Xbox Game Pass Ultimate (which supports cloud gaming) includes an EA Play membership (FIFA 22, F1 2021, NHL 22, etc.).
Is cloud gaming good for me?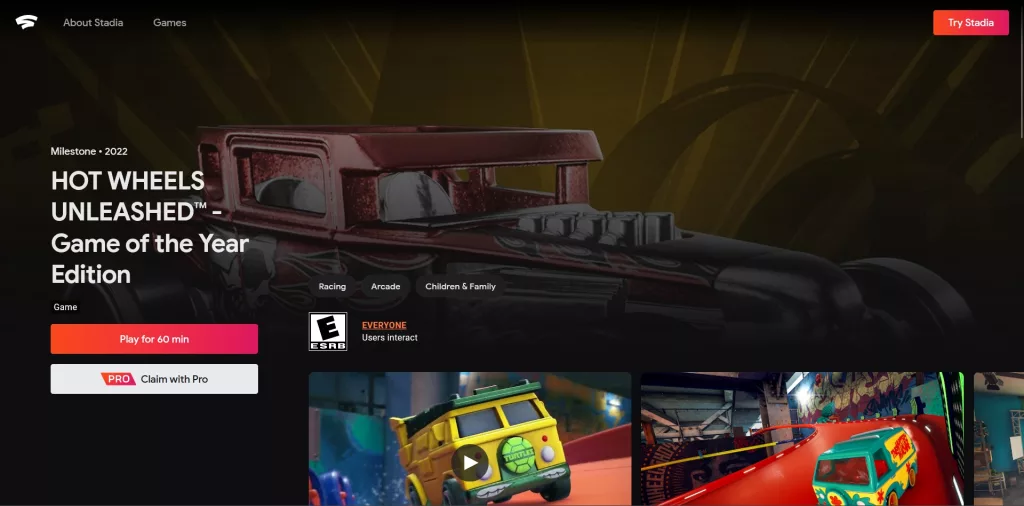 If you have a decent internet connection (4mbps or more) and are willing to pay a monthly subscription fee, then cloud gaming is a great solution for playing games online.
Cloud gaming offers many advantages over traditional methods of playing video games. For example, if you want to play your favorite game or top games without having to worry about buying new hardware every time there is a generational leap, then this method is definitely worth considering.
The main benefit here is that there are no limitations in terms of what kind of hardware you can use when playing these games (as long as it has enough memory). You can even use older models like laptops and desktop computers, as you're just watching a real-time stream of what another computer is playing.
Cloud gaming is ideal for mobile gamers, who often want to play their favorite games while they're on the go. It also provides an easy way to play with friends and family members who may not be able to get together in person.
If device independence is important to you – or if you don't have a gaming PC in the first place – cloud gaming can be a good way to play your favorite titles.
Is cloud gaming financially feasible?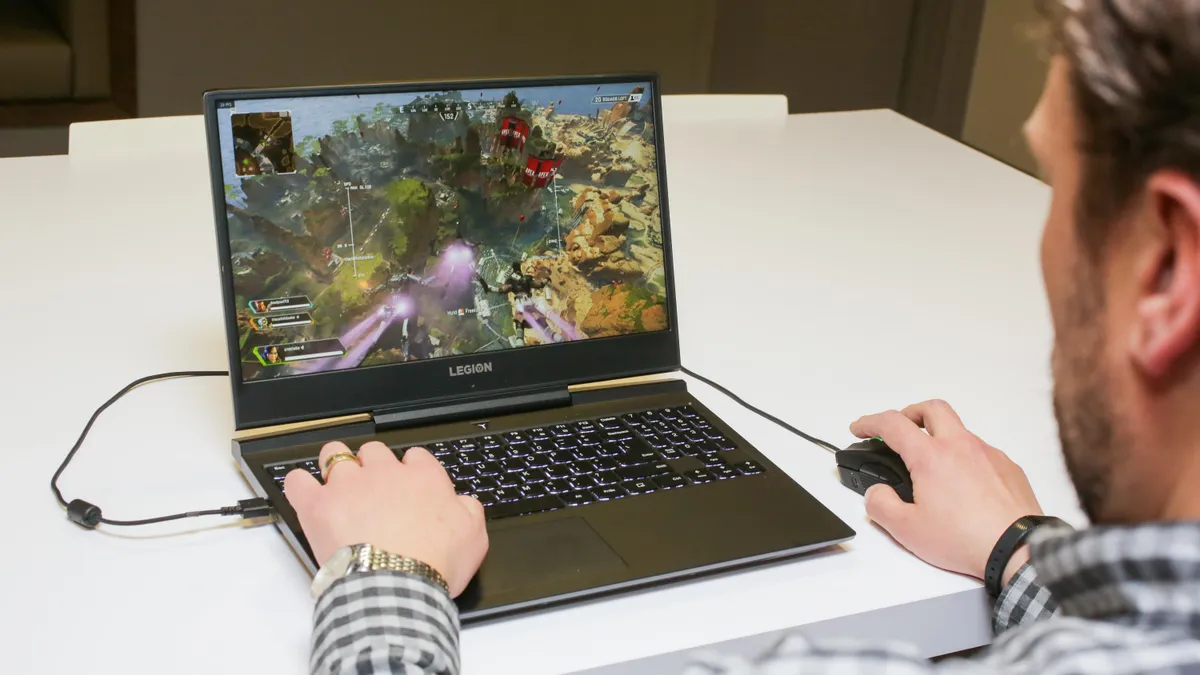 I'm guessing you don't already have a powerful gaming PC. Is it feasible for you to subscribe to a cloud gaming service to play your games? Well, here are some points to help you make a decision.
You don't need to buy expensive gaming hardware such as video cards, though their prices have come down to human levels again.
Newly released AAA games often need high-end GPUs and processors – and not everyone can spend top cash for this stuff. If a cloud gaming service allows you to play these high-end games, then it's affordable.
Console gamers who find themselves struggling with upgrading to the new version of Xbox or PlayStation, or getting new controllers, etc. can also find this service to be economical.
Those looking to try new games and have the independence of using any device to continue where they left off will find that services such as Google Stadia are a great deal.
Ultimately, it depends on you.
Generally speaking, cloud gaming is not feasible for hardcore gamers. Not owning your game on your PC and being limited to specific libraries even when you own a bunch of good games already in your Steam account, for example, is not worth paying a subscription for.
Cloud gaming vs. buying a gaming PC
Cloud gaming does not require expensive hardware or software licenses. Instead, it relies on the power of the internet as a whole to provide users with high-quality graphics without having to worry about upgrading their computers or consoles every time there's a new update released by developers.
It takes buying games out of the equation. Cloud gaming also simplifies the process of gaming because you don't have to download, install, or update games anymore. The downside is that you're limited to whatever games are available on the platform.
If you find games that are right for you – then, by all means, go for a cloud gaming service. Compare the libraries and prices first. Google Stadia also allows you to test any game without even a sign-up for 30 minutes.
Buying (or building) a gaming PC is definitely the more conventional route to play games. It's also a more permanent and physical gaming experience. You'll need to purchase games you like (or download, if they are free) from services such as Steam or Epic Games and then run them on your PC.
The obvious downside is that modern AAA games require powerful hardware. So, check what the minimum specs of these games are and then decide whether it's financially feasible for you to build a gaming rig or buy a gaming console to play that game.
Let's look at a couple of scenarios.
You wish to play titles such as Doom Eternal, Cyberpunk 2077, Elden Ring, Battlefield V, Warhammer II, God of War, Forza Horizon 5, etc. In this case, you need a powerful gaming PC which will likely cost you upward of $500 along with a monitor, recent GPU, and other components and peripherals.
You wish to play competitive games such as Dota 2, Counter-Strike: Global Offensive, Apex Legends, PUBG, Warframe, Team Fortress 2, etc. These are all free-to-play games that don't necessarily need a high-end machine. In fact, they run just fine on gaming PCs under $400.
In the first example, not only do the games and their DLCs cost money, but you also need a more powerful rig to play them well. In this case, it might be better to just go for GeForce Now or another stream-your-own-games type of cloud gaming portal.
In the second example, you're much better off building your own rig or buying a prebuilt gaming PC.
None of the games mentioned in the lists are available on major cloud gaming services such as Amazon Luna, Xbox Game Pass, PlayStation Plus, or Google Stadia. Certain Ubisoft titles are present on Luna and Game Pass Ultimate.
For casual gamers, however, cloud gaming is a great alternative to buying a gaming PC. It saves you money by not having to buy or upgrade hardware and it also gives you access to more powerful machines through the same platform.
Wrapping up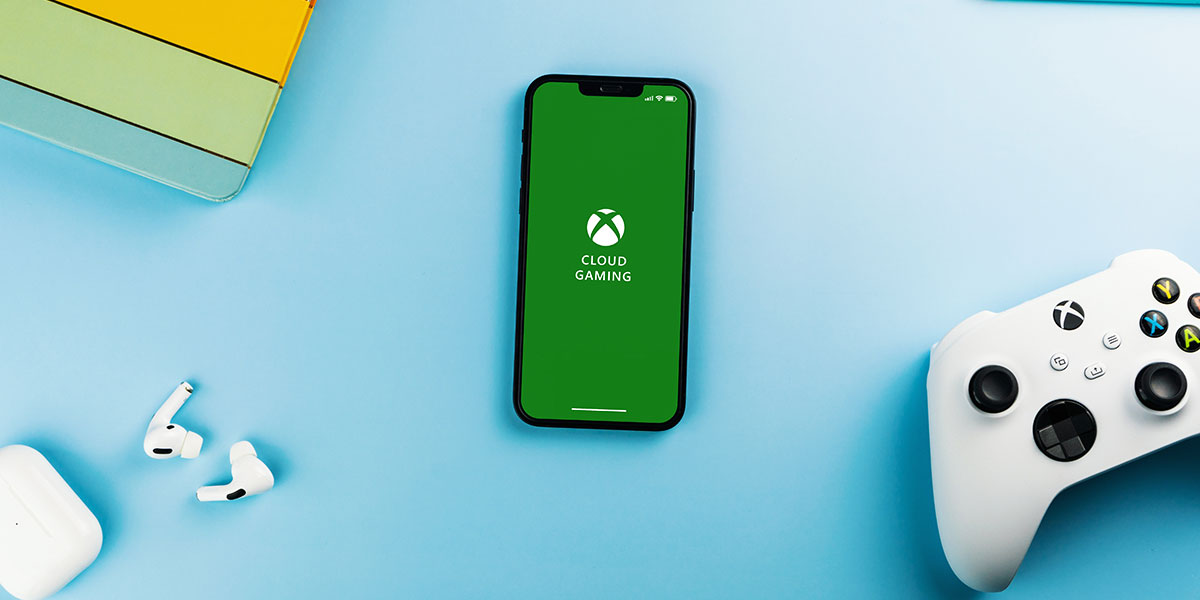 Cloud gaming is fairly a new way to play games. It is a type of digital delivery that allows users to access and play games from anywhere, at any time, and from any device.
The biggest advantage of cloud gaming is that it's available on almost all devices — including smartphones, tablets, and PCs. This means that you don't need a powerful computer or console to enjoy your favorite titles.
Cloud gaming also has the added benefit of being accessible from anywhere in the world with an internet connection. In fact, many cloud gaming services are free to play (F2P). This means there is no charge for downloading the game or accessing it via the Internet — all you need is an account with which you can log into the game's servers.
Cloud gaming, whether it's PC, PS, or Xbox cloud gaming, is a new trend in the world of gaming that has gained popularity over the past few years. With cloud gaming, you don't need any hardware to play games. Instead, you can simply sign up for an account and start playing any game from the comfort of your home. But more often than not, you're limited by the library/catalog of the service provider.
Latest posts by ShadowPanda
(see all)