Generally, you'll find an AMD Radeon RX 6600 retailing for roughly $240-300. PowerColor Hellhound costs $370 on Newegg and anywhere from $280-450 on Amazon. It's a little above the average price by all means. But why? Is it better? Let's find out.
The PowerColor Hellhound RX 6600 is great if you can find it in the below-$300 price range as it offers more than a regular RX 6600 retailing for $30-40 cheaper. The best candidate for this card is anyone jumping from an Nvidia 10-series, 16-series, or AMD RX 500 series who's been waiting for the GPU prices to come down from the stratosphere, but is not willing to invest big bucks in top-end cards.
Details:
8GB GDDR6 VRAM
$260-300
2044 MHz/2491 MHz speed
Max resolution 8K
2x100mm Dual-fan
PCIe 4.0
Robust build quality
Hardware-accelerated ray-tracing (28 CUs)
32MB Infinity Cache
17.86 half-precision TFLOPS
Released on October 13, 2021
Gaming performance: Steady, 100+ FPS in 1080p
It's a solid 1080p gaming card to push beyond 100FPS on many AAA titles including the new Call of Duty, Battlefield, and Assassin's Creed titles. It packs a sufficient 8GB VRAM, which is more than anyone on a 1080p gaming rig is going to need in high-end gaming situations.
In my experience, I saw it perform better than my older Nvidia RTX 2060 Super – though that case had a few airflow issues. A comparison of global benchmarks has been given below. It outperformed the Nvidia RTX 3060 at both, 1080p and 1440p resolutions.

Cooling: Sub-176F/80°C in a good airflow case at 95%+ utilization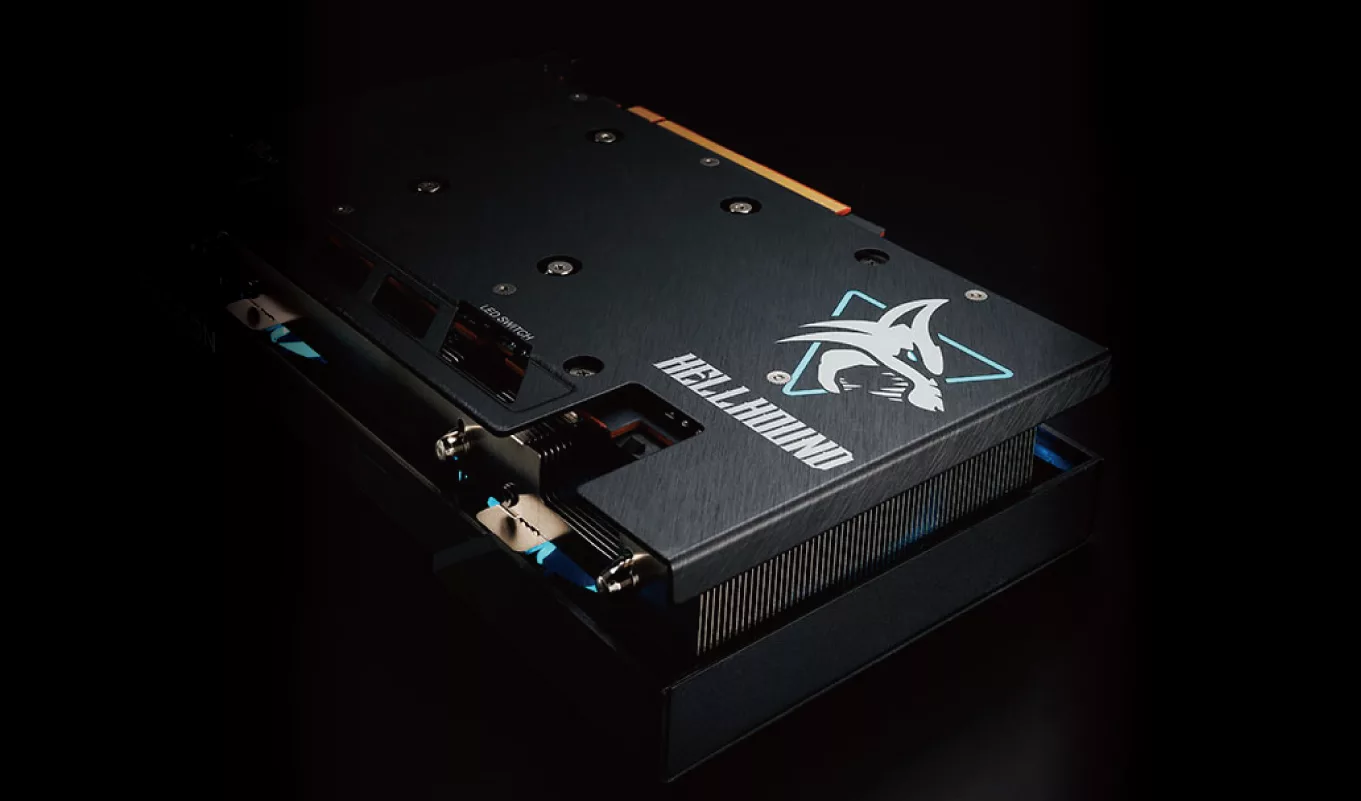 This RX 6600 card runs very coolly. The combination of a high-quality heatsink and better-than-average fans works its magic. It was a small surprise for many of us as well. Perhaps, this is why it costs a few bucks more.
If you're a casual gamer who's not playing super-demanding games like Cyberpunk 2077, the temperature won't exceed 120-130F or 50-55°C, for example when playing Valorant or Rainbow Six Siege.
A friend used to mine cryptocurrency with one a few months ago and told me how impressed he was with the power efficiency and low temperatures. Now, this isn't relevant to gamers, but I always tend to compare mining-temperature performance for my research and I must say that it was a big reason why I even got this GPU in the first place.
Drawbacks and problems
Those looking to upgrade from an older PC also need to ensure that their HDMI is at least 2.1 or above. This card will simply refuse to work with HDMI 2.0 or below. The same goes for people wishing to buy a new GPU in a small, old case with poor cable management. This card will also not fit on some niche motherboard configurations, like if the PCIe slot is too low, as it's still moderately big. If your previous card was a GTX 10 series, you might need to double-check.
Apart from these, there are no technical limitations per se. It's a good card overall.
On Newegg, the card from seller Ininkind is currently retailing for a whopping $370. Please buy from Amazon and save $100.
It's a budget or entry-level card. If that's precisely what you're looking for (especially 1080p or 1440p gamers) then this isn't a disadvantage at all, as it easily beats many other competing cards while being cheaper. But if you're after top performance and 150+ FPS on games like Assassin's Creed Valhalla, then this is not the card for you.
Comparing with other GPUs
It's certainly not built to be compared with the likes of RTX 4080 or RX 6950 XT, in price or performance. Here are the closest competitors of this card:
Nvidia GTX 1660 Ti: The RX 6600 is slightly better in speed, but remarkably better in terms of lighting, reflections, overclocking, and multi-rendering – roughly 20-30% better, all the while being around 10% cheaper. This helps it nearly double the FPS in many games.
Nvidia RTX 3050: Across the board, the RX 6600 desktop GPU is 40-50% better in performance and speed than the mobile RTX 3050 GPU. It's also cheaper.
Nvidia GTX 1080 Ti: The quintessential 1080 Ti is better than the RX 6600 in speed and performance, though not in shader and render performance. If you're looking for a new GPU then it's better than the $400-750 GTX 1080 Ti.
AMD RX 5600 XT: The RX 5600 XT might be slightly more expensive, but it's definitely faster than the RX 6600 in many cases. The RX 6600 has better value for money and shows performance improvements of over 100% in some specific render cases.
Generally speaking, the RX 6600 is significantly better than RX 590, GTX 980, and the mobile 1660 Ti.
Features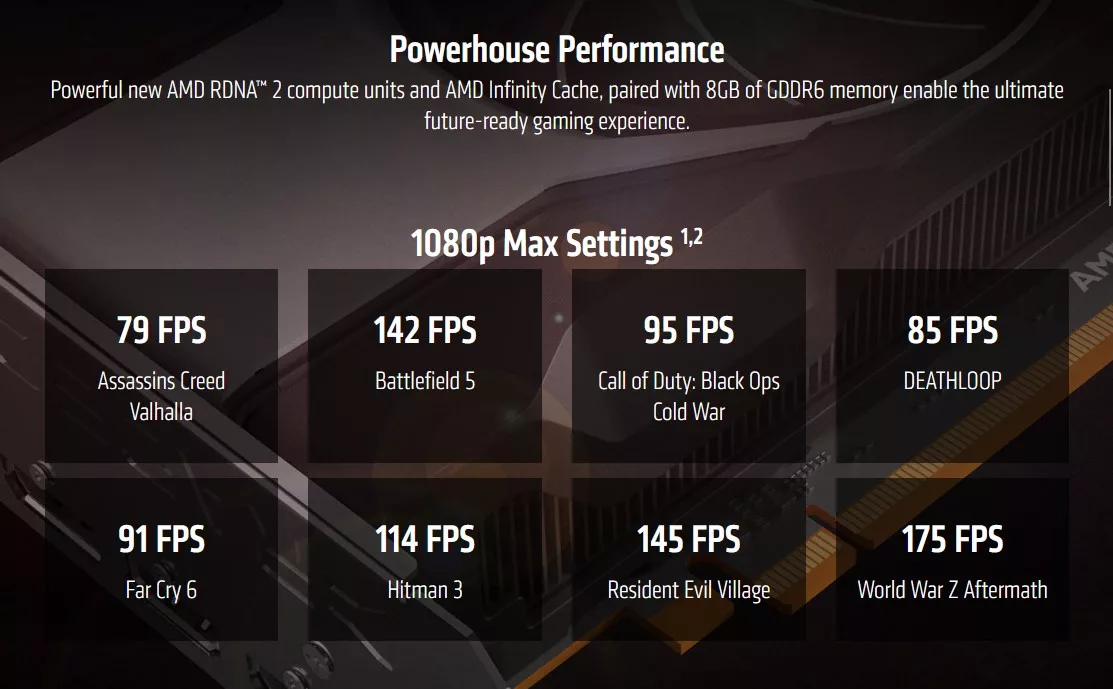 Let's look at some other important considerations.
Power
We tested the video card in several taxing situations. The PowerColor Hellhound RX 6600 barely goes above 100W (no undervolting) even in very demanding situations. AMD has done some amazing things in the past few lineups and this is one of them.
Light
You can turn off the teal blue light (though it's pretty soft on the eyes) with the switch on the card. The card does not have RGB of any kind. It's just a blue LED light.
Noise
The card is impressively quiet even in demanding situations when overclocked. You'd never guess that a PC is packing a low-end card, pushing 100+ FPS, staying lower than 180F, and still producing negligible noise at 100% utilization.
I had to strain my ears to pick up the noise from the fans below 60% fan speed.
Size
Not fit for installation in a compact case or mini tower unless your cable management is exceptionally good and the case will not be compromising on airflow.
Can be installed in most mini ITX cases and all micro ATX cases, and above.
PSU
Use a 500W PSU just to be safe, though the recommendation is 450W and this card will likely not cause any power spikes unless heavily overclocked and pushed to its limits. Always utilize the bigger power source, such as connecting two cables or using the 8-pin vs. the 6-pin. It's always better, more efficient, and safer.
Final verdict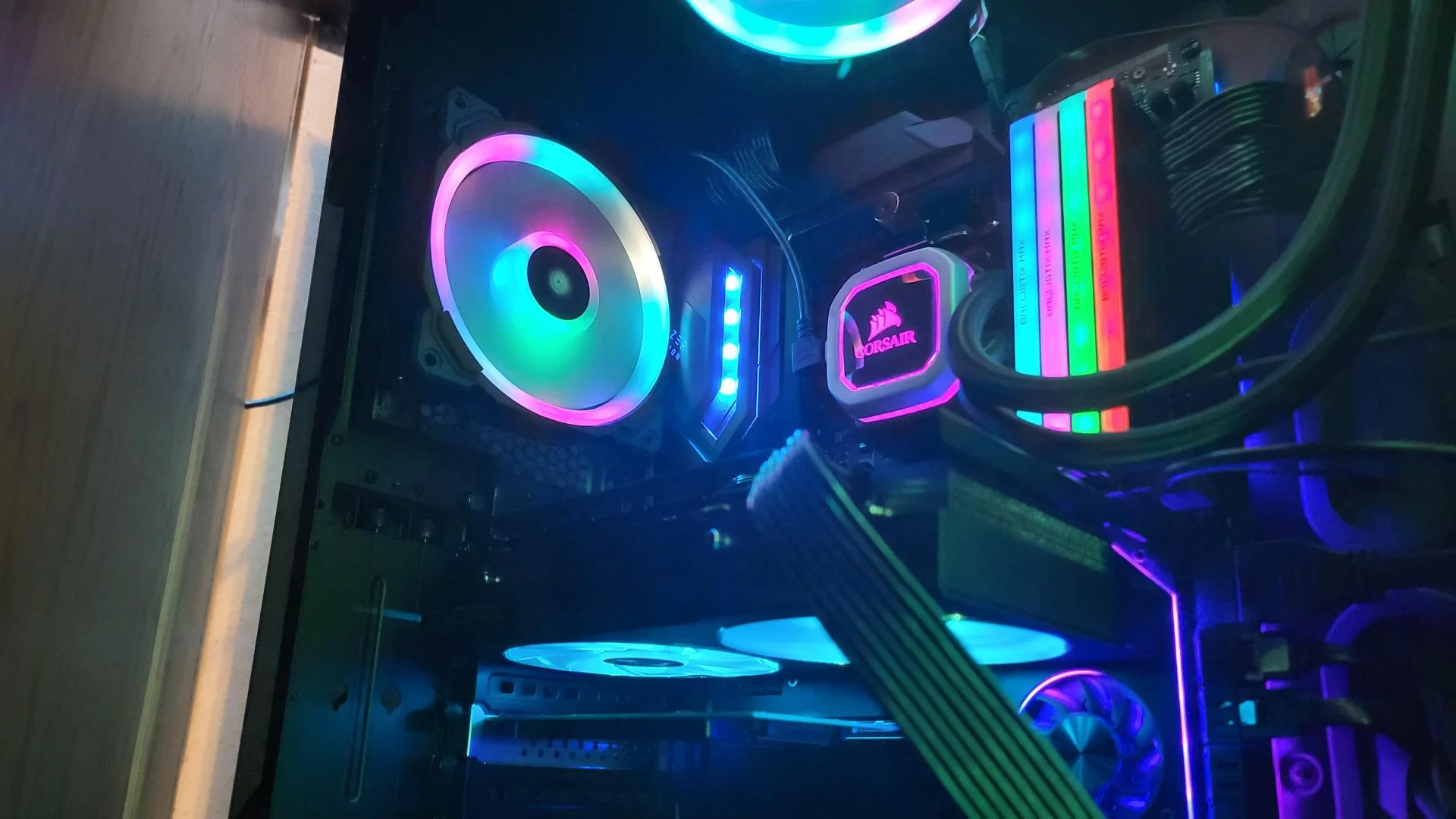 This variant of RX 6600 is exceptionally quiet, cool, and low-power even when pushing 120+ FPS with 100% GPU utilization. Expect similar results, and better if your case has better airflow than mine! All I'd say is that if this checks all boxes for you then you shouldn't wait or look elsewhere. In the $280-300 price range, this card puts its competition to shame.
There was indeed a lot of bad press surrounding the RX 6600 before/upon its release. From LTT's Anthony Young calling it worse than previous-gen high-end cards due to the conceived price point (~$600) to Steve from GamersNexus calling it "insultingly bad value" as it seemingly offered 0-5% performance increase vs. the RX 5600 XT (non-ray-tracing) at a $330 price tag.
All that has changed in a year. And dramatically so. Into 2023, the RX 6600 is one of the best cards due to price drops and when you see how much actual performance it gives (the one Steve reviewed was an XFX card). Among all 6600s, the PowerColor variant is simply the best. There you have it!
Latest posts by Shane "raven" Watson
(see all)