Nvidia's Ada Lovelace or RTX 40 series cards are the best GPUs on the market in terms of performance and power. They launched through 2022 and the company kept gamers expecting new cards and variants well into 2023.
Image from Reddit: "Why install the 4090 in a case when you can install a case on a 4090."
Until last year, before a gamer could even consider purchasing one from a reliable retailer like Best Buy, it would have been necessary to survive a global pandemic of a chip or silicon shortage, a crypto mining boom, and scalpers using bots to buy all the cards and reselling them on websites like eBay for hundreds of thousands of dollars more than the MSRP.
Nividia was prepared to launch the RTX 40 series by the time everything was over, the crypto mining rush ended and the cards had begun to appear on store shelves.
The RTX 40-series has largely been talked about in relation to how power-consuming, expensive, and enormous they are, let's discuss them.
Power Usage
A key issue is the RTX 40 series' excessive power consumption.
The RTX 4090 would seem to be a fantastic deal given that it is two to four times as powerful as the RTX 3090 Ti. The GPUs of the RTX 40 series are highly effective at enabling the future of graphics i.e., real-time ray tracing. The RTX 40 series GPUs provide a significant performance improvement over their previous series, provided your tasks fit inside graphics RAM.
Earlier it was predicted that the power consumption of the RTX 40 series would be around 600W or more for Total Board Power (TBP). That seems to be largely inaccurate, at least for the announced Founders Edition models. It was found, that even with manual overclocking, gamers couldn't consistently exceed 600W for the RTX 4090.
It's worth noting that the RTX 4090 has the same 450W TGP as the outgoing RTX 3090 Ti. The RTX 4080 has a TGP of just 320W, the RTX 4070 Ti is at 285W, and the RTX 4070 is rated at 200W. These figures are for the reference Founders Edition models.
With power spikes for the RTX 4090 ranging in 1.3-1.4x, that's still less than 600W.
Nvidia advises 850 watts, but you'll need a strong 1,000-watt power supply to make the most of this power, especially if you're using it with the latest power-consuming CPUs. For overclocking, the additional 150W power will be helpful.
Also read: Best PSU recommendations for RTX 4090
Even though these GPUs are "okay" on paper for many gamers, you must understand that the RTX 40 series cards are closer to large appliances than they are to computer parts. Comparatively, they consume way more power than any other piece of hardware in your PC, and even with the CPU, RAM, SSDs, and 4K monitor combined, you're probably not going to hit even 25% of an RTX 4090's hourly power usage.
That's something we need to comprehend, really. Not just as gamers conscious about our electric bill but as human beings sharing limited resources on the planet.
Price Increases by Ships and Jumps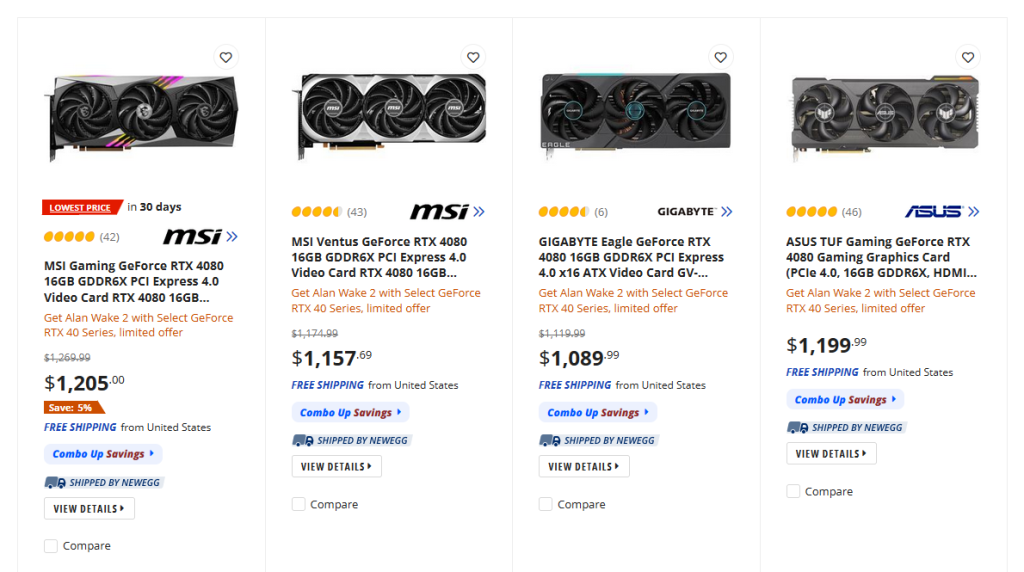 So, what do you do when you've got a pile of existing graphics cards to sell? Well, you make the new ones a bit pricier. That's exactly what's happening with the launch prices of the RTX 4090, 4080, 4070 Ti, and 4070 models.
The RTX 4090 comes in at a hefty $1,599, which is a hundred bucks more than the launch price of the 3090. It's safe to say this one's out of reach for most gamers. The RTX 4080 doesn't offer much relief either, sitting at $1,199. As for the RTX 4070 Ti, it's priced at $799 – that's a hundred bucks more than the RTX 3080 10GB's launch price and a whopping two hundred more than the outgoing RTX 3070 Ti. To put it in perspective, it wasn't until late 2022 that we even saw 30-series cards sell close to their MSRPs!
Seems like Nvidia did manage to clear out a chunk of its existing RTX 30-series stock, but the RTX 40-series cards are holding on to their high price tags. Thankfully, most are now available starting at MSRP or something close to it. However, the RTX 4090 can still command a premium.
On the brighter side, the new RTX 4060 Ti and 4060 models are bringing Ada down to similar price ranges as their predecessors.
All in all, the prices of GPUs have gone up with Ada and the RTX 40-series (except for the 4060 line). Nvidia is also up against AMD and their Radeon RX 7000-series and RDNA 3 GPUs, which are no less expensive. Nvidia was a bit slower in releasing more GPUs like the RTX 4070 and below, but at least the mainstream 4060 Ti and lower are back to price parity with their predecessors.
Enormous Sizes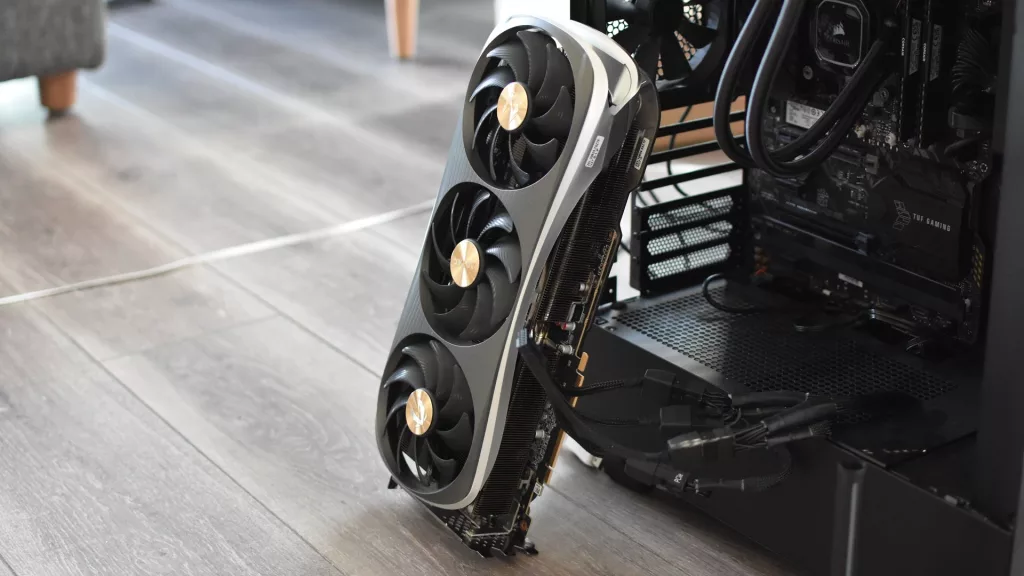 Phil Hayton on PCGamesN: "This Nvidia RTX 4090 GPU might be too chonky for your PC case." Optimum on YouTube: "So the RTX 4090 is massive."
Trying to fit that monster into my Ncase M1 would be like attempting to squeeze a pumpkin through the eye of a doughnut. Yeah, it's that massive. Size is a big deal for gaming PCs. It's not just about whether you can safely fit everything inside but also about how the parts will affect airflow.
Both the RTX 4080 and the RTX 4090 sport the same colossal cooler, and sometimes, the RTX 4080 AIB (Add-In-Board) models are even larger. Now, that might not sit well with folks who have small PC cases or those aiming for a minimalist PC setup. And then there's the matter of heat.
In tight spaces like compact PC cases, keeping things cool is crucial. When you put together a PC, you go all-in, meticulously testing 13 different fan configurations to find the one that keeps everything at the perfect temperature. The RTX 4090 does an okay job of managing its heat, but there's no denying that it can get pretty toasty. In a small case like mine, that's a recipe for trouble.
So, these GPUs aren't just large; they can also limit your choices when it comes to case design and the overall setup of your system.
---
The RTX 40 series GPUs from Nvidia have caused quite a stir in the gaming world. Now, are they a worthy addition to your gaming setup? Here's the deal: These graphics cards have a lot to offer, but they also come with their fair share of challenges. First, power consumption isn't as terrifying as we thought, but you'll still need a beefy power supply to run them smoothly. Price-wise, they're not exactly budget-friendly, especially the top-tier models. So, you'll have to dig a bit deeper into your pockets. And then there's the size factor. The RTX 4090 is a beast, and squeezing it into a small case can be a real puzzle. Plus, it tends to run on the hotter side, which can be an issue in tight spaces.
So, should you go for it? Well, it depends. If you're looking for top-notch performance and you're ready to invest both in terms of money and a proper PC setup with adequate space and cooling, then these GPUs might be your jam. They do offer a gaming experience that's hard to match.
But if you're on a tight budget, have a small case, or are wary of high power bills, you might want to think twice. There are other options out there that can give you a solid gaming experience without breaking the bank or causing your PC to overheat.
Latest posts by Shane "raven" Watson
(see all)