This article is a directory of reputed brands that manufacture PC gaming hardware. It's a frequently updated resource aimed towards guiding new PC gamers. Although knowing the names of these brands will not, itself, help you make much better decisions, but it will help you avoid mistakes and pitfalls. Additionally, this directory includes buying guidance for making the right choices and avoiding rookie mistakes.
Note that whenever a comparison is made between different brands (for example, Intel processors vs. AMD processors), it's to be taken as a consensus that's most likely true in the average case. It's not a de facto argument. These differences are only to give the reader an idea regarding the brand and its products. Actual product-on-product comparison will reveal different types of variations.
Finally, we'll answer what are some of the best brands for PC parts – Nvidia, AMD, Intel, Corsair, Gigabyte, Western Digital, Cooler Master, NZXT, and so on – depending on what part we're talking about.
Which components will we talk about? In other words, you might be wondering, what parts do I need to build a gaming PC? Broadly speaking, you need a motherboard that will hold a processor, RAM sticks, and a GPU. Then you need a storage and a chassis to hold it all (which will ideally include a stock fan). A PSU is also needed to ensure power inside the case. Attach a gaming monitor and peripherals like a mouse, keyboard, and headset. Build up from there. Other accessories can include an ethernet cable, mousepad, and additional fans.
GPUs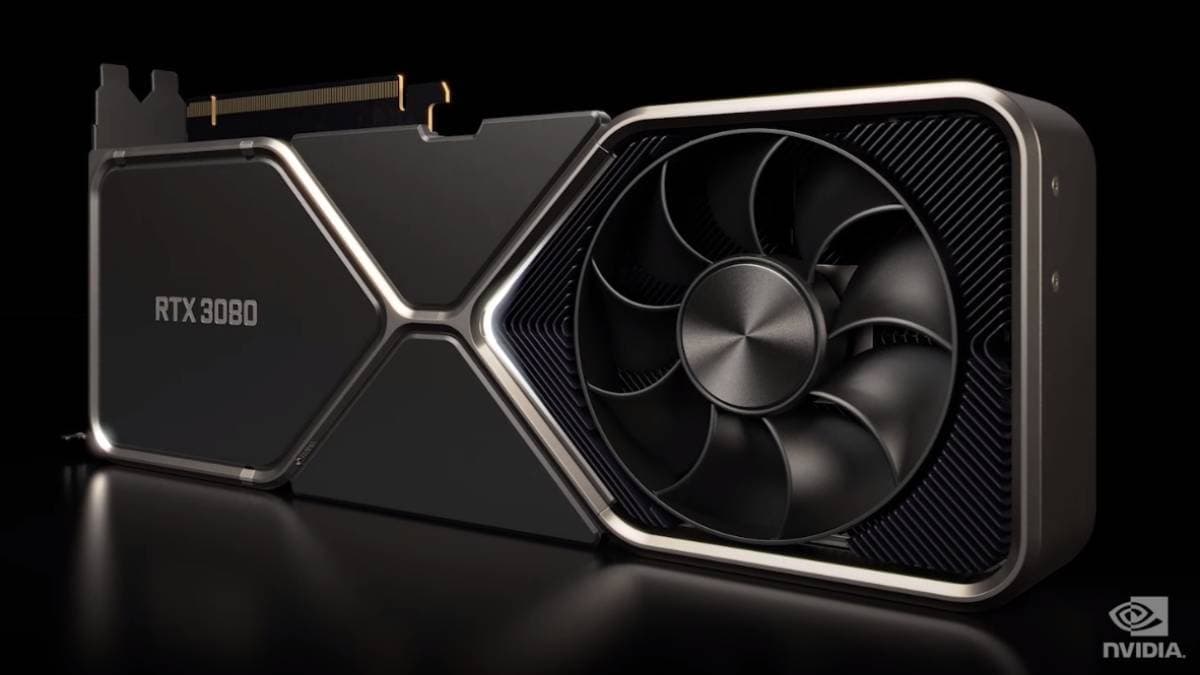 Nvidia: Nvidia GeForce is the market-leading GPU lineage.
AMD: AMD's cards usually offer lower to slightly lower performance than equivalent Nvidia cards, and come for lower to slightly lower prices as well.
Nvidia and AMD are the two brands that manufacture most of the gaming cards in use today. They come in generations or sets. For example, the Nvidia 30-series includes cards such as the 3060, 3070, and 3090.
Nvidia cards come with additional variations. Founders Edition, Ti, and Super.
Nvidia and AMD only manufacture a small minority of GPUs for sales. They sell their chips to board partners. These partners develop their own video cards on top of the underlying chip. When a partner manufacturer gets the chip, they make certain tweaks, mainly in the video card's cooling, shroud, form factor, design, and overclocking. On the higher end, a manufacturer can make the same GPU more overclocked (from factory, no manual tinkering needed) and add better cooling (let's say a triple-fan system), and on the lower end, the same manufacturer can also produce a toned down version of the same GPU.
When you buy a GPU you are most likely buying a board partner GPU. All brands have some traits but those are inconsistent. Overall, you need to pay attention to cooling, power, and overclock settings when deciding between the same GPU between different manufacturers (and price, of course).
PowerColor – noted for cooling, AMD specialist
Sapphire – second to PowerColor, offers robust cooling and specializes in AMD cards
XFX – specializes in the low- and medium-end AMD video cards
EVGA – Nvidia specialist, simply one of the best in terms of cooling; also produces high-end liquid-cooled Nvidia cards that are very popular
PNY – specializes in low- and mid-range Nvidia GPUs
ZOTAC – known for building smaller form factor Nvidia GPUs (naturally, not for high-end and bigger models)
ASUS – powerful coolers across the ROG and Strix brands (both brands have different price point targets) for both Nvidia and AMD cards, noted for their specialization in blower-style cards (vs. open-air design)
Gigabyte – good for low-budget gamers (except the newer AORUS brand), specializes in dual-slot cards for both AMD and Nvidia
MSI – the ideal balance of performance, pricing, and cooling; MSI specializes in producing the most consistently decent video cards for AMD and Nvidia
Galax – lower market share manufacturer for low-budget Nvidia video cards with no specialties
ASRock – budget AMD video card manufacturer that designs few of the most average GPUs in terms of design and performance
Intel has also joined the fray very recently with its Iris Xe cards. Xe's market share is low and it's advertised as a general-purpose GPU (not a gaming GPU). The fact that we are yet to test it doesn't help either, so we'll be skipping Xe. Intel currently holds the largest market share for manufacturing PC processors, including non-gaming PCs and laptops. These processors come with integrated graphics – the bare minimum graphics needed to render fonts correctly and watch movies with slightly higher quality. However, integrated graphics are not to be taken seriously for gaming. AMD also manufactures devices termed "APU". The APU is just a fancy term for a processor and integrated graphics combo, just like Intel's typical processors.
What to look out for? VRAM (video cards have their own RAMs specified in GBs, like AMD RX 580 8GB means 8GB of VRAM); VRAM type (DDR6 is better than DDR5, and so on); ray tracing (the ability to create lifelike interactions between in-game light and its surrounding materials – whether it's supported or not). Other factors such as the different types of cores (CUDA, Tensor), DLSS, base and boost frequency, etc. are less important considerations for gamers.
CPUs or processors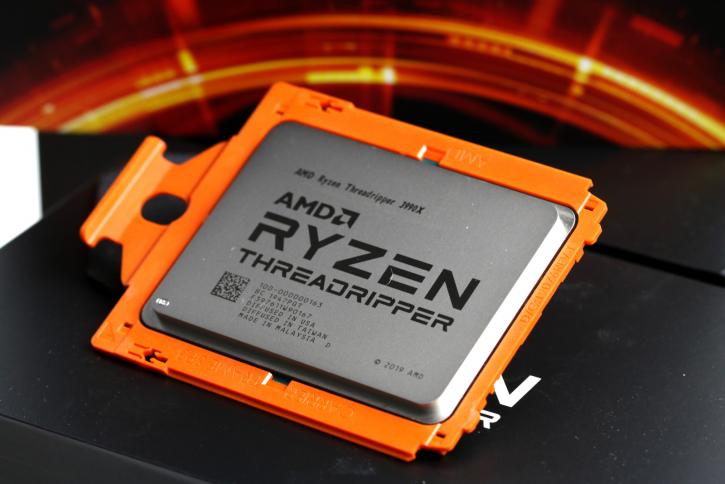 Intel: Intel holds the lion's share in producing and marketing processors for all types of PCs including gaming rigs and consumer laptops.
AMD: AMD is the cheaper alternative to Intel. It boasts of a more economical price-per-core and price-per-thread. For example, you get a 6-core AMD processor for a price lesser than that of a 6-core Intel processor with nonexistent or negligible performance improvements.
Team Blue vs. Team Red. Intel processors are fast, cutting-edge, and marketed heavily. AMD processors are also greatly efficient and powerful.
A key difference between a processor from AMD and its equivalent from Intel (in most cases) is that AMD processors come unlocked (meaning that you can overclock them). On the other hand, Intel's processors come locked. You have to pay more and purchase a higher-end model of the same make to get the unlocked speed.
Processors have a base clock speed and a max clock speed. Unlocked processors can easily reach their max clock speed, thus improving the CPU performance.
AMD usually gives the same performance (cores/threads and frequency range) to an Intel processor at a lower cost. However, it's generally not recommended to pair AMD processors with Nvidia GPUs. If you go for an AMD processor, you'll need to go with an AMD GPU as well.
Depending on your particular case, an AMD GPU (when compared to an equivalent Nvidia GPU) will give lower to slightly lower performance. Some games are additionally optimized for Nvidia technologies, which you'll lose out on if you pick an AMD GPU. That's why people choose Intel-Nvidia (which ends up costing considerably more, while giving a better performance) or AMD-AMD (which costs less, sacrificing some performance) for their CPU-GPU pairing.
What to look out for? The number of cores, number of threads, base frequency, and max (or Turbo) frequency. The cache is less important.
If you're buying a modern Intel processor, you might want one with a "K" suffix, for example, the Core™ i9-11900K. This ensures you get an unlocked version that's overclockable.
RAMs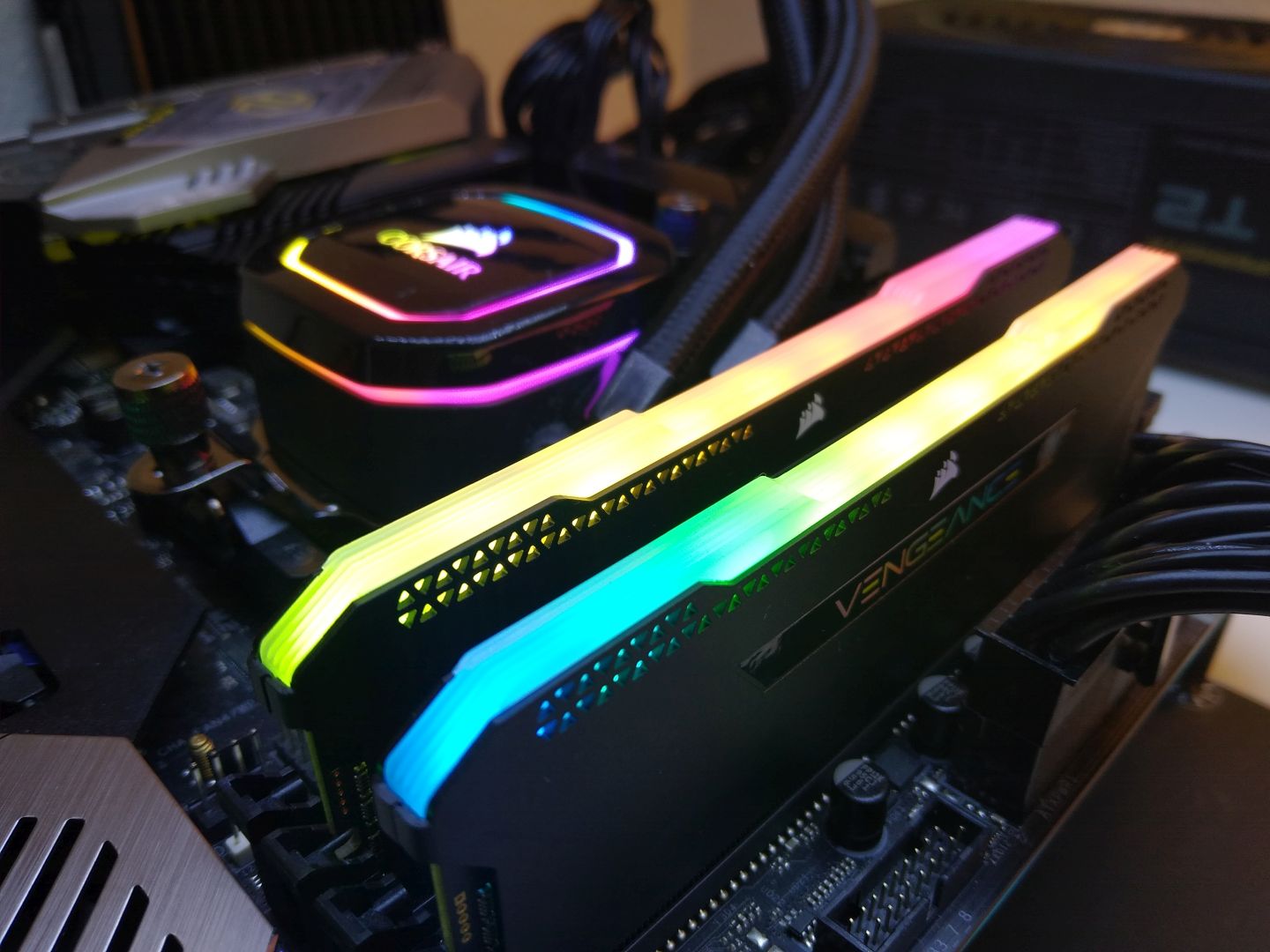 Note that similar specs between RAMs from different manufacturers offer pretty much the exact same gaming performance.
Corsair: Corsair's market share is higher and its support is great.
G.Skill: G.Skill is comparatively cheaper.
Kingston: Known for increased structural integrity and wider motherboard support.
Crucial: Crucial is the company that sells chipsets to G.Skill, Kingston, Corsair, and other RAM brands. They come cheaper because they have the stock DRAMs that others use. One of the oldest RAM manufacturers.
Corsair's Vengeance series, G.Skill's Trident series, Kingston's HyperX series, and Crucial's Ballistix are all top gaming RAM product ranges. All these ranges have low-budget as well as high-budget options. For example, the Corsair Vengeance LPX 16GB (8+8) costs $103 whereas the Vengeance RGP Pro 32GB (16+16) costs $184.
It's better to buy two stick combos when you purchase RAM. For example, a single Vengeance RGB Pro costs $109, whereas a couple of them cost $184, while literally doubling your PC's memory.
Note that you should always buy additional RAM sticks that are from the same manufacturer (ideally, you should only expand RAM by buying the same model again and again). This solves compatibility issues and errors. G.Skill is slightly more forgiving in this and is seen to work nearly perfectly when paired with other brand's RAMs.
What to look out for? Most definitely, the RAM's size is the priority. 16GB is the minimum recommended RAM, while 32GB is highly recommended for a better high-end gaming experience.
As long as we're talking of the same size, there's not much performance difference between different brands. For example, a couple of HyperX Fury 2666MHz DDR4 RAMs (32GB for $203 combined) will give the same performance as a couple of Ballistix 3200 MHz DDR4 RAMs (32GB for $176 combined). Your choice will largely depend on after-purchase support, brand renown, and market availability.
Motherboards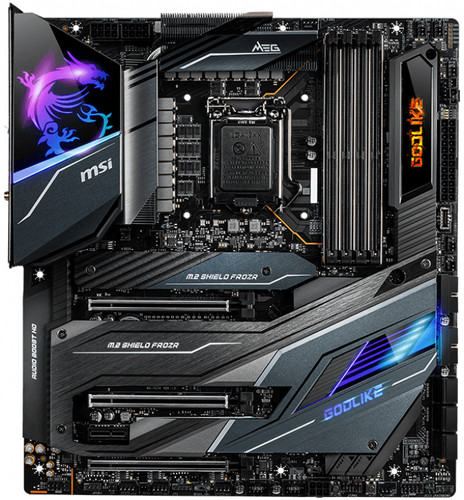 Gigabyte: Gigabyte has specialized in developing efficient and safe motherboards for over a couple of decades now.
Asus: Asus gaming motherboards are strong and have wide component coverage.
MSI: Strong motherboards often with added bells and whistles that you might not need.
ASRock: Known for affordability.
Motherboards are perhaps the most integral part of a functioning PC. For gamers, they're prioritized according to which GPUs they can accommodate and which processors they support.
If you're thinking of high-end gaming, then it will result in higher in-chassis temperatures. Managing airflow inside a cabinet is easy if you set your inlet and outlet fans correctly (read How many fans does a PC need for guidance on airflow management and How to manage GPU temperature in a gaming rig to learn about liquid cooling, GPU heat culprits, and simpler temperature management tactics). But there are specialized peripherals for cooling as well. Some motherboards make cooling easier, such as supporting more specialized fans or supporting liquid VRAM cooling, SSD shields, enlarged chipset heatsinks, etc.
Motherboard form factor is an important consideration. There are four major motherboard sizes: mini-ITX, mATX, ATX, and E-ATX – from smallest to largest. Larger motherboards allow you to expand your rig with more RAM sticks, GPUs, HDDs, and other PCI-based peripherals. They also need a bigger case, naturally. Read the Motherboard size guide for gamers.
For example, you need an E-ATX (the largest of the lot) to accommodate a Threadripper CPU and maximize its performance by adding 4 or more RAM sticks.
The ASRock Taichi series (like – Z490, X570; ATX, Intel) is perhaps the most affordable gaming motherboard. ASRock also has other series such as Phantom (mini-ITX, Intel). Gigabyte also has a gaming series called Gaming X (ATX, Intel). Asus has its ROG series that includes models such as Maximus XIII Hero (ATX, Intel) and the Crosshair VIII Formula (ATX, AMD). MSI has several gaming-specific motherboards, such as the MEG Z490 Godlike (E-ATX, Intel).
What to look out for? Whether or not the socket supports your processor brand (Intel or AMD); whether or not the motherboard supports your video card (GPUs are differently sized, and not all motherboards can hold all GPUs).
Motherboard brands will try to sell their products to you explaining why you need certain additional features, such as an inbuilt WiFi card, reflection, carbon finish, RGB lighting, a great number of RAM slots, and so on. Carefully decide which features are necessary for you.
Storage – SSD and HDD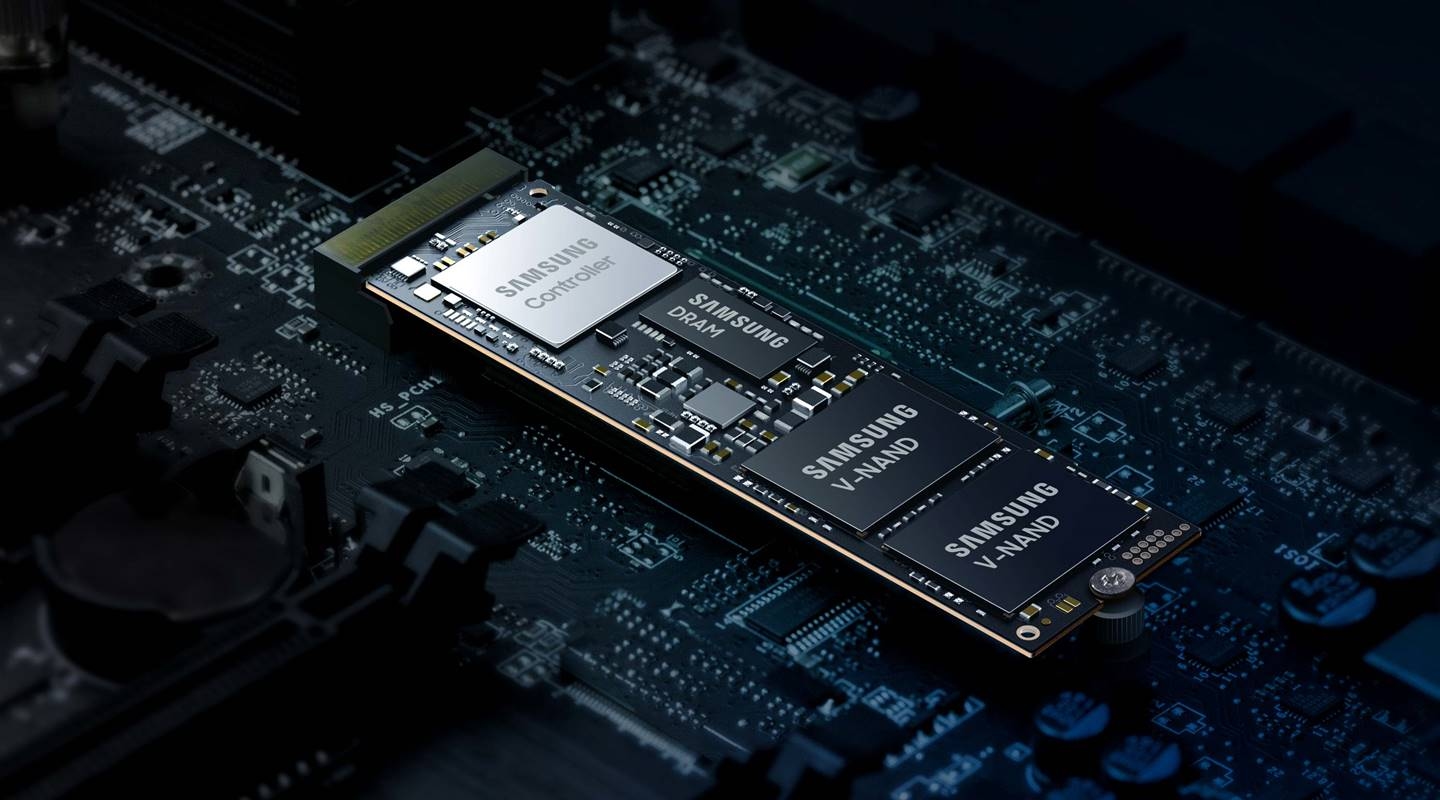 Addlink (SSD): Reliable and comparatively fast for its power consumption.
Samsung (SSD): Good market share.
Western Digital (SSD or HDD): Perhaps the most well-known storage brand for PCs. WD HDDs and SSDs are both popular.
Seagate (HDD): Seagate's Barracuda is one of the most easily recognized and reliable HDDs for PC storage.
SSDs improve game loading times. They also speed up system functions, most significantly the booting and shut down of the system. Data transfer (copy-paste) will also become faster. Note that SSDs don't improve a game's performance (like effects quality or shadows), FPS, or anything else. They only speed up processes that require reading information from the storage (like loading a new area in the game, launching the game, or entering the map/arena). You'll be able to get rid of in-game loading screens with an SSD.
Out of Samsung's 980 Pro, 970 Evo Plus, and 970 Evo, gamers prefer the lowest costing 970 Evo. Addlink also has a series of SSDs such as S95, S90, and S92. WD's Blue series is perhaps the de facto PC storage device. Standard 3.5" 1TB disks with 6 Gbps SATA, 256 MB cache, and 5400 RPM. WD's Black SSD is M.2 NVMe high-performance gaming storage. Seagate's Barracuda series is well-known for its reliability.
SSDs cost considerably more than HDDs. The 250GB M.2 NVMe WD Black costs $60. In comparison, the WD Blue 1TB HDD costs $47. Also read: Is SSD necessary for gaming and Are M.2 SSDs worth it for gaming.
SSDs have sequential read and write speeds. The higher, the better. Apart from that, the total size is also important. If you build a rig using only a 500GB SSD, you'll soon run out of space.
Older SSDs connect to the motherboard using SATA cables, which caps their maximum speed. Newer SSDs utilize the NVMe protocol that speeds things up considerably. For example, an M.2 NVMe is much smaller than a conventional 2.5" SSD and much, much smaller than a typical HDD and fits right into the motherboard, while providing an insanely higher speed.
What to look out for? Read and write speed (like 7,000 MB/s read speed of Samsung 980 Pro vs. 3,300 MB/s of 970 Evo); storage (usually SSDs range from 512GB to 1TB); and type (SATA SSDs are slower than NVMe SSDs).
Cooling – Fans, heat sinks, liquid cooling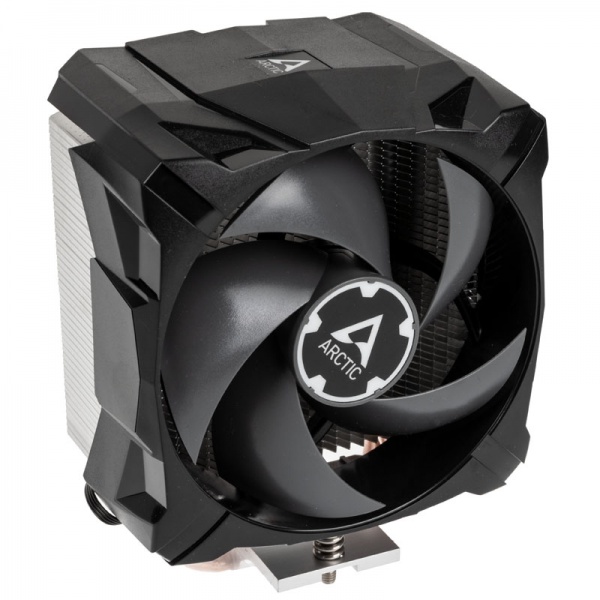 Fans: Brands manufacture high-speed PC case fans with a long lifespan. These can have RBG lighting.

Noctua
Cooler Master
Corsair
NZXT

CPU coolers: These are specialized fans that you attach to your processor. CPU coolers come with heat sinks. Review the heat sinks separately (for example, they might be straight-touch copper ones or direct contact aluminum heat pipes).

Deepcool
Noctua
Thermaltake
Arctic
Corsair
EVGA
Cooler Master

Liquid cooling: These are CPU coolers that have a liquid cooler tube attached to them.

NZXT
Cooler Master
MSI
Corsair
Thermaltake
Fans are classified by their sizes (mm). A typical PC uses 120mm or 140mm fans. Larger fans (200mm to 300mm) provide better cooling, need bigger cases, and consume more power. Case fans are fairly inexpensive. When you consider the improvement that they provide in your rig's temperature, they're almost free.
Heatsinks are essentially extruded metal components that directly suck heat out of devices (like the processor or the GPU). Thermal adhesive or paste is used to connect these to the device to avoid damage. This paste is highly heat-conductive. Flat, thin ridges in heatsinks increase the surface area, thus improving heat dissipation. The theory behind heatsinks is that metal conducts heat better than air, therefore a high-surface-area metal component connected to a heat-producing device will radiate the heat better. Heatsinks are often accompanied by fans mounted on the other end or are made of copper. Heatsink cooling is also called passive cooling.
Liquid cooling uses distilled water flowing through "water blocks". This water doesn't come in contact with the devices directly. A motor pumps the water around, a radiator is placed on the other end to remove the heat from the water, and a fan is usually placed to cool the radiator. Water captures more heat and cools off more easily than air.
Liquid immersion cooling started as a means to cool server systems. Gaming rigs also get similarly hot, and therefore, the insides of the chassis are submerged in thermally conductive water. This water does not conduct electricity, therefore there's no risk to the electronic components inside. Fans, radiator, heater core, piping, etc. might or might not be needed.
Other methods of cooling include heat pipes (with coolant liquid), vapor chambers, liquid nitrogen and helium, phase-change cooling, and so on.
PSUs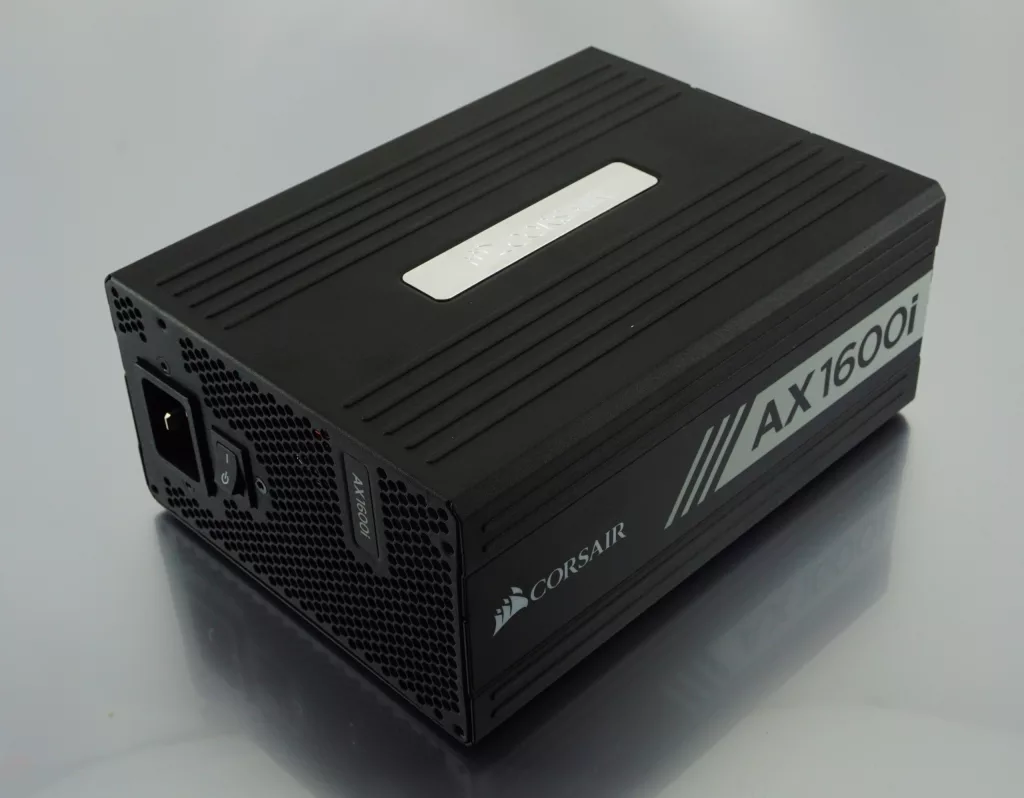 Corsair: The largest market share. Most reliable and most trusted PSU brand. Corsair has a great variety of PSUs to choose from.
Be Quiet!: This brand is all about low-noise PSUs.
Fractal Design: Operational stability and high-end specs in their newer offerings.
ATX PSUs will fit into ATX cases, and so on.
First, calculate how much power your entire system will draw from the wall – you can use online calculators from Cooler Master or Newegg – and then decide on the PSU you'll need. Don't buy a PSU with a much higher wattage than what you need, you'll be wasting electricity.
A few popular Corsair models are SF750 (750w-), AX1600i (1500w+), AX1000 (1250w-), AX850 (850w-), RM750x (750w-). Be Quiet!'s Dark Power Pro 12 (1500w) is very silent, but not the most efficient you can get. Fractal Design's Ion SFX Gold is a 650w PSU good for powerful performance, reliability, and flexibility in terms of cabling but produces quite the noise.
The number suffixed to the letter is the maximum wattage. If you have a rig that will consume 800 watts, you need a PSU with 850 in it.
Monitors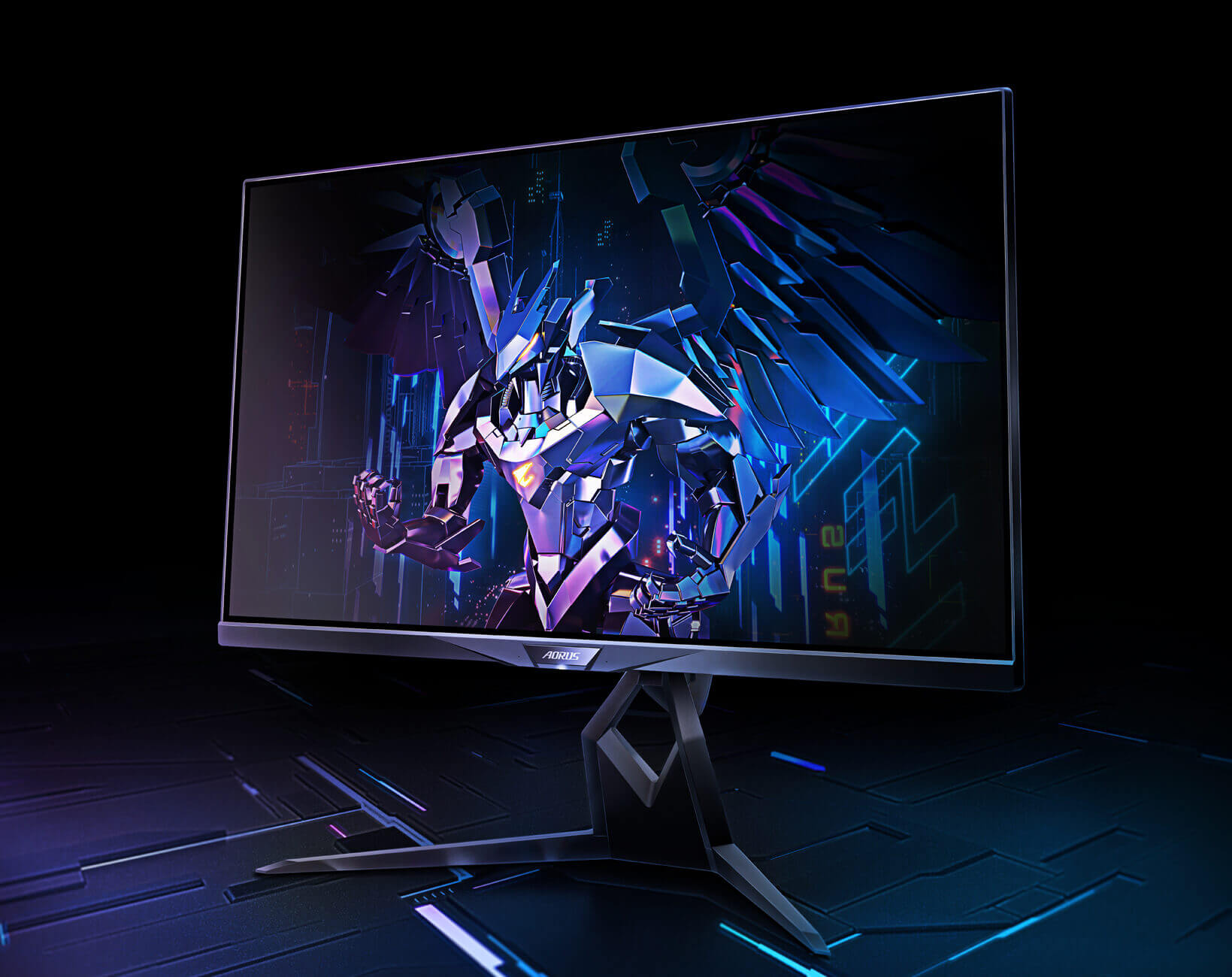 Dell: Great quality and features overall.
Gigabyte: Affordable, feature-loaded, reliable monitors.
MSI: Specialized gaming monitors from MSI come with great color reproduction and viewing angles.
Asus: Great manufacturer of high-quality gaming monitors.
Razer: Razer has limited gaming monitors but fairly innovative ones.
Acer: Low-budget and with many entry-level options to choose from.
Other brands: As gaming monitors are, at the end of the day, high-quality monitors, most renowned display manufacturers in the world produce high-quality options including LG and Samsung.
What to look out for? Gaming monitors are classified as powerful monitors that have a high refresh rate (usually 144-200 Hz), fast response time (4ms or lower), compatibility with AMD FreeSync or Nvidia G-Sync, higher resolution (1440p or higher), and higher screen size (27" or above).
Color reproduction accuracy, high contrast ratio, high brightness, sRGB color modes, game-specific modes, etc. are other lucrative features. Curved monitors are also used widely for gaming. The color gamut of a monitor decides how colorful and vibrant the display will be.
Cases (chassis)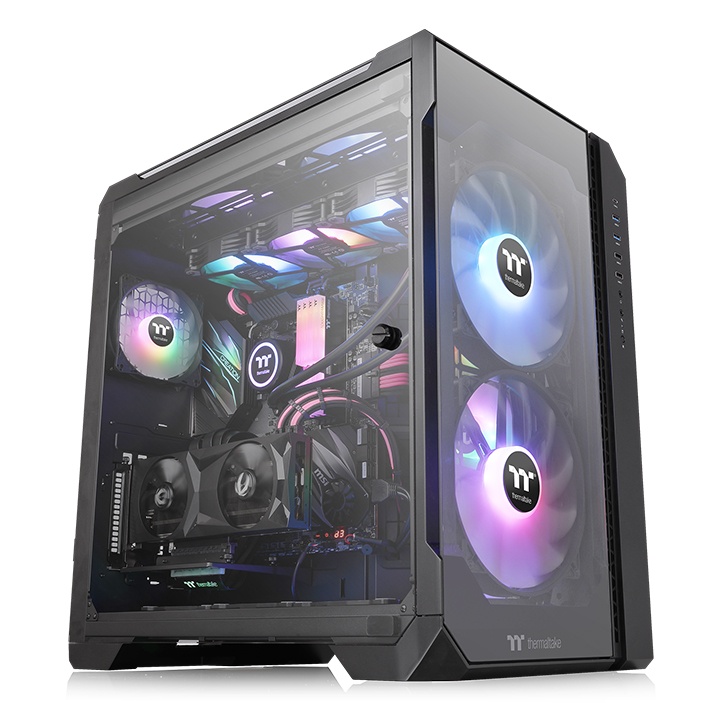 Corsair: Great designs, good airflow management.
NZXT: Economical space management, sharp-looking designs, comparatively compact and minimalist looks.
Cooler Master: Robust build quality, proper airflow management.
Thermaltake: Innovative and breakthrough designs, high cooling peripherals compatibility, experts in transparent cases.
What to look out for? The size (mid-tower, full tower, etc. – to make sure your motherboard will fit); silencing features; airflow features (such as the number of supported case fans – both inlet and outlet); build quality (tempered glass quality for transparent cases).
Peripherals and accessories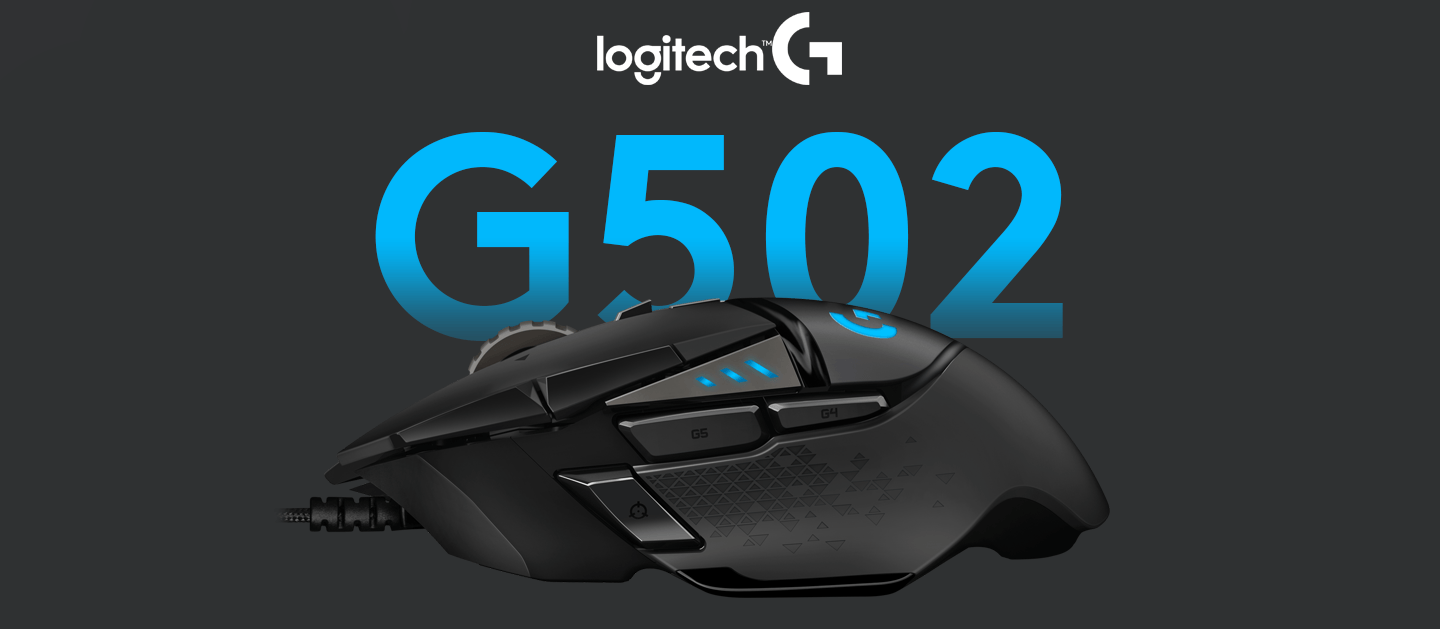 Keyboards

Razer
Corsair
G.Skill
Logitech
SteelSeries

Keyboards (mechanical, RGB)

Cooler Master
Patriot
Corsair
Razer
HyperX
Hexgears

Mice

Logitech
Corsair
SteelSeries
Razer
MSI

Mousepads

Corsair
SteelSeries
Razer
Cooler Master
Asus ROG
MSI

Headsets

HyperX
SteelSeries
Razer
Logitech
Gamers prefer mechanical keyboards with RGB lighting. Dedicated buttons linked to software, various mechanical profiles, low profile switches, thin build, etc. are other features to look out for.
Mice need to have high maximum DPI and multiple DPI settings. Additional buttons (+3 or more extra buttons apart from the typical 3 buttons) are preferred. Optical sensors are of many types and different brands claim to have different technologies. Such as the Corsair Nightsword has a real-time center of gravity detection system and weight calibration; whereas Razer's DeathAdder Elite claims to have the fastest esports-grade optical sensor with a resolution accuracy of 99.4%.
Making the right choices
In the end, it can be said that you have many brands to choose from. A lot of brands manufacture a variety of high-end or mid-end gaming accessories, peripherals, and hardware. It's completely okay to become attuned to a specific brand and only purchase accessories from that brand.
The most common question is what is the best hardware for a gaming PC? It's easy. You find out the renowned sellers and brands – you find their products on their official websites, and you compare manually.
It's important to boil everything down to the bare minimum. For a mouse, for example, the DPI, optical sensitivity, number of buttons, and software tuning support are all very important. For a keyboard, however, you might only want randomized RGB backlighting.
All these parts will cost you a lot. Is it true that making a gaming PC is expensive? Yes. If you want to build a high-end rig that can play modern AAA games at high FPS, you will be shelling a considerable amount of money. However, you can also start small. Gaming PCs are scalable. Get lesser RAM and lesser storage to start with. You can expand later. Avoid SSD initially if on a tight budget. Ignore disk drives and try to assemble the PC yourself to save costs. Avoid less important features if they cost more (like a motherboard with inbuilt WiFi costs more than one without; a RGB light fan costs more than a stock fan; a stock GPU costs less than vendor-specific pre-overclocked GPUs; and so on).
Prebuilt PCs
Prebuilt PCs allow you to evade all this hunting for the best hardware. However, the lack of customization might be detrimental.
Prebuilt gaming PCs range from $600 to $2,000 generally. Many custom PC building players on the market sell customized PCs for different needs, like SkyTech, Cyberpower PC, and so on. Bigger brands also provide prebuilt PCs with preference to their own parts, like the HP Pavilion gaming desktops. What is the best gaming PC? The one that can run AAA titles at 60 FPS or above. Go for these minimum specs: 16GB RAM; a 9th or above generation Intel processor or AMD Ryzen 5 or above; a 20-series or 30-series Nvidia GPU or RX 6000-series or 500-series.
Choose what's right for you
Depending on what affects you and what makes you feel better (and improve in your gameplay), you have a plethora of options in terms of brands to choose from. Every brand, then, has multiple product ranges or products to choose from. All this can create a network of confusing terminology and over-the-top specs.
Give research proper time when building a gaming PC. Don't purchase until you've boiled down the specs to the bare minimum.
We sincerely hope that Spearblade has helped you today. Good luck and happy gaming!
Latest posts by Spearblade Staff
(see all)