Mechanical keyboards with high-profile keys that have individually backlit and software-customizable RGB are in trend. You want something in the same category – and all these features are not going to make a keyboard very expensive.
If you'll also be typing a lot, then you might go with a lower key height. More on this later.
The best thing about gaming keyboards is that there is something good for every budget. As a result, building gaming PCs cheap is easier when it comes to selecting the keyboard.
High polling rates such as 5000Hz and up are good for gaming keyboards. These ensure the time between input and registration is as fast as possible.
An entry-level keyboard from good brands like the SteelSeries Apex 3, Redragon S101, EVGA Z12, or the Razer Cynosa Chroma will cost you anywhere from $20 to $50 with RGB. A mid-range like the Razer Huntsman Tournament or the Corsair K60 will cost you $70. And if you have more to spend, the sky's the limit with keyboards like the SteelSeries Apex Pro ($150-200) or the Corsair K100 ($200-250).
Featured image taken from Rtings' review of the best gaming keyboards.
Here's what we'll discuss in this piece:
TKL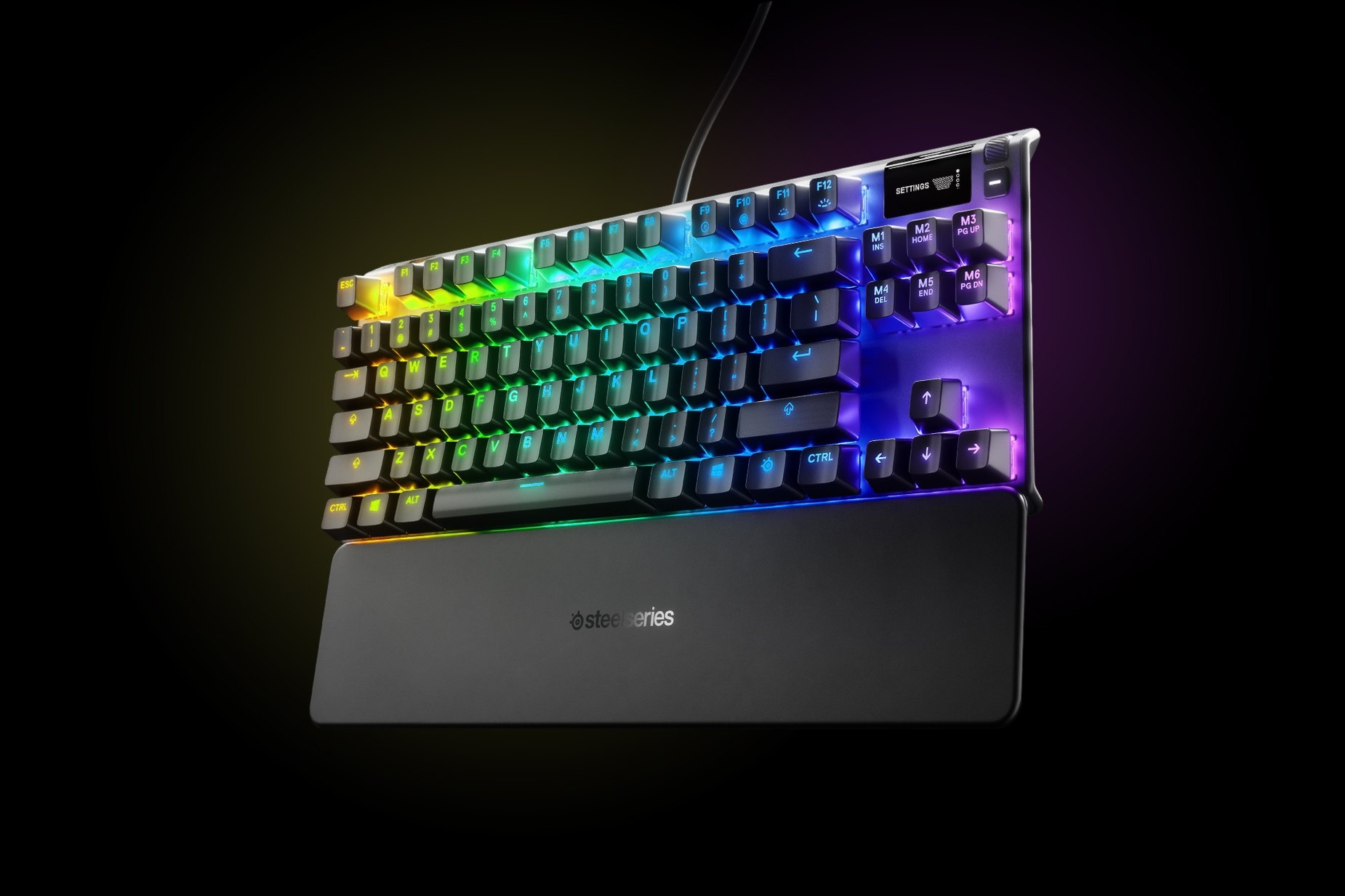 Tenkeyless keyboards are the ones that lack the Numpad on the right. As dedicated gaming-only keyboards don't need this section (even numbered weapons switching in FPS games can be done more conveniently from the top numeric keys or mouse wheel), you're recommended to go for a TKL for a more compact look if you're low on space or going for a minimal setup.
The normal keyboard with the Numpad is called a fill-size or 100% keyboard.
Wrist rest
A detachable wrist rest is very comfortable. If you're going to have a fixed location for your keyboard, a permanent rest also works.
Avoid keyboards with no wrist rests. Avoid keyboards that have a rubber coating on their wrist rest – these accumulate a lot of dust over time.
RGB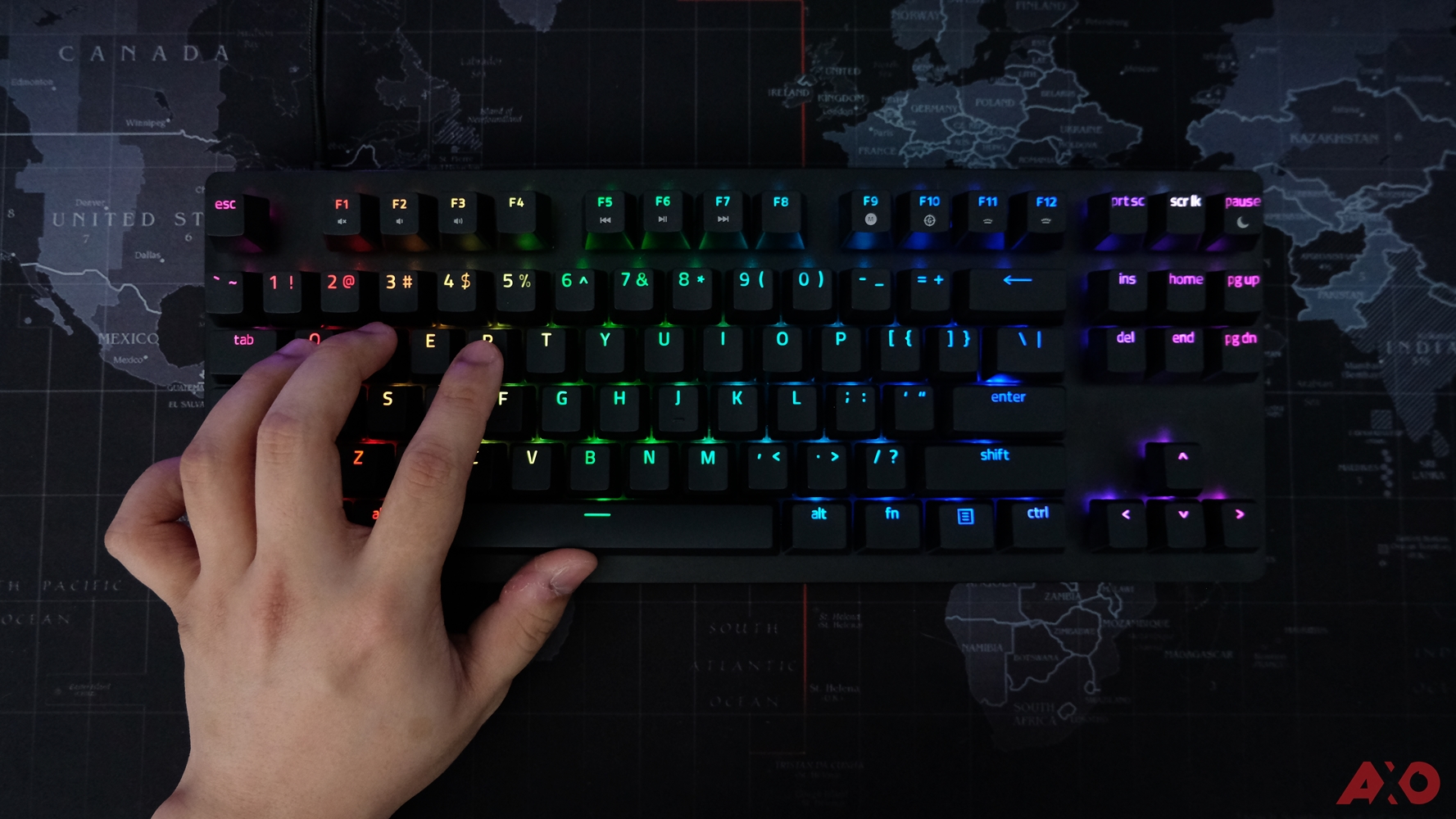 RGB is important in keyboards as at this point, there are only either RGB keyboards or non-RGB keyboards. In other words, if you need backlighting and illumination in the dark, you need RGB. Apart from RGB keys, every other addition is just a presentation thing – for example, RGB strips on the sides of the keyboard.
Extra keys
Additional keys such as dedicated media playing keys or mappable macro keys are not critical as a keyboard has plenty of pressable stuff to have a button for everything that will need to do in a game. If you need to map custom options, it's better to look for them with a mouse than a keyboard for appeal reasons and convenience.
Some gamers, especially those who are single-handedly keeping the slow-demising MOBA genre alive, need macro keys for different functions – so if you're one of them, be prepared to spend extra for the added convenience. Macros are not always cool, however.
For example, binding several keys to a macro key in a competitive game (such as playing Invoker or Meepo in Dota 2, which need a lot of key presses) needs no third-party script and is not technically "cheating," – but it won't be permitted in a tournament, let's say, where you'll be at a disadvantage because you don't know your fundamentals. Relying too much on multi-key bindings and macros is generally not recommended.
Cherry MX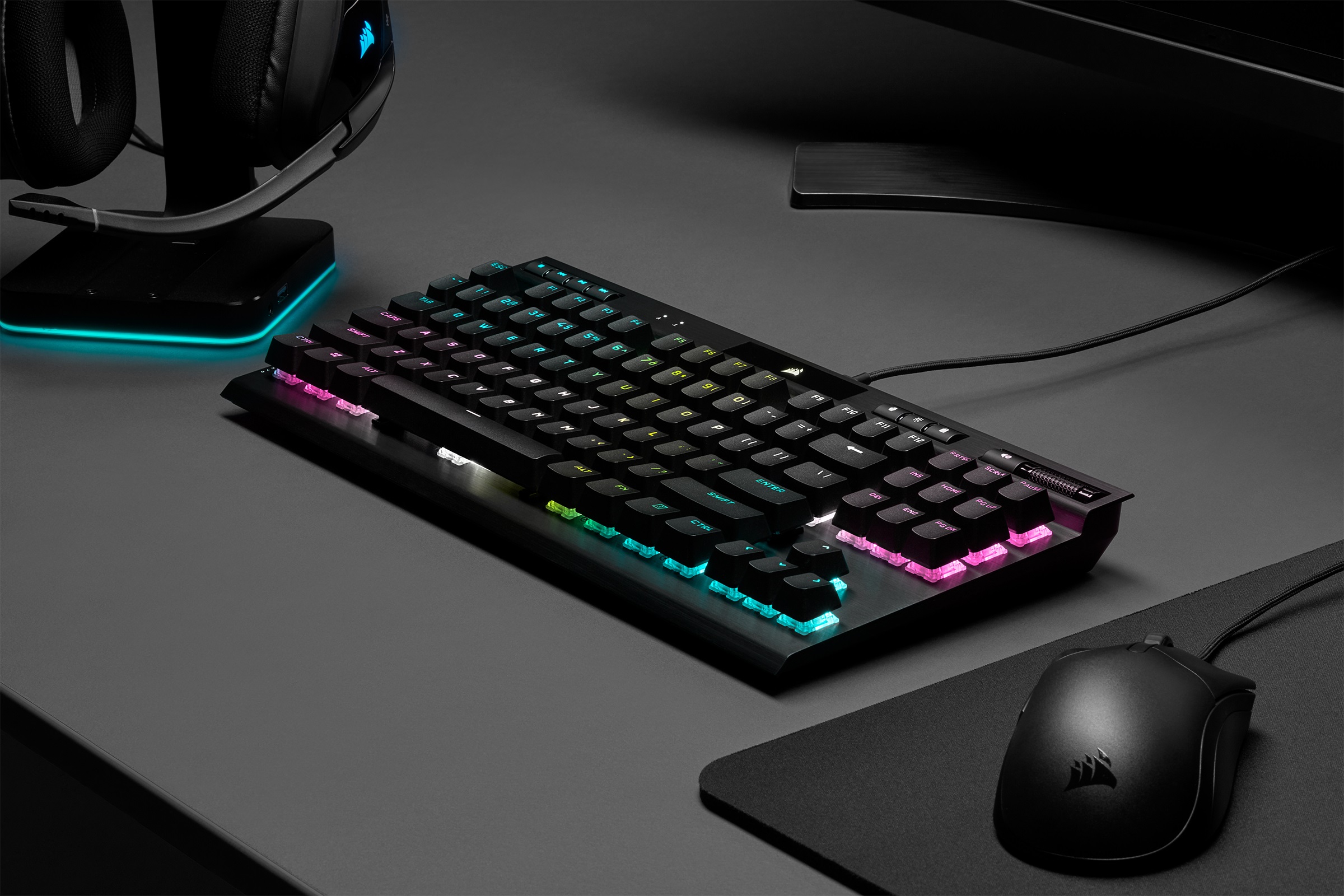 You must get a keyboard that has Cherry MX switches. These ensure there's plenty of room for repair and customization down the line.
Some like the Corsair OPX switches can be better case-to-case, but generally speaking, you're very safe with Cherry MX.
See how HK gaming keycaps can be used to customize and beautify the look of a mechanical gaming keyboard's various keys – including having an anime theme.
Build quality
Keyboards are usually durable – it's the keys you need to worry about. Some keyboards have wobbly keys, while others have keys that will begin to get damaged on excessive and continuous impact (chipping or fading of the legends).
Keycaps, no matter how responsive or durable, will start giving you problems sooner or later. It's best to stick to PBT or ABS double-shot keycaps for a good durability-to-price ratio.
Feet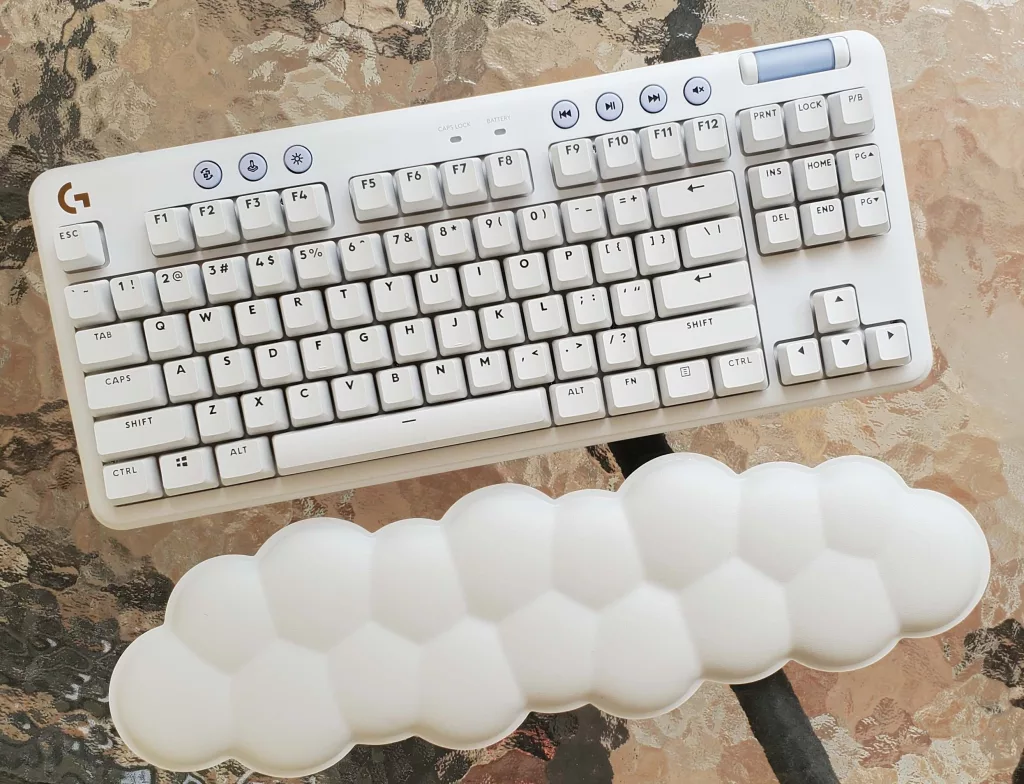 Make sure your keyboard has horizontal feet and not vertical ones. Vertical feet can snap back in if you push the keyboard in.
Also, if you use a keyboard tray or have a lower-than-average keyboard position for some reason, it's good to go for a keyboard with at least two height incline configurations.
Is a mechanical keyboard good for gaming? What key height is good?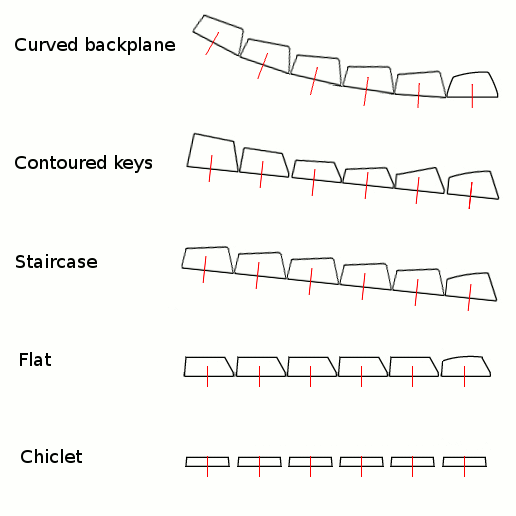 You want a keyboard with mechanical keys for gaming, yes.
A lot of people think that mechanical keyboards are keyboards with high keys making stronger "click" sounds. That's not true. Today, almost all modern gaming keyboards are mechanical including low-profile ones (sleeker looking, low key height). Mechanical keys are essentially a switch type that works by mechanically registering the input – and they come in different heights.
There are three types of mechanical switches: Clicky (makes a prominent sound), Linear (pressing down is effortless), and Tactile (good balance for mixing typing and gaming). Gamers often prefer linear as they have no "bump" to press down on to register a key – it's light and sensitive. These aren't recommended for typing.
Key height is purely a preference – and you can go for a low-profile mechanical keyboard (chiclet or flat) for a sleeker look or a high-profile one (contoured or staircase) based on how you want the keyboard to look. Read about key profiles on Deskthority. For example, the Razer Huntsman Tournament Edition has painfully high-profile keys which you might not be able to use correctly if you're not used to similar keyboards – but this is exactly what some gamers need.
Generally, gamers prefer high-profile keys.
Conclusion
A good gaming keyboard is very important to make sure that you have the best time gaming. Keyboards are fairly simple to understand – and cheap. You are free to experiment and learn along the way.
Once you have a lowdown on the fundamentals, you'll see that choosing your next keyboard is very easy and that it further improves the level of comfort.
Bonus tip: Look into keycaps when you're ready to further customize your mechanical keyboard. Keycaps allow you to add some flavor to your otherwise-standard gaming keyboard. For example, you can make it more colorful, graphical, minimalist, or cute. You can also choose rubber keycaps!
Latest posts by Shane "raven" Watson
(see all)