Great for 1080p gaming and sufficiently good for 1440p gaming on most modern AAA titles, the PC outperforms many other gaming rigs purely in terms of hardware.

Framerates
If you're always after the best framerates then let me tell you that a combination of RTX 3060 Ti and i5-12600K is excellent. Add to that the decent airflow and cooling (next section), 2×16 GB RAM, and a sizable 1TB SSD and you have more than the ideal gaming machine.
Don't be confused by all the talk of 4K gaming if you don't have a 4K monitor. As long as you want the best framerates with RTX on, this PC will kill it. No need for the 3080 or higher, or the 40 series, unless you're thinking 4K.
I say all of this for the recent AAA games. If you're a casual gamer or someone who plays older titles, smaller games, or indie games mostly then these specs are overkill already.
Airflow
The airflow is good though not surprisingly. The case has 1 exhaust and 2 intake fans on the side panel (all RGB). This is ideal for any 1080p or 1440p gaming machine. If you want, you can add more. The chassis is roomy enough for all the parts, especially seeing how the RTX 3060 Ti they mostly use are all small factor or low profile. This allows the air to move from the front region, through the GPU and CPU (the CPU cooling fan is separate), and out the top-back of the case.
In all our tests the temperatures were well within normal limits. Though there were no outliers – either bad or good. It's just sufficient and good.
Other considerations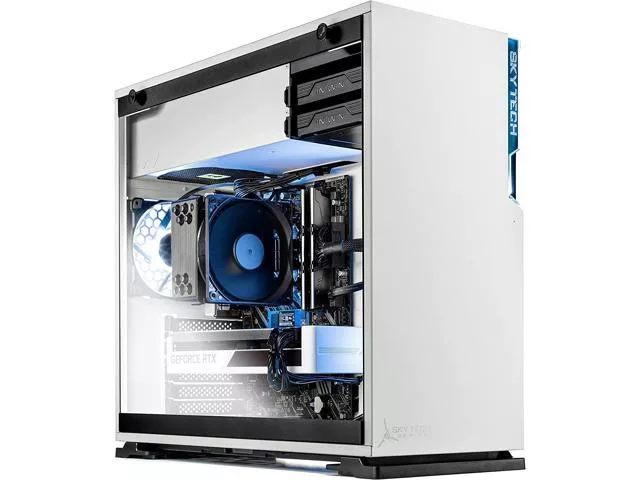 There are no complaints about the framerates or airflow – two of the most important things when reviewing PC builds, especially prebuilt PCs from companies like Skytech. Let's now look at some other points.
Build quality & assembly
I always have two minds about an In Win chassis. On one hand, they certainly have the predisposition to break away from the traditional and offer gamers innovative cases, and on the other hand, their material selection remains to be oriented toward cutting costs.
Though it's not a very strong, durable, and long-lasting build quality – the In Win 101C case is definitely a good one. It has been either sold out or recalled as dead stock, which baffles me, as you can't have both under normal circumstances.
The whole PC is assembled quite professionally but it's clear how they have prioritized a mass-production mentality. Little attention is paid to what's under the hood – which is not an issue as 99% of gamers who buy prebuilt PCs never care to open their case more than once a year.
Fully assembled in the US. All in all, good build quality.
Features
Some much-needed features that the Skytech Shiva has:
Includes a "gaming" mouse and keyboard – though both are subpar and if you have a better option, just go with that.
Fairly good cable management.
1-year warranty on all parts and labor.
You get lifetime technical support with Skytech prebuilt PCs.
There is hardly any bloatware which made me very happy.
You can expand storage or add more RAM sticks at your convenience.
Has WiFi.
Quiet fans. All 3 fans are RGB.
Though the exact model of the GPU will vary between builds, it will always have a DisplayPort.
Ideal for QHD or 1440p 60-120 FPS gameplay, easily.
Latest ports and components including USB 3.2 and 802.11AC network.
The case has a breathing RGB zone in the top right. It says Skytech in some models, but as it's an In Win case, you might still get a PC that says In Win (did you know that the font In Win is written in makes many think that it's Nim Ni instead, and if you search on Google with Nim Ni, chances are, you will see the In Win website as the #1 result).
Things to look out for
It's understandable that each PC has some different parts, but Skytech should ideally go the extra mile and provide a list of all parts in the PC. This helps you compare and troubleshoot better.
I'd also recommend you take a quick look at the BIOS settings and turn on XMP. It's never turned on by default on any prebuilt PC I've used.
Asus motherboards have pretty clunky RGB control options in my opinion. It might need some time for you to figure out how to manage your RGB fans. Once you're sure of the motherboard model, just go to Google and look up fan header information. You might need to install Armoury Crate if it doesn't come pre-installed.
How good are Skytech PCs?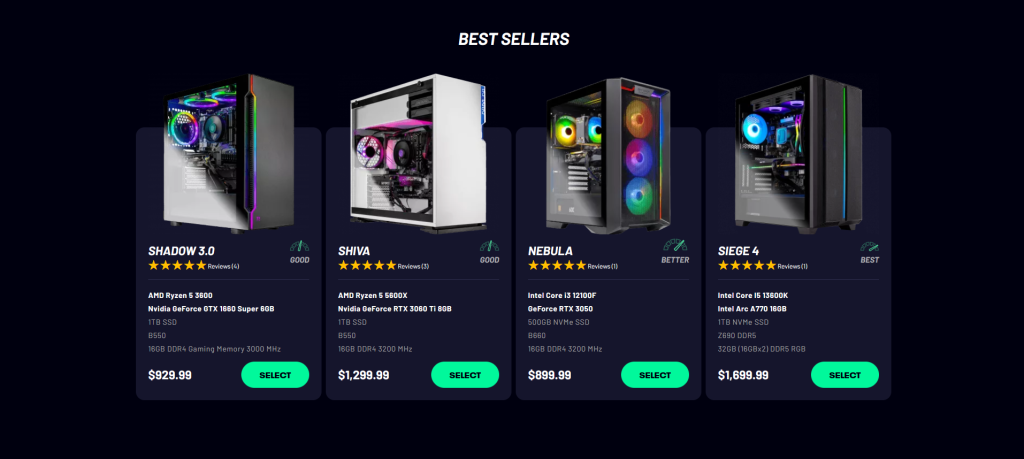 The true review of a prebuilt gaming PC is not through benchmarks or costing. If you're satisfied, you're satisfied. The main issues arise if the seller is not reputable for providing good support. Support is critical as the main reason why people pay a premium is to skip the hassle of building something or troubleshooting issues.
Skytech is a well-known prebuilt gaming PC builder and comes with a good reputation. All of their prebuilt PCs offer good quality.
Building a similar PC for $500-700 less
If you were building a PC with similar performance yourself, here's how you'd do it. The prices may vary a little, that's why I'm putting the final savings in a range of $500 at least and $700 at most. All prices are rounded off.
CPU: Intel Core i5-12600K – $250 (exact same part)
CPU cooler: Deepcool Gammaxx 400 V2 CPU cooler – $20
Motherboard: Gigabyte B660M DS3H mATX – $110
RAM: Corsair Vengeance RGB 2x16GB – $115 (32 GB total memory – same)
Storage: Kingston NV2 1 TB M.2 SSD – $50 (chances are, your Shiva prebuilt will also have a cheaper SSD than Samsung or Intel)
GPU: Zotac Gaming Twin Edge RTX 3060 Ti LHR 8GB – $410
Case: NZXT H512 ATX mid-tower – $60 (closest in form factor and cheap, while being black – though you can also go for the In Win 101C which is used in this one and costs $115)
PSU: Corsair RM650W Gold – $95 (Shiva also has a 650W 80+ Gold rated PSU)
OS: Microsoft 10 Home OEM 64-bit – $110
That's a total of $1220. See the list on PCPartPicker.
Also read: Building a cheap gaming PC
Is this right for me?
Do you have $1900 to spare for a gaming PC?
Do you want a sleek, minimal-looking machine that has the top-end of gaming hardware to run any AAA title at high FPS today?
Most importantly, do you wish to altogether skip the hassle of building a PC yourself (which can save you roughly $500-700)?
All yes? Skytech Shiva is a good prebuilt PC for you.
Keep in mind that shipping differs from region to region. It's not rare for customers to find minor issues such as loose screws, scratched surfaces, misaligned IO shields, etc. This is a problem faced by all prebuilt PCs. The one I've reviewed is sold and fulfilled by Amazon but PCs are delicate things in many manners – and if you see a small dent don't freak out.
Approach the returns team instantly. This PC booted quickly upon plugging in.
Latest posts by Earl "sloth" Richards
(see all)