1080p gaming is still the largest slice of PC gaming. 4K is still not feasible enough for most – while 1440p is gradually becoming the norm. This article will help you build a cheap gaming PC that can run games at 1080p and 60 FPS – the bare minimum for sufficiently good gaming when it comes to modern games.
Note that smaller games, older titles, or indie games need even less performance.
The rig we'll end up making will be able to run the majority of competitive games on 1080p 60-100+ FPS. The AAA titles might run a little lower than that depending on cooling and in-game settings – but they'll be 40-60 in most cases.
When I say AAA titles, I only mean 2020-22 AAA releases such as Elden Ring, God of War PC, Deathloop, Horizon 5, Cyberpunk 2077, Far Cry 6, Black Ops Cold War, Dying Light 2, Final Fantasy 7 Remake, Halo Infinite, Resident Evil Village, Flight Simulator, etc. Older AAA titles such as GTA V or Witcher 3 will run much better.
Note that this guide is written for the beginner – someone who has limited or no experience in building a PC. The ideal reader is someone who is considering building a PC because they know buying a prebuilt PC is not as cost-effective. Read the how to build a PC guide to understand the technical aspect of the actual PC building process.
Parts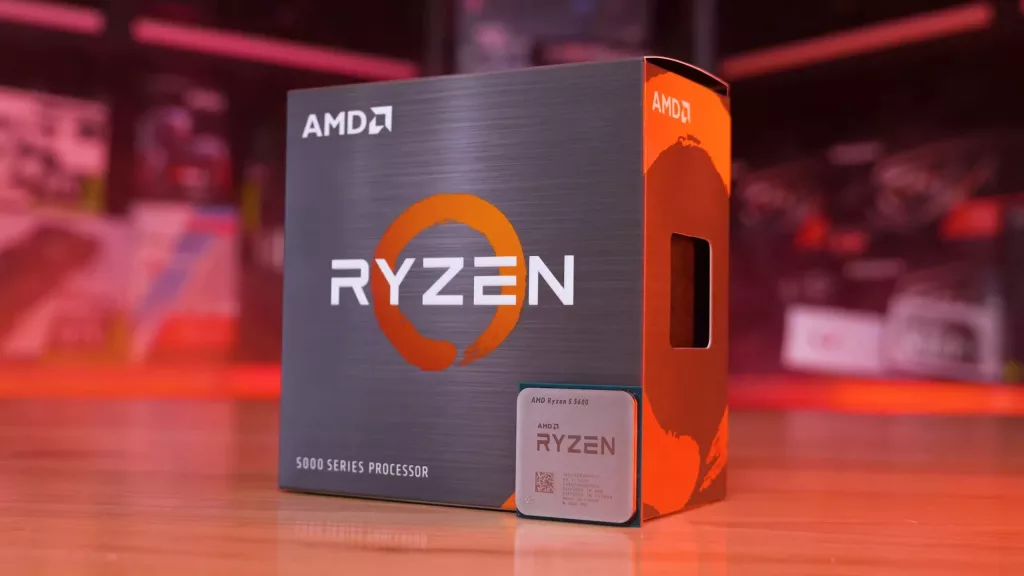 Let's start with the basics. You will need an Intel or AMD processor, a graphics card, and RAM. All of this goes into the motherboard. The best way to save money on parts is to look for deals online and compare multiple marketplaces and sellers. Many gamers also choose renewed parts. If you choose a renewed part, read the seller's warranty and return policies first.
After the end of GPU mining on Ethereum, GPU prices have become normal. Though many Nvidia 30 and 40 series cards are still higher than their MSRPs, AMD cards are way below their MSRP (Amazon and Newegg mainly), especially on the secondhand market (eBay mainly). Team Red is generally providing better value unless you're looking for top-end ray-traced gaming at 60+ FPS at 4/8K.
It's a good time to buy a GPU. As we're looking at a budget build, you probably don't want to wait for the Nvidia RTX 40 series or the AMD RX 7000 series. 1080p@60FPS can be achieved for way less.
You'll need:
A processor – second gen Ryzen 5 or 9th gen Core i5 are sufficient for 1080p@60FPS.

A CPU cooler if you're buying an Intel processor. AMD processors come with stock coolers which are sufficient for our build.

A motherboard – make sure this is compatible with the processor. Motherboards for Intel sockets and AMD sockets are different.
RAM – a minimum of 16 GB is recommended. 2×8 GB sticks are better than 1×16 GB sticks. If you have four RAM slots, put the sticks in 1-3 or 2-4 configurations, not consecutively.
Storage – a 256 GB or higher SSD for the C: Drive, and a 1 TB HDD for everything else, though I recommend going for a 1 TB SSD directly.
GPU – the cheapest 1080p@60FPS video card I'd recommend is the 1660 Ti. Honestly, you shouldn't go below this but if money is extremely tight, you can go for a GTX 1660 – though expect lower framerates in high-end games. On the AMD side, the RX 590 8GB is the bare minimum for this. Again, if money is very tight, the RX 480 is a good option.
Case – there are many entry-level cases for budget builds.
Power supply – a standard 550W PSU is going to be sufficient for this build. Note that if you're planning on upgrading your PC, especially the GPU and processor, then you might need a higher one.
Monitor – for 1080p, I consider 24" to be the best screen real estate. 25" and higher is better off with a 1440p resolution. Even at 24" you can spot the pixels on 1080p, but it's so minimal and natural that you would not notice unless you've already used 1440p or 4K extensively. We need a 75Hz monitor with a 1ms response – minimum.
Peripherals: Read our separate guides for all budgets first!
Apart from all this, you'll need a mousepad, thermal compound (if you're installing your own CPU into the motherboard socket), a UPS, and maybe more case fans to further optimize the airflow.
Always make sure your build has no airflow problems.
Let's build the PC (+ the cost)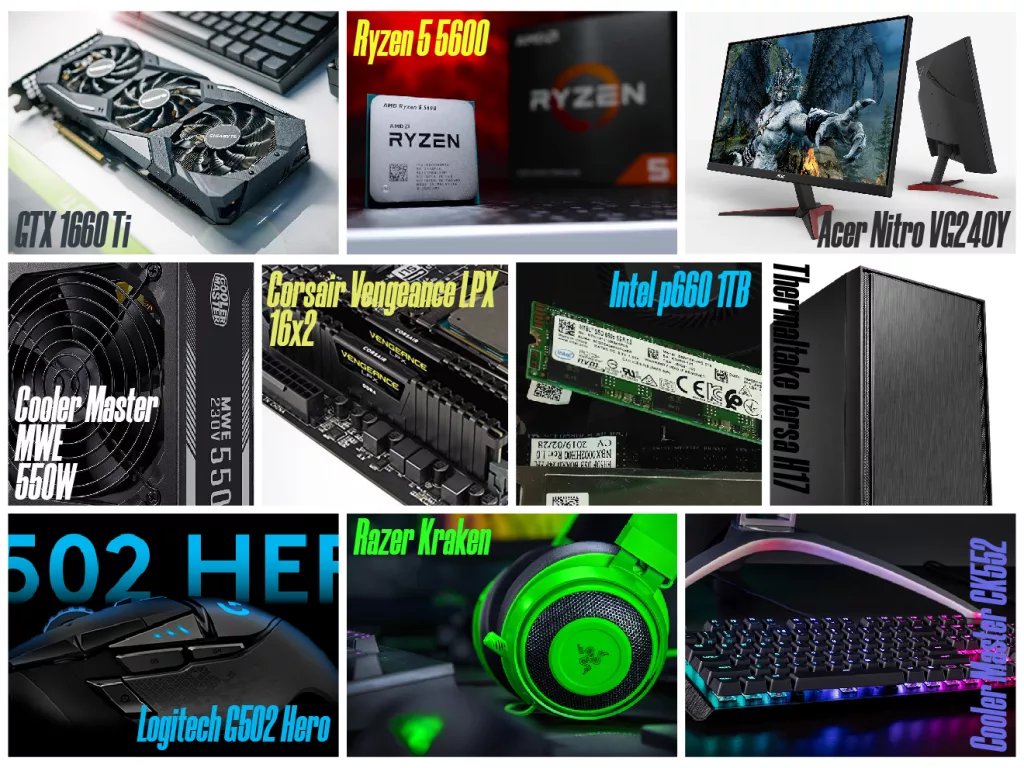 If you don't know how to build a PC, I recommend reading our guide on the same that tells you about every part and component, where it goes, how is it connected and powered, etc.
With that out of the way, let's put together the final parts list.
Note that availability and secondhand prices can differ greatly for these depending on where you are. If you want alternatives, just search for "product" alternatives.
When you search on Newegg or Amazon, make sure you only buy the Newegg or Amazon-fulfilled products. Other sellers can turn out to be bad in terms of support, and delivery, or can be a scam altogether. If an Amazon- or Newegg-fulfilled item is available for $5-20 more than a shady-sounding seller, it's definitely worth it.
When hunting for secondhand items on eBay, make sure you limit your options to products coming from sellers that have at least 10-15 positive ratings. 20+ is the bare minimum I'd go for in the case of the processor and GPU.
Note: The price ranges given below are for used/eBay and new/Newegg/Amazon best prices – updated for January 10, 2023. The lower price is for a used part from a reputable seller, and the higher price is for a new part.
Note that the motherboard BIOS needs to be version F63 to support the Ryzen 5 5600.
So, roughly, you're looking at a cost of $700 (fully used) to $1,100 (fully new). You can also mix and match, so the total cost will be under $1,100 in most cases. Cheaper alternatives are always available, so do your own search.
If I had to cut costs further without buying used parts, I'd do these:
Get a Team Group MP33 512GB SSD at $30, and upgrade later.
Get a 450W PSU if I was sure I'd not be upgrading my GPU anytime soon.
Get an AMD RX 580 instead of an Nvidia GTX 1660 Ti for like $50-100 cheaper.
Get a well-rated new/obscure brand gaming keyboard mouse combo to cut costs by as much as $80. Same for the headset – to cut costs by over $50. Check our gaming keyboards guide for all budgets, $25 to $250.
If you do all that, you can bring down the price range to $500-740 without a Windows 11 purchase for a sufficiently decent 1080p 60FPS gaming rig.
Also read: Building the most average gaming PC – What are the most "average" gaming PC parts as per global data and surveys?
How well will this PC perform?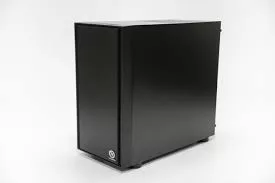 It's not easy to say. All these parts might not be the exact ones. Even if they are, there's something called silicon lottery which determines the silicon quality of any video card, meaning two GTX 1660 Ti cards from the same batch and manufacturer will still have different performances.
But we can estimate the performance using some simple tools.
According to PCGameBenchmark, this PC will rank 89% and can comfortably run GTA V, Cyberpunk 2077, Elden Ring, RDR2, etc. It can comfortably run 883 of the top 1000 most popular games at recommended levels.
As per a Tom's Hardware test with Borderlands 3, Far Cry 6, Flight Simulator, Forza Horizon 5, Horizon Zero Dawn, Red Dead Redemption 2, Total War Warhammer 3, and Watch Dogs Legion (all AAA titles), a GTX 1660 Ti easily renders 82+ FPS on medium settings and 45 on ultra. This test is based on an i9-12900K which is a superior CPU than ours (+40% better, costs more than double).
Final verdict? It's not a bad PC at all. It lacks RGB lighting and Nvidia RTX performance. But to play games at 1080p 60FPS with a <$1000 PC in 2023, this is one of the few options available today. Good gaming PCs are expensive machines that usually cost thousands of dollars to build.
It might not be the best PC for gaming or have high-end peripherals such as the best GPU or the best gaming mouse – but it's certainly worth every penny it costs you. No superficial, bloated prices to worry about here. The price-to-performance ratio in this cheap PC gaming setup is very high.
There are many ways to save money when building a gaming PC. You can get by with less expensive parts, or you can scale back on features and add them later when you need them (such as RAM and storage – start low and add more modules later). This alone makes building a gaming PC a much better prospect than buying a prebuilt gaming PC, laptop, or console.
Latest posts by Earl "sloth" Richards
(see all)