Are you a pro gamer, or on your way to being one? Aiming to be a top streamer? Well, in any case, you need a fancy gaming den that defines your personality. No, of course, it's not possible to talk about everything you love in a single room – but certainly, we can make a den that's based on your strongest inspirations, a room that inspires you in turn.
What is a gaming den and what do you need for one?
PC gaming in a normal room is just boring. What you need is a den. A den can be a dedicated gaming room or just a corner – it doesn't matter how you define it. It is a space dedicated to gaming and all that you love.
Just slapping a few posters of your favorite characters or franchises won't do. It needs much more than that.
A den needs to get a particular mood going. It is your gaming room and so, it should be themed suitably.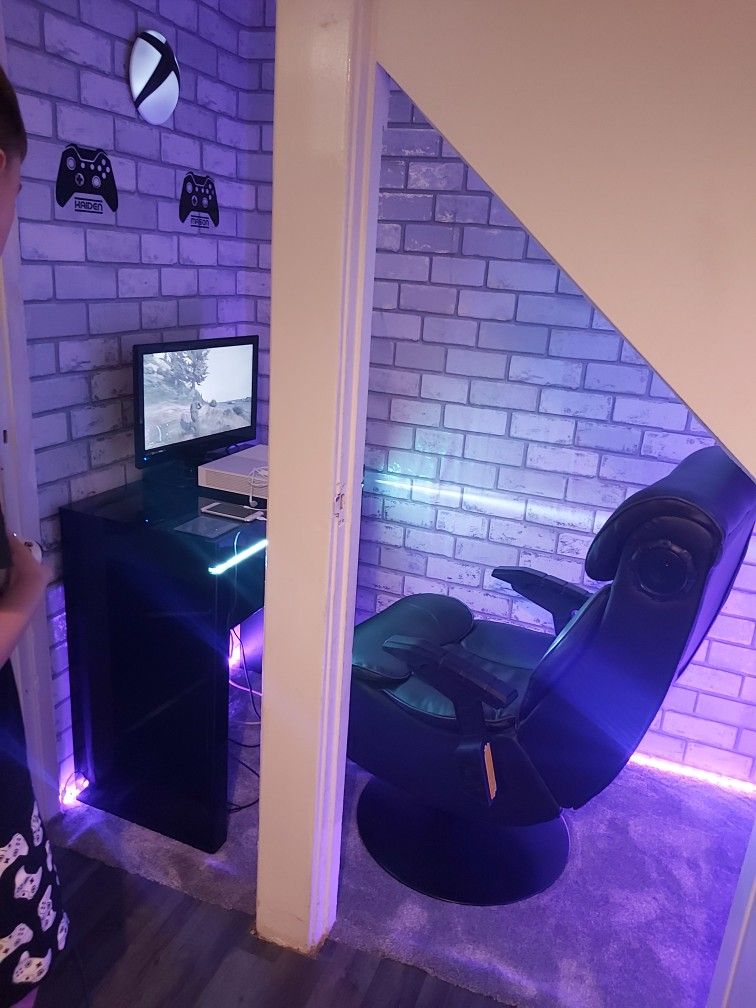 From a gaming computer to a gaming desk – just having everything "gaming" in this room won't help. You need more than a gaming background and a few posters. In other words, the den is much more than your gaming setup alone.
You're the kind of person who loves to play video games. Perhaps you have a favorite game that you can't live without, or maybe you just enjoy playing online with other people. Either way, you probably want to make the best gaming room possible.
In this article, we'll cover everything you need to know about making a great gaming room. We'll cover how to set up your keyboard and mouse so they work well in space, what sort of lighting setup is best for gaming, and how to create an attractive and functional home for your games.
Set the theme
You're going nowhere without a central theme. Here are some common theme ideas:
Heavy RGB: Very vivid, colorful, and "happening." Fancy stuff.
Subtle RGB: A better alternative – good RGB accents that are synchronized and not all over the place.
All-black (matte or glossy): A serious ambiance where your gaming setup seemingly starts exerting more gravity than usual.
Minimalist: Compact parts and peripherals, no decorative elements, flat and plain areas instead of textures, etc. This is often the case with all-white builds, but I recommend having one "accent" color in this case.
Color: You might be a huge fan of purple, blue, red, or something else. A color theme is less recommended because it seriously limits your options. But if you can find the main visible parts – chair, large mousepad, PC chassis, GPU shroud, etc. – in that color, it might be possible.
You might already have a favorite. You must select your own theme before you begin. This helps keep track of your progress, compare stuff, make faster decisions, and ultimately have a reference point.
Once you have a theme, I recommend going on the internet (Reddit, Google Images, Pinterest – whatever) and searching for "theme name" + gaming room ideas – for example, minimalist white gaming room ideas.
Note down important ideas and then move forward.
Creating each theme is different and it limits what you can buy in different ways. For example, when setting up a subtle RGB gaming room, you need as many RGB-enabled devices and peripherals as possible that can be synchronized using a single software. Needless to mention, it limits you on what companies you can buy from.
The classic all-black and the haphazard heavy RGB are notably forgiving in this regard. All-black isn't so limiting because, well, you'll find a bunch of options in black for literally everything. For a heavy RGB gaming den, you'll find an RGB-enabled part for everything too, and since there's no need to synchronize, it's all fair game.
Gaming setup: Choosing the right desk, chair, and gaming PC
A gaming den needs a central setup that you love. It can be a neat and minimalist setup you do yourself, a complexly engineered one with interior design help, themed around a color or with tons of posters, or a crowded and busy setup with a bunch of stuff all around.
A game room might have some overlap with designing a home theater room – such as sound, light, and ambiance requirements – but there's one stark difference. In a movie room, you're a passive component of the room. In a gaming room, it's all revolving around you.
That's why we need to pay special attention to where you sit, where you put your stuff, and how you position yourself. All this begins with choosing the right desk, chair, monitor(s), and even the PC parts (case, peripherals, video card, etc.).
For example:
If you're going for a glittery look, you might want parts that have breathing RGBs including your RAM sticks and the GPU with a transparent case.
If you're going for a matte black look – you have to choose as silent, serious, and plain black parts as possible.
If you're after a minimal white look, you need to pay attention to the form factors and have an accent color that's the same – for example, the light on your monitor, mouse, and case power all should be blue or red while the whole theme is white, to better pull attention to the whiteness of it all.
Also read: Gaming desk & chair buying guide
Lights: Loads of Aarrrgeebee!
From RGB strips to ambient lights – you have tons of lighting options today. You can either go for loads of RGB if that's the theme you're going after or set them all to a single color which you keep changing – this will work with any color of setup and room.
Always go with app-controlled devices. I'd recommend those controlled with mobile apps to not add even more clutter to your PC. This includes smart lights that change brightness, color, etc. from a single universal phone all.
Sounds: Gaming room to gaming theater
You need a complete home theater to have the best gaming experience. If you're not into action-packed games then sure, this can be skipped altogether and a simple speaker system or a good headset will suffice.
Filling a room with sound such that both your ears are equidistant from all sound-emitting devices is a hard task. A lot of planning goes into this. But thankfully, we're not making a movie room. A game room can take certain liberties without any major downside.
Just ensure that sounds are "surrounding" you – and not just coming from a single point in front of you. Bass units work best on the floor or the base of the desk whereas the sound waves from directional speakers should ideally envelop you from all sides.
Gaming in a well-calibrated sound space is infinitely more fun. Not to mention it also makes your media-watching experience so much better.
Ambiance: Setting the mood
Simply put, the ambiance is the combination of it all:
Wall color, wallpaper, ceiling, curtains, and flooring/carpet.
Wall accessories, posters, cabinets, stickers, decals, etc. You can also go for custom wall art for high-quality prints of things you care about.
Gear and decorative stuff that goes on or around your desk – including any action figures, cup holders, phone stands, flower pots, soundbars, etc.
Any wall installations, clocks, LED lights.
Don't game in the dark for long periods. Your ambiance should be equally good in daylight or with normal room lights on.
The ambiance begins with the room's wall color. Most pictures for gaming dens are shot with the setup in focus. But it's not always night in the real world. That same room can even look downright nasty in daylight. And since you're likely not a vampire, you will definitely be gaming in the daylight.
Make sure your walls go with the theme.
A more creative theme such as subtle RGB can do with creative wall colors, patterns, stickers, decals, etc. Your posters could be arranged without a grid, in a free-flowing form.
A more sober theme such as all-black is harder to pull off. Not only can you not paint your walls black (generally), but you also can't have a lot of liberty. For example, all wall accessories including posters will need to follow a grid layout.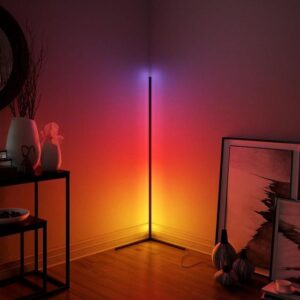 After the walls come the wall accessories. What will you be putting up? How much stuff will there be? Many like to sort of provide an overarching faux roof to their gaming PC which doubles as storage space, while others like to keep their walls mostly blank with a few items here and there.
If you're a streamer, then you need to invest more in what's behind you. If you're not, you need to make sure your front is well-decorated and able to get you into a gaming mood quickly.
Wall posters don't just need to be game-related. They can be related to anime, movies, TV shows, music, people, or something personal too.
If your flooring isn't going with your theme, then perhaps it's time for a carpet or at least an area rug right under you. When putting a small area rug, aim to cover the whole of the chair and the front portion of the desk – you don't need to cover the desk entirely.
The last important bit of the ambiance is the centerpiece. The main attraction. The gold hoard of your dragon-lair, the Arkenstone of the mountain. Many often skip this. Isn't the PC sitting on your desk, your amazing fancy case, or the whole shebang with the chair the centerpiece?
No! That's your gaming setup.
Apart from a gaming setup, you also need a centerpiece in your gaming den. The centerpiece doesn't need to be in the center of the room. It should ideally be right behind you (streamers) or right in front of you, a little on the top (not on eye level).
The centerpiece is big. On average, it should be bigger than your monitor(s). The centerpiece can also be a room-sized element like those thundering cotton LED "clouds."
Some good centerpieces are:
Wall-mounted neon signs, words, or designs
A large frame, picture, wall art, decal, or sticker
Some sort of flooring, wall, or ceiling design – preferably something that evokes the idea of motion or speed
Modular hexagonal/honeycomb LED panels that you can rearrange in different patterns, can also be hexagon mirror or sound panels but they make less sense comparatively
A bookshelf or a well-lit container (can have action figures, showpieces, collectibles, etc.)
If there's no hope for a centerpiece then just spend some extra on a good chassis and inside lighting. Put it somewhere prominent. That becomes your PC + centerpiece in the den. An open rig is also a great centerpiece as long as your room isn't very dusty.
Wrapping up
Gaming rooms are the best place to get away from the stresses of everyday life. Whether it's a small corner in your home or an entire room, a gaming room is a perfect place for you and your friends to relax and unwind.
The best thing about building your own gaming room is that you can customize it to suit your needs. With a little inspiration and planning, you can create your dream gaming den that will be the envy of all your friends.
From limited gear and peripheral selection to repainting the whole wall – some tedious and expensive decisions will need to be made to achieve the best gaming den look. Plan everything ahead of time with breakdowns to keep your costs in check and your progress tracked.
Latest posts by Earl "sloth" Richards
(see all)