EKWB, Corsair, Phanteks, Bitspower, Watercool, and on and on. So many options. Here are 9 series that you should limit your search to:
The EK Vector series
Phanteks Glacier series
EVG HydroCopper series
Bitspower Lotan series
Alphacool Eisblock GPX-N series
Thermaltake Pacific V-RTX series
AquaComputers Kryographics series
Watercool Heatkiller IV series
XSPC Razer Neo series
Apart from these, Barrow and Bykski also manufacture some great water blocks for both, the partner versions and the FE of the RTX 2080 Ti. However, there are availability issues with them both.
Hopefully, you're going to have plenty of options between the official sites, Amazon, eBay, Newegg, Best Buy, and any other shops you have in your region.
This article is a part of a series on water blocks and water cooling in general. Start with an explanation of all terms such as water block, loop, liquid cooling, coolant, etc.: Water cooling dictionary What is a water block – Gamer's guide Water block price for PC cooling Is a water block worth it? Are water coolers better than fans? Is liquid cooling worth it? What does a CPU water block do? Also read if applicable: Water cooling block for RTX 3080 | Water cooling block for RTX 2080 Ti | Water cooling block for RX 5700 XT | Water cooling block for RX 580
Great 2080 Ti water blocks tested for performance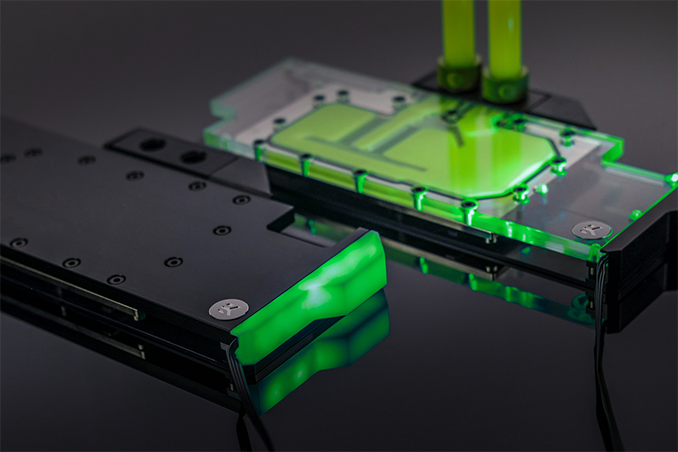 I haven't had the time to test these all, but I've owned a 2080 Ti for over a couple of years now before moving to 3080 and I've used some pretty decent water blocks. Here's a list of great options.
Phanteks Glacier water blocks for RTX 2080 Ti: Phanteks Glacier is a time-tested water block. The FE costs $140-ish and the one for ASUS ROG Strix costs close to $200. Available in black and chrome, these don't have RGB lighting.
EKWB EK-Quantum Vector water blockshave RGB. They also offer a superior build and design. These cost around $180-200. You can get the one for the ROG Strix easily.
Corsair Hydro X Series for the 2080 Ti FE is one of the best, most cost-effective water blocks out there. Costing $130, it does the job perfectly well. The XG7 RGB version costs even less, around $80.
Watercool Heatkiller IV for the RTX 2080 Ti costs $130-140 on the lower end and has one of the best performances among the leading water blocks. Higher-end models of the Heatkiller IV (different colors, with RGB, different build material) can easily cost anywhere from $180 to upwards of $200.
So, what are your options for purchasing one?
Here's a summarized rundown on the state and prices of water cooling blocks for the RTX 2080 Ti:
You can get your hands on a great Corsair or EKWB water block on eBay for around $120-180 depending on whether they are brand new or pre-owned. There are cheaper brand new options as well. Phanteks Glacier series is also highly available on eBay around $140-200 depending on whether it's for the reference design or a partner design like the ASUS ROG Strix.
You can find plenty of EKWB water blocks on Newegg ranging from $140-180. The EK-Quantum Vector series is especially reliable.
Please pay attention to the availability
Availability is something you should always pay attention to. For example, Bitspower is a Taiwan-based company. They're selling the Lotan Series VGA water block for the MSI RTX 2080 Ti Lightning Z at NT$ 5,150, which roughly translates to $184. This exact same product was listed on Newegg for US customers at a whopping $944 (US shipping).
Lesson? You should check the original manufacturer's website just in case. If there's a huge discrepancy then it's a supply and demand issue on your end. Better go for some other product that's not marred with availability issues. You might end up saving a fortune.
Latest posts by Earl "sloth" Richards
(see all)