Even after the release of the 5000 series and now the 6000 series from AMD, the RX 580 remains to be one of the most used GPUs for gaming because of its economic cost-per-frames ratio.
This article is a part of a series on water blocks and water cooling in general. Start with an explanation of all terms such as water block, loop, liquid cooling, coolant, etc.: Water cooling dictionary What is a water block – Gamer's guide Water block price for PC cooling Is a water block worth it? Are water coolers better than fans? Is liquid cooling worth it? What does a CPU water block do? Also read if applicable: Water cooling block for RTX 3080 | Water cooling block for RTX 2080 Ti | Water cooling block for RX 5700 XT | Water cooling block for RX 580
RX 580 is an old card. I also have mine in an older case because nostalgia. Witcher 3 looked so good on it! However, it sure has heating problems.
AMD video cards run hot on average. On top of that, an older card like the RX 580 might be losing out on performance because of constant usage. Heat damages hardware slowly. And I'm sure you've seen some performance drop on your RX 580 like I have.
Now, it's time to switch to water cooling. Air cooling will just not cut it, especially if you've never cleaned that thin-fin heatsink.
Here, we're going to talk about Bykski water cooling blocks for the RX 580. No affiliate or sponsored names or links are given, everything is based on research and testing.
Bykski
Bykski designs and manufactures some great water blocks. However, in the recent years, they have been losing out to others on the design, affordability, and overall features. That's not true for older cards such as the RX 580, however. That's why this video card is the perfect use case of the Bykski brand.
The liquid cooling block that I'm hinting at is the Bykski XFX R9 which is for the RX 470, 480, 570, and 580.
Like most other Bykski water blocks, this one is also a transparent, full-coverage block. Full coverage means that besides the GPU core, this water block covers a wide variety of other components that also generate a great deal of heat (VRAM, VRM, capacitors).
Now, generally, I only recommend aluminum-based blocks and not copper ones like this, but in this case, copper is decent.
There are also addressable RBG lighting components that you can use to give your rig a unique look. However, the controller for this lighting isn't included in the package and must be purchased separately.
There are other water blocks from Bykski as well. The one we're talking about costs around $135. Higher models range from $140 to $150.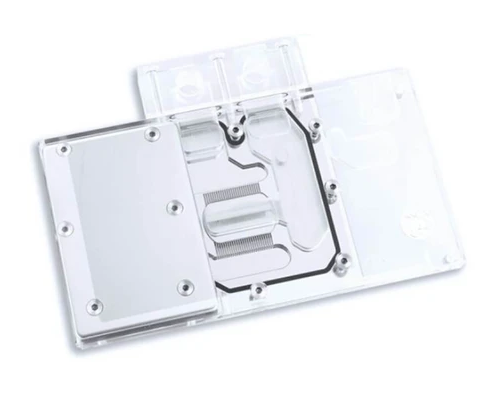 Wait, where are the other options?
Sadly, EKWB doesn't manufacture water blocks for the RX 400 and 500 series anymore. And I'm not going to recommend EOL hardware anyway. You can buy a suitable mounting plate and get an EK-Thermosphere but that's a limited solution to the heating problem. We're just going to skip EKWB here.
As for NZXT, you need the NZXT Kraken G12 "mounting kit" specifically to mount any NZXT liquid cooling system or even other AIO kits on top of. That might sound like fun but it's not, trust me. Too much work, and too many points of potential failure. I'd avoid that setup in general.
Phanteks, Barrow, Thermaltake, Corsair, Bitspower, AquaComputers, Watercool, etc. don't produce dedicated RX 580 water blocks (or don't produce them anymore).
There used to be more than 1 option back in the day. No more.
Alphacool's NexXxoS GPX for the PowerColor RX 580 Red Devil might be in stock at some places still. Cannot vow for the build quality though.
Latest posts by Earl "sloth" Richards
(see all)